Cambodian Alliances (CA)
Cambodian Alliances (CA) is an effort to bring all Cambodian immigrants who are living in North America (United States and Canada) to found a Council called "No Place Like Home". This council is a key central hub for them to share and discuss any thought leading to progressive and sustainable development of Cambodia. CA will prioritize on the issues of politics, social, culture and economics.
Cambodian citizens who have lived in North America have tremendously contributed to building of Cambodia in both democratization and economics.
Here to make a difference
Paris Peace Agreement Commemoration & Gathering
As major Cambodian diaspora left their motherland in expecting new search of a better life without experiencing fear, war, conflict, abuses, dividing and killing, their new settlement has never obstructed them from thinking of Cambodia, the motherland and the birthplace. As war is contradict to peace, and peace is only one path for well-being, the prowess of peace and its affiliates are important for them. PPA or known as the Paris Peace Agreement signed on 23 October 1991 has become their peace mantra and remembrance gadget for them. Each year, they have celebrated this day. Link below exposing the commemoration since 2010.
2011: http://khmeryouth.cambodianview.com/20YearsOfPPA.htm
2012:  http://khmeryouth.cambodianview.com/?p=59
2013: http://khmeryouth.cambodianview.com/?p=187
Khmer Soul Configuration & Khmer Soul Research Center
During the beginning of 2012, a group of Khmer scholars and activists assembled in Calgary in a Seminar themed "Khmer Soul Reconfiguration". See link: http://www.sophanseng.info/2012/03/seminar-on-reconfiguration-of-khmer-soul-on-marc-17-2012/
Asian Heritage Day of May at Cambodian Canadian Community
The Khmer Youth Association would like to express deep gratitude and appreciation on the successful welcoming of Bus Tour of Asian Heritage Foundation to celebrate the Month of May signifying for Asian Culture and Diversity in Alberta, Canada.
We are glade to see more than 32 guests unloading from the bus and entering into the compound of our centre. We are glade to see our community members of more than 50 collectively help and participate this extraordinary event.
The presentation was briefly explaining about the history of the community, the history of rich cultural heritage such as ancient monument of Angkor Wat and Angkor Thom, the Khmer clothes, performance art and food, the benefit of Vipassana meditation and its practice etc.
The event was highlighting with 7 distinctive shows:
1. Pinpeat Music Orchestra which is assembled of many original instruments have originated since the Angkor period of 9 century. The instruments are including Sko Touch, Sko Thom, Tre etc. (see attached photo) or more reading on: http://blog.aseankorea.org/archives/13752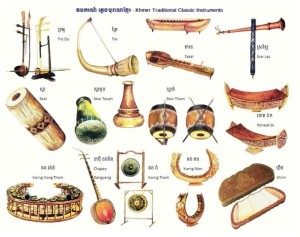 Courtesy of: http://blog.aseankorea.org/archives/13752
2. Preah Thong Tong Sbai Neang Neak which is one of the important parts of Khmer Wedding. Preah Thogn Tong Sbai Neang Neak or groom holding the scarf of bride significantly describes the legend of the birth of Cambodian country. The legend said that Groom must follow Bride by holding the scarf tightly so that he can reach her parents' resident. Legend further describes that Cambodia originally led by a powerful and gorgeous princess, a distant traveler named Preah Thong fell in love with the princess and asked her to be married. In order to travel in a long distance and dangerous way, Preah Thong must ensure that his one hand is holding the scarf tightly while another hand is holding a sword. For Neang Neak who is a family leader in that time, she is a chief in the family to oversee many things including family finance which she is holding on her palm hand as a symbol. The legend was about the Kingdom of Naga (Sacred Serpent) in which some interpretation has been mistaking called Dragon. Naga is the important legendary sacred snake in Cambodia. More reading about the story of : Preah Thong Tong Sbai Neang Neak: http://khmerwedding.ca/wedding-services-for-oversea-cambodians/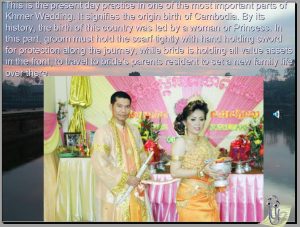 Note that in the past, the wedding ceremony took up to more than 3 days with more than 62 traditional songs but now it has summarized to 13 songs in 1 day and a half.
3. Young children are dressing in colorful Khmer silk dresses to representing different days of the week.
Note that Khmer silk has been typically made by hand from ancient traditional loom. One robe has approximately been spent to one month to finish it.
4. Khmer Chaiyam or funny dancing style of Khmer entertainment.
5. Khmer Chouk Krapeus folk dance. Chok Krapeus Dance is a style of dance imitating from fishing style of Khmer farmers.
6. Khmer Nom Banchok or Khmer Noodle Food. Rice is a typical diet for Cambodians but Nom Banchok Noodle is one of their historical and remarkable diets. Taste, mixture and smell of Khmer noodle come from its soup (Somlor prahir and Karry), variety of fresh veggies, and a tempting smell of curry and pro-hok (a Khmer typical salt fish paste)
7. Khmer silk dresses by beautiful ladies