Why Hun Sen needs China now more than ever
Pending US and EU sanctions threaten to sink Cambodia's economy. Will China come to the rescue?
Op-Ed: Asia Time
By DAVID HUTT, PHNOM PENH
In multiple and mounting ways, from aid to trade to diplomatic protection, China keeps its geopolitical ally Cambodia afloat. That patron-client relationship was on full display late last month when Cambodian Prime Minister Hun Sen made a hat-in-hand four-day state visit to Beijing.
The leader came away with what he sought: More money, more promises and more comradely assurances. Beijing reportedly pledged to provide Cambodia with US$588 million in aid over the next three years, to import 400,000 tons of rice, increase bilateral trade from $5.7 billion last year to $10 billion in 2023, and broadly more investment.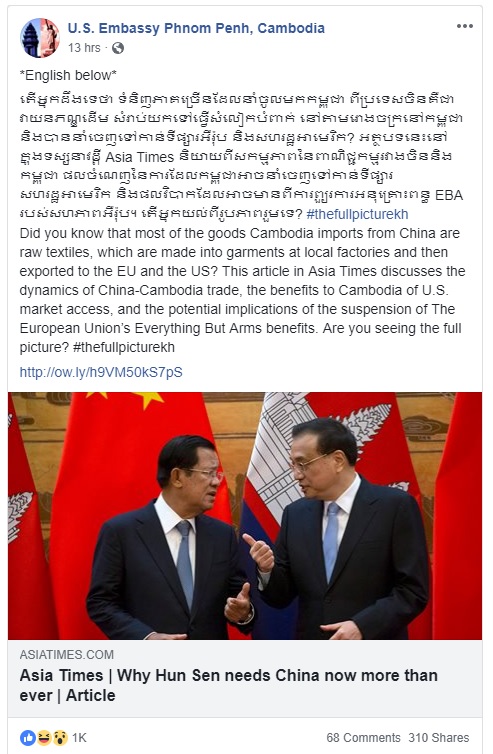 "At present, China-Cambodia relations are facing new development opportunities," China state-media outlet Xinhua quoted President Xi Jinping as saying after his meeting with Hun Sen last week. Hun Sen, for his part, wrote in a post-visit Facebook post that Xi "praised [China's] special cooperation with Cambodia and vowed to make the relationship even stronger" and that its future development assistance for that country will be "twice more solid."
China's patronage is arguably more important now than ever, as the United States (US) moves to sanction Hun Sen's regime and the European Union (EU) looks to withdraw the country from its duty-free Everything But Arms (EBA) trade scheme. Both are punitive responses to Cambodia's recent democratic retreat, exemplified by the dissolution of country's main opposition party in November 2017, a move that drove many of its members into exile.
Hun Sen's ruling Cambodian People's Party (CPP) thus won all the seats in the National Assembly at last July's general election, a result many Western observers and governments saw as rigged and illegitimate. The CPP has claimed that any Western criticism of its rule is an assault on the country's sovereignty and insult to its independence, claims the long-ruling party has played up to nationalistic effect.
China, it seems, is now backing that anti-Western narrative. Its new ambassador to Cambodia, Wang Wentian, recently asserted that Western nations want to "attack the cooperation between Cambodia and China." Geopolitical shifts partly explain why Beijing has appeared to indulge the Cambodian government's worst anti-democratic instincts and move to a de facto one-party state after years of Western-favored multi-party democracy.
Elections last year in Pakistan, Maldives and Malaysia all saw skeptics of China's $1 trillion infrastructure-building Belt and Road Initiative (BRI) rise to democratic power. Other regional countries have also started to air misgivings or stalled on BRI-related projects. While some reports of BRI downsides and debt traps have been exaggerated, there is a rising regional backlash against Chinese investments that are perceived to erode nations' sovereignty and finances.
Xi stressed at a high-level symposium to mark the BRI's fifth anniversary held in Beijing last August that its projects aim to "improve the global governance system" and build a world "community of shared destiny." It's a message China aims in particular for neighboring Southeast Asia, where big BRI plans for connecting infrastructure to promote and facilitate more regional trade are on the drawing board.
Continue reading

"Why Hun Sen needs China now more than ever"