Op-Ed: The Phnom Penh Post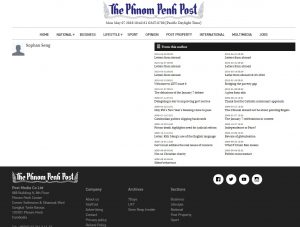 Freedom and the challenges of teen pregnancy in Canada
Email from Canada,
FREEDOM is the lifeblood of human enterprise.  Free-market countries have higher standards of living, social development and productivity levels.  Some, though, contend that freedom is a double-edged sword.
Greater independence from parents and guardians can lead to the creation of a more open, more progressive society in which young people are free to engage their talents and amass practical knowledge.
But some say too much freedom can lead to undisciplined and incompetent adolescents.
In Canada, adolescents enjoy a wide array of freedoms, sexual, romantic and otherwise.  But high teen pregnancy and divorce rates have some policymakers worried.
Still, statistics show that national teen pregnancy rates have been declining.  A study from 1996 to 2006 showed a drop of 37 per cent, compared with a 25 per cent decline in the neighbouring US.
This doesn't necessarily mean  teenagers are less sexually active.  In fact, a study found about 50      per cent of teens aged 16 and 17 engage in sexual activity.
These findings confirm what has become only too visible in daily life: teens holding hands, hugging, kissing and generally revelling in young love, all in public.
The teen-pregnancy study includes statistics on births, abortions and miscarriages.  The Canadian government views all three outcomes as having a negative impact on society.
If newborns survive the delivery process, teens are often unprepared to act as parents.  And miscarriages and abortions can result in various diseases and complications that can stall the mother's education and development.
Teen pregnancy affects individuals, families and entire communities, placing a social and economic burden on the whole of society.
According to the study, the welcome decline in teen pregnancy can be attributed to an increase in awareness about sexual health and protection among teenage girls, as well as increasingly easy access to clinics and family planning counsellors.  Young women are using their freedom to make safer decis-ions, entering the adult world of sex and romance armed with more information and more confidence.
The story may be different in Cambodia.  Canada is fairly open to adolescent sexual activity and independent decision-making, but the issue is rarely talked about in Cambodia, where cultural conservatism and embedded tradition keep teenage sexuality under wraps.
For this reason, teen pregnancy rates are higher and show little sign of declining.  Until the Kingdom begins some sort of dialogue on teenage sexuality, young women in Cambodia will continue to have their education interrupted and their freedom curtailed.
About Sophoan Seng
I am the single son of a farming family from Siem Reap. I spent more than 10 years as a Buddhist monk. I graduated with a master's degree in political science from the University of Hawaii and am a PhD candidate at the same university.
My interests are social-capital research, the empowerment of young people for social change, and grassroots participation to developing democracy. I am a freelance and president of the Khmer Youth Association of Alberta. I can be reached at sophan@hawaii.edu
******
Rich Oil-Sands of Alberta, Canada
Emails from Canada: Sophoan Seng
Alberta is well known as a leading exporter of natural resources like timber and oil in Canada. Large foreign companies from the US have invested billions of dollars extracting oil and gas in this territory to make up for the shortage of oil for energy in their country. Oil deposits which are called "oil sands" are very distinctive from what is found in those oil rich countries such as Iran or Saudi Arabia in the Middle East, and the monitoring and regulations of this lucrative industry has never been neglected.
The official website of the Alberta government describes Alberta's oil sands as the backbone of the Canadian and the global economy, adding it is a great buried energy treasure which has continuously supplied stable and reliable energy to the world. Oil sands are a naturally composed mixture of sand, clay or other minerals, including water and bitumen, which is a heavy and extremely thick, sticky oil that must be treated before it can be processed by refineries to produce usable fuels such as regular gasoline and diesel. Oil sands can be found in many locations around the globe, but the Athabasca deposit in Alberta is the largest and most developed and it has utilised the most advanced technology to produce oil.
Canada's Facts and Statistics Department has ranked Alberta's oil sands second after Saudi Arabia in terms of proven global crude oil reserves. In 2009, the total proven oil reserves were 171.3 billion barrels, or about 13 percent of the total global oil reserves, which is about 1,354 billion barrels. The net income in the fiscal year of 2009 for the Alberta government was more than US$3 billion in royalties from oil sands projects, which was lower than 2008 at $20.7 billion. But they project it to skyrocket and revenue to hit $15 billion in the next few years. Ultimately, about 99 percent of Alberta's oil comes from oil sands.
Responsible corporations and the government's clear goal and commitment have transformed Alberta oil sands into a blessing, not a curse. All approvals, licences, dispositions, permits and registrations relating to oil sands are required by Alberta's Energy Resources Conservation Board (ERCB), Alberta Environment and Alberta Sustainable Resource Development bodies. This enables the comprehensive task of handling oil sands investments.
However, in an interview with the Canadian Broadcasting Corporation, University of Alberta scientist David Schindler told the public that the high levels of toxic pollutants in the Athabasca River were caused by oil sand mining. Schindler and his team of researchers found that oil sands development projects were contaminating the Athabasca River watershed area. The scientists found that seven "significant pollutants" were at levels that exceeded government guidelines for the protection of aquatic life. This new finding contradicted the government's previous argument, which had always claimed that the naturally occurring bitumen had low levels of pollution.
After publishing in 2009 the first peer-reviewed paper from Schindler and his team, an ongoing political debate started, the story grabbed the public's attention and a group of experts was given the job of finding the best solution for this rich oil sands industry. From public and private debates to ones in parliament and political institutions, a solution must be found to ensure the sustainable development of this non-renewable natural resource.
*******
Jobs and Employment in Canada
Letters from abroad
Sophan Seng | Publication date 21 April 2010 | 08:00 ICT
There is a popular saying that "to live is to work", and while life is not all about work, the saying seems to hold true in Canada, Cambodia and around the world. Most people cannot live without a job, but the approach from the governments in various countries to the problem of unemployment differs greatly. It might be interesting for you to hear about the ways in which Canada's government and private sector have intervened in order to help more citizens get jobs and keep the ones they have.
First, there is a growing number of job search agencies who help both new and experienced workers find jobs suitable to their educational background and experiences. Enrolled students learn about networking strategies, curriculum vitae, cover letters and interviewing skills. These agencies also partner with private groups and the government to launch job fairs, which exist in Cambodia on a smaller scale, in order to bring together employers and employees. In fact, I was employed as a result of my participation in a job fair.
Second, the government helps unemployed citizens by providing them with short-term support through both skills training and living expenses. Many unemployed workers are directly subsidized to allow them to maintain a level of strength and professionalism while they search for a new job. The money that funds this program, called the Employment Insurance (EI) program, was deducted from workers' salary if they worked before.
Continue reading "Dedicating 27 articles today before Phnom Penh Post is absorbed away from its professionalism"