Tha Sophat received gifts from generous Cambodian-Canadian in Calgary through Marilyn of Calgarian
Posted by: | Posted on:
November 12, 2011
GIFTS for Tha Sophat, a toddler who suckled milk from cow's nipples directly because of his parents who have migrated to work in Thailand since he was a young baby. Tha Sophat was left with grandparent and he imitated the calf to suckle milk. Thank you very much Marilyn for her kindness to help teach Cambodian children and took her time to deliver those gifts from Cambodian-Canadian Community and the Khmer Youth Association of Alberta to reach Tha Sophat directly.
Dear Lok Kru,

Attached you will find some pictures of the trip that Lok Kru Loung and I took out to Ta Sophat's village on Thursday November 10th.
I would not have been successful without Loung's help.
First we went shopping at Psala Market to buy some things which we thought that Ta Sophat's family might need. We bought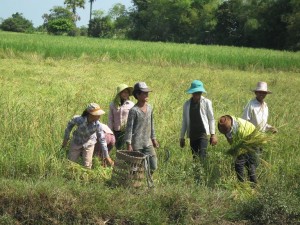 clothing (3 pairs of shorts and T-shirt) for Ta Sophat and a T-shirt for grandfather; a sleeping mat; cooking supplies (cooking oil, noodles, sauce and tea, sugar and milk) and some milk bars for Ta Sophat (which he really liked)( Photo679); toiletries such as soap and shampoo and baby powder. We spent $40.00(USD) on supplies and the remaining $110(USD) I changed in to riels to take to the family.
We went on Loung's motorbike (photo 655).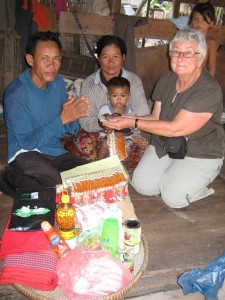 We travelled along Route 6 and then turned north about 10 km. beyond Pouk to reach Nokor Pias 2 Village.The roads were washed out in places, very bumpy and dusty. By the end of the day we were both covered in red dust.We would not have reached the village by tuk-tuk or car (Photo 660) as some palm bridges would only take the weight of bicycles or motorbikes. Outside of Siem Reap the rice harvest is underway although there is still a lot of water in the fields and the canal by the road was quite high. (Photo 658).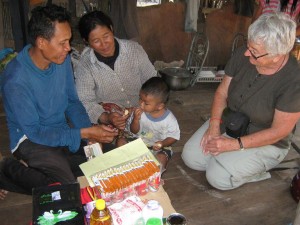 After many bum-numbing hours on the moto we reached the village (people kept telling us "Only two km. more", but it was a lot further than that) and Ta Sophat's house….only to find that the family had gone to cut rice. However we had the company of many children who seemed to magically appear.(Photo 661)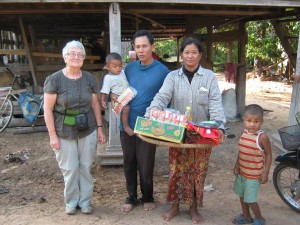 Eventually Ta Sophat, his grandmother and grandfather arrived back from the rice fields.The grandfather showed us the cow that Ta Sophat drank from. (Photo 673) He explained that Ta Sophat was very hungry and crying one day when he saw the calf drinking from the cow and he did the same. He does not drink from the cow any longer.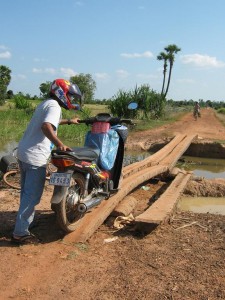 Ta Sophat was quite shy around strangers and his grandfather said he was not happy on the day of our visit as his parents had returned from Thailand (where they work as gardeners).Ta Sophat was confused because he knows only his grandparents as family and could not understand why a lady he did not know (his mother) was crying because he did not know her. The parents have returned to Thailand but there is not a lot of gardening work at the moment due to the flooding.I wonder how many Cambodian children do not know their parents as family because the parents work away from their village.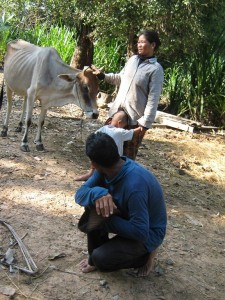 Ta Sophat is a well built, healthy child and appears to be developing well. He was experimenting with trying to walk backwards and he says a few words. The grandparents hope that he will go to school and eventually graduate from High School.(We did notice some schools along the road to the village.) As you can see from the photos his grandparents seem to love him very much (Photo 683)
I presented the gifts and money from the Calgary Canadian -Cambodian Association.Both grandparents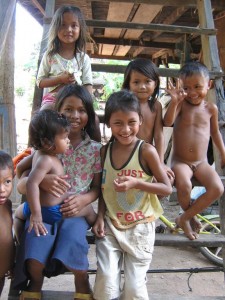 were very grateful and gracious. Grandfather asked if there were many Cambodian people in Canada.They sent their thanks to the Cambodian people in Calgary.(Photos 676,679)
We stayed for about one hour, but needed to leave so that we could get back to Siem Reap before it was too dark because I did not feel safe on the back of a motorbike at night.
We said our farewells (Photos 686, 688, 689) and drove back past the fishermen in the rivers and the people in the rice fields, reaching Siem Reap just after dark.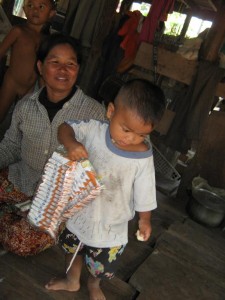 I was honoured to deliver your gift to this family and hope that it helps them raise this young boy who seems to hold great promise for the future. It was an experience that will remain in my memory always.
I hope all is well with the Cambodian community in Calgary. Best wishes to you all,
Marilyn