Internet
now browsing by tag
Posted by: | Posted on:
August 29, 2008
Last night I slept late. I was inspiring by the new discovery in wordpress blog. It is the easy compact software for all bloggers to enjoy. I was not hesitate to take this chance to be creative though I am really drowsy and busy with study.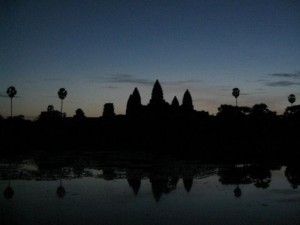 During blogging, my mind wandered far and near especially thought about Cambodian peoples at Cambodia: How many of them who can access to internet? How many of them who can blog? How many of them who can use PC or MAC? And how many of them who know about the latest technology development of computer? More than 80% of Cambodian peoples are farmer. They are living in destitute, suburb, rural and remote areas. Significantly, major of them cannot access to electricity, clean water, and health care center.
In developed countries as well as some developing countries, internet has become their daily gadget and it is the magic buttons that their wishes can be unbelievably fulfilled. They buy, sell, communicate, entertain, and study just by clicking the buttons on the computer. And internet is the world wide web connectors for them to personalize as well as to globalize themselves. They can reach far away from their tiny room through video, audio, map, pictures, and online chat. Many peoples have delved themselves to trust and worship computer as well as internet as their new religion. Many internet surfers can accumulate wealth and strong social network. Many of them can seek their partner and become cute couple eventually, incredibly.
Look back to Cambodia, the trend is on the track. But it is really a creeping trend. However, many Cambodian young children are very innovative and creative. Though they don't have sufficient tools to get into computer and internet, but there are mushrooming users. Many blogs are built and online communicate is so popular among them.
The future will be shed in light by our young generation who will not only the players of internet, but we further hope for their new inventing of modern technology. Cambodian young generation will absolutely not different from their ancestors who were very creative and urbanized such as several huge temples were astonishingly constructed entirely Cambodian Empire, those are rapidly attracting millions of people worldwide.
The pride and hope of future Cambodia doesn't fall upon the past, the glory of Angkor Wat, but the competent younger generation, well-trained children. They are the responsible future architect and catalysts!
Sincerely,
Sophan P. Seng