Posted by: | Posted on:
April 21, 2010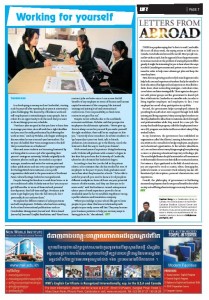 Letters from abroad
Wednesday, 21 April 2010 15:00 Sophan Seng

There is a popular saying that "to live is to work", and while life is not all about work, the saying seems to hold true in Canada, Cambodia and around the world. Most people cannot live without a job, but the approach from the governments in various countries to the problem of unemployment differs greatly. It might be interesting for you to hear about the ways in which Canada's government and private sector have intervened in order to help more citizens get jobs and keep the ones they have.
First, there is a growing number of job search agencies who help both new and experienced workers find jobs suitable to their educational background and experiences. Enrolled students learn about networking strategies, curriculum vitae, cover letters and interviewing skills. These agencies also partner with private groups and the government to launch job fairs, which exist in Cambodia on a smaller scale, in order to bring together employers and employees. In fact, I was employed as a result of my participation in a job fair.
Read More …