Monday, February 13th, 2012
now browsing by day
Posted by: | Posted on:
February 13, 2012
It is inspiring and hilarious after reading this article. I could not stop my thought on penning and criticizing this article.
Cambodia – The Laziest Nation in the World
There is something to be said when it comes to the laziest nations in the world. Most publications associate laziness with what people do (or NOT do) in their spare time, after all duties have been taken care of. To me, that's a fundamental mistake and doesn't reflect on the laziness at all. People who bust their butts off so they can have some time for themselves are not lazy. True laziness comes to play when an entire nation can't get the work – the necessary duties done because they can't be bothered to get off their soft motorcycle seats. And this is why Cambodia is the laziest nation in the world. Everywhere you go, any time of day you will see hundreds of people of all ages idling in the streets, doing absolutely nothing just killing time by hanging loose. You will be wondering why they are all out here doing nothing. You will be asking yourself – shouldn't these people be at work and kids at school? How can a nation sustain itself if nobody can be bothered to do any work? Those are all legitimate questions and anyone who pays attention will undoubtedly have them cross their minds upon their first visit to Cambodia.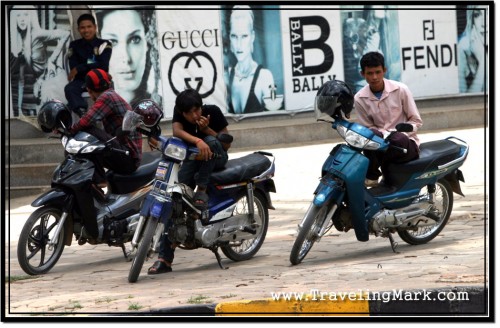 Photo: Lazy Cambodian Youth Killing Time With Their Motorcycles
History of Cambodia – The Laziest Nation in the World
It comes as a striking contrast when one visits the temples of Angkor Archaeological Park and sees the megalomaniac structures Angkorian era civilization was capable of constructing. Could the laziest nation in the world built the world's largest religious complex? Obviously, Cambodia a millennium ago was different from Cambodia today – aside from being a culture of violence, as Cambodians are as violent today as they have always been.
So Cambodians were definitely not lazy back then, back when the temples of Angkor were built, but what happened? That I guess is as difficult to explain as is the abrupt end to once powerful empire. Ancient Khmer rulers were on top of the game and controlled the region but then something happened and Angkor was abandoned. Everything about the Khmer people, everything – including their approach to work has changed. The end of Angkorian era was the end of decent Cambodia. The empire failed and so did the people. People who were once capable of building monumental structures are nowadays capable of nothing more than idling and doing absolutely a great deal of nothing. Unless verbally and physically abusing foreigners can be considered an activity. Luckily the former can be done from the comfort of their motorcycle seat…