January, 2012
now browsing by month
Posted by: | Posted on:
January 19, 2012
The game of the Khmer Rouge is a zero-sum game for Cambodians and their nation. 33 years have already passed; the Khmer Rouge regime will never come back again as the world is fast moving forwards.

It is a priceless lesson to learn in order to move forward and not dwell in the tragedy of the past, only to learn from it, as it was arranged to be the two crickets fighting against each other.
Click here to read the whole Lift Issue of 104 dated January 11, 2012
Seven January arrived and split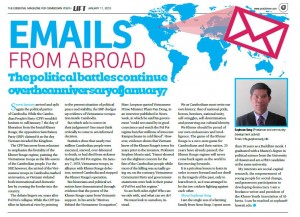 again the political parties
of Cambodia. While the Cambodian
People's Party (CPP) wouldn't
hesitate to call January 7 the day of
liberation from the brutal Khmer
Rouge, the opposition Sam Rainsy
Party (SRP) claimed it as the day
Vietnam invaded the Kingdom.
The CPP has never been reluctant
to emphasise the brutality of the
Khmer Rouge regime, painting the
Vietnamese troops as the life-savers
of the Cambodian people. For the
SRP, however, the arrival of the Vietnamese
troops in Cambodia marked
an invasion, as Vietnam violated
both international and domestic
law by crossing the border into the
country.