Op-Ed: Sam Rainsy Facebook Page
១២ កុម្ភៈ ២០១៩ / 12 February 2019 – Cambodia's Exiled Opposition Vows Return to Create Democratic Change (*)
សារព័ត៌មានអន្តរជាតិ The Geopolitics (ភូមិសាស្ត្រនយោបាយ) ទើបតែចុះផ្សាយអត្ថបទមួយរបស់លោក សម រង្សុី មានចំណងជើង "ថ្នាក់ដឹកនាំគណបក្សប្រឆាំងកំពុងនិរទេស ប្តេជ្ញាវិលត្រឡប់មកកម្ពុជាវិញ ដើម្បីជម្រុញឲ្យមានការផ្លាស់ប្តូរ តាមបែបបទប្រជាធិបតេយ្យ"។
ខ្លឹមសារសង្ខេប នៃអត្ថបទនេះ
១- ល្បែងនយោបាយរបស់ ហ៊ុន សែន និងរបបគាត់ ជិតដល់ទីបញ្ចប់របស់វាហើយ ដោយសារតែប្រជារាស្ត្រខ្មែរ ចង់សម្រេចវាសនារបស់ខ្លួនដោយខ្លួនឯង។
២- ជ័យជំនះគណបក្សប្រជាជនកម្ពុជា ក្នុងការបោះឆ្នោតខែកក្កដា ២០១៨ គឺជាជ័យជំនះក្លែងក្លាយ ក្នុងការបោះឆ្នោតក្លែងក្លាយ ពីព្រោះមិនមានវត្តមានគណបក្សសង្គ្រោះជាតិ។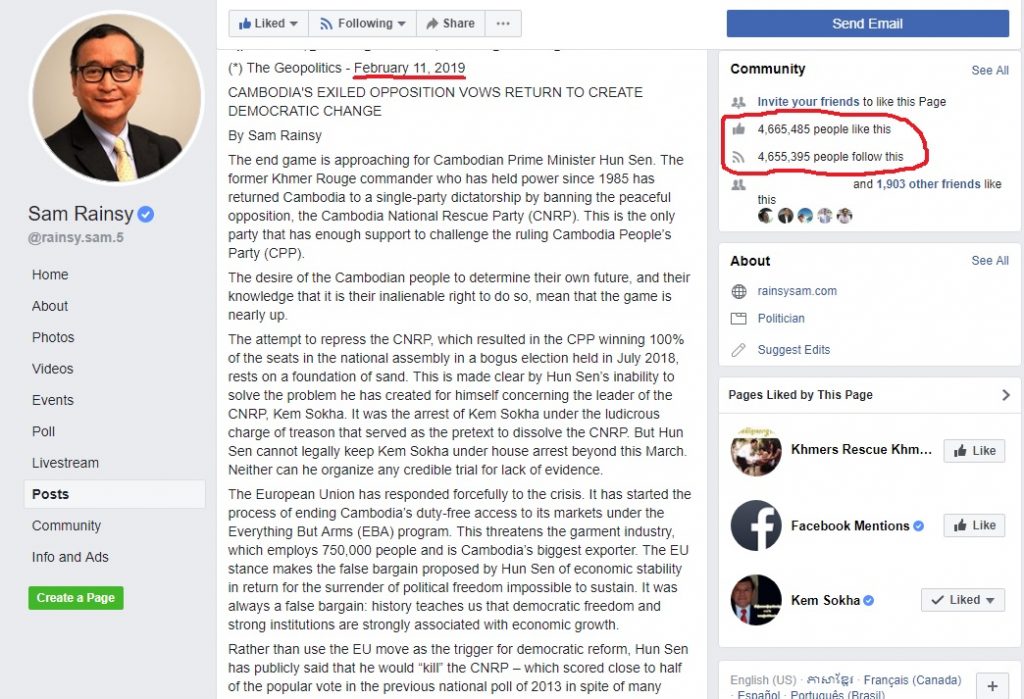 ៣- ហ៊ុន សែន បានចោទប្រកាន់យ៉ាងងងើលប្រធានគណបក្សសង្គ្រោះជាតិ លោក កឹម សុខា ពីបទក្បត់ជាតិ ហើយបានយកការចោទប្រកាន់នេះ ធ្វើជាលេសដើម្បី រំលាយគណបក្សសង្គ្រោះជាតិ។ តែមតិជាតិ និងអន្តរជាតិ មិនជឿ ហ៊ុន សែន ទេ ហើយយើងដឹងថា តាមផ្លូវច្បាប់ ហ៊ុន សែន ត្រូវតែដោះលែង កឹម សុខា នៅដើមខែមីនានេះ ពីព្រោះគាត់មិនអាចរកភស្តុតាងត្រឹមត្រូវណាមួយ ដើម្បីកាត់ទោស កឹម សុខា បានឡើយ។
៤- ហ៊ុន សែន គួរណាស់យកការគំរាមដាក់ទណ្ឌកម្មពីសហភាពអឺរ៉ុប ធ្វើជាមូលដ្ឋានដើម្បីធ្វើការកែទម្រង់តាមបែបបទប្រជាធិបតេយ្យ តែគាត់បែរមកគំរាមកម្ចាត់គណបក្សសង្គ្រោះជាតិទៅវិញ បើសហភាពអឺរ៉ុបអនុវត្តទណ្ឌកម្មនោះមែន។ នេះបង្ហាញថា ហ៊ុន សែន ជាជនផ្តាច់ការដ៏ព្រៃផ្សៃ។
៥- ហ៊ុន សែន ចាប់ប្រជារាស្ត្រខ្មែរ ធ្វើជាចំណាប់ខ្មាំង ដើម្បីគំរាមសហគមន៍អន្តរជាតិ កុំឲ្យដាក់ទណ្ឌកម្មលើរបបគាត់ ដោយសារតែអំពើពុករលួយ និងការរំលោភសិទ្ធិមនុស្ស ក្រោមរបបគាត់។ គាត់មិនញញើត បង្ខំប្រជារាស្ត្រ ឲ្យទទួលទណ្ឌកម្មជំនួសគាត់ និងដោយសារគាត់។ នេះបង្ហាញថា ហ៊ុន សែន ជាមនុស្សកំសាក ដែលមិនហ៊ានទទួលខុសត្រូវខ្លួនឯង។
៦- ហ៊ុន សែន ចង់នៅក្រាញអំណាចជារៀងរហូត ទោះបីប្រជារាស្ត្រខ្មែរវេទនាយ៉ាងណាក៏ដោយ ហើយប្រទេសជាតិហិនហោចយ៉ាងណាក៏ដោយ។ ហ៊ុន សែន ចង់រក្សាអំណាច ដើម្បីរក្សានិទណ្ឌភាព (ការរួចទោស) សម្រាប់គាត់ ពីព្រោះពេលណាគាត់បាត់អំណាច គាត់នឹងប្រឈមការកាត់ទោស ចំពោះមុខតុលាការឯករាជ្យណាមួយ ពីបទឧក្រិដ្ឋជាច្រើន ដែលគាត់បានប្រព្រឹត្តរយៈពេលជាង ៣០ ឆ្នាំកន្លងមក។
៧- តាមការដាក់ចំណាត់ថ្នាក់ របស់អង្គការតម្លាភាពអន្តរជាតិ (Transparency International) ប្រទេសកម្ពុជា ក្រោមរបប ហ៊ុន សែន បានធ្លាក់ទៅក្នុងចំណោមប្រទេសដែលពុករលួយជាងគេក្នុងពិភពលោក និងក្នុងចំណោម ប្រទេសដែលរងការបំផ្លាញធ្ងន់ធ្ងរជាងគេ ដោយសារតែអំពើពុករលួយនេះ។
៨- យើងមិនអាចអត់ទ្រាំនៅស្ងៀមបានទេ ចំពោះមុខស្ថានការណ៍បែបនេះ។ ថ្នាក់ដឹកនាំគណបក្សសង្គ្រោះជាតិ ដែលកំពុងនិរទេសសព្វថ្ងៃ មានទាំងរូបខ្ញុំ (សម រង្ស៊ី) ផងដែរ បានសម្រេចចិត្តថានឹងវិលត្រឡប់ មកប្រទេសកម្ពុជាវិញ ក្នុងឆ្នាំ ២០១៩ នេះ។ យើងអំពាវនាវដល់សហគមន៍អន្តរជាតិ ឲ្យបន្តដាក់សម្ពាធលើរបប ហ៊ុន សែន។ ទោះបីមាតុភូមិនិវត្តន៍របស់យើង ប្រកបដោយហានិភ័យសម្រាប់រូបយើងយ៉ាងណាក៏ដោយ ក៏យើងត្រូវតែជួយប្រជារាស្ត្រខ្មែរ ឲ្យសម្រេចបាននូវគោលបំណងរបស់លោក ក្នុងនោះមានការដោះលែងលោក កឹម សុខា និងការបើកផ្លូវឲ្យគណបក្សសង្គ្រោះជាតិដំណើរការឡើងវិញ។ ជាចុងក្រោយ ត្រូវតែមានការបោះឆ្នោតឡើងវិញឲ្យបានពិតប្រាកដ និងត្រឹមត្រូវ ដើម្បីឲ្យប្រជារាស្ត្រខ្មែរ អាចជ្រើសរើសមេដឹកនាំដែលលោកចង់បានពិតប្រាកដ។
៩- របបផ្តាច់ការ ហ៊ុន សែន សព្វថ្ងៃ រំលោភទាំងរដ្ឋធម្មនុញ្ញនៃប្រទេសកម្ពុជា ទាំងកិច្ចព្រមព្រៀងទីក្រុងប៉ារីស ឆ្នាំ ១៩៩១។ របប ហ៊ុន សែន នេះ មិនមែនគ្រាន់តែជាគ្រោះថ្នាក់សម្រាប់ប្រទេសកម្ពុជាតែឯងទេ តែជាគ្រោះថ្នាក់សម្រាប់ពិភពលោកទាំងមូល។
១០- សហគមន៍អន្តរជាតិ ត្រូវតែរក្សាជំហរម៉ឺងម៉ាត់ ក្នុងការដាក់ទណ្ឌកម្មលើរបប ហ៊ុន សែន ហើយត្រូវតែប្រើឥទ្ធិពលរបស់ខ្លួនយ៉ាងពេញទំហឹង ដើម្បីជួយការពារសុវត្ថិភាពថ្នាក់ដឹកនាំគណបក្សសង្គ្រោះជាតិ ពេលធ្វើមាតុភូមិនិវត្តន៍។ អ្នកប្រជាធិបតេយ្យក្នុងពិភពលោកទាំងអស់ ត្រូវតែរួមកម្លាំងគ្នា ដើម្បីជួយសង្គ្រោះប្រជារាស្ត្រខ្មែរ ដែលរងទុក្ខវេទនា ក្រោមរបប ហ៊ុន សែន ច្រើនទសវត្សរ៍មកហើយ។
(*) The Geopolitics – February 11, 2019
CAMBODIA'S EXILED OPPOSITION VOWS RETURN TO CREATE DEMOCRATIC CHANGE
By Sam Rainsy
The end game is approaching for Cambodian Prime Minister Hun Sen. The former Khmer Rouge commander who has held power since 1985 has returned Cambodia to a single-party dictatorship by banning the peaceful opposition, the Cambodia National Rescue Party (CNRP). This is the only party that has enough support to challenge the ruling Cambodia People's Party (CPP).
The desire of the Cambodian people to determine their own future, and their knowledge that it is their inalienable right to do so, mean that the game is nearly up.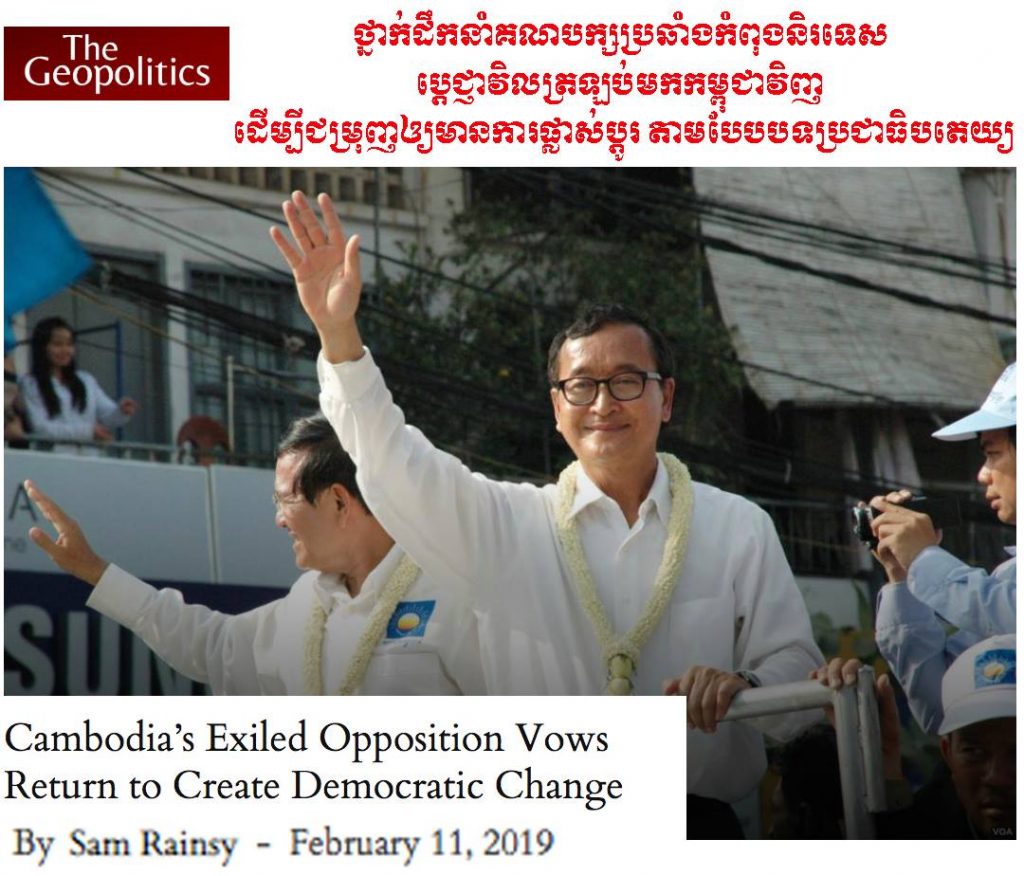 The attempt to repress the CNRP, which resulted in the CPP winning 100% of the seats in the national assembly in a bogus election held in July 2018, rests on a foundation of sand. This is made clear by Hun Sen's inability to solve the problem he has created for himself concerning the leader of the CNRP, Kem Sokha. It was the arrest of Kem Sokha under the ludicrous charge of treason that served as the pretext to dissolve the CNRP. But Hun Sen cannot legally keep Kem Sokha under house arrest beyond this March. Neither can he organize any credible trial for lack of evidence.
Continue reading

"EBA and the Grand Plan to Return back to Cambodia of Sam Rainsy"