This document is historically and remarkably marvelous for all Koun Khmers to read and conceptualize it. It is a letter by King Sisowath to King Napoleon III to intervene the matter of border encroachment by Siam and Annam. We don't really understand the whole story that by this letter, French protested the Siam to return back all provinces controlled by Siem to Cambodia. But at least, by the affair of colonialism to delineating its territory and the intellectual crusading for territorial independence of King Sisowath, Cambodia has been maintained its current map and national identity to the world that this greatest kingdom in the past has still remained its heritage and identity….cheer to French and Cambodian nationalist leaders!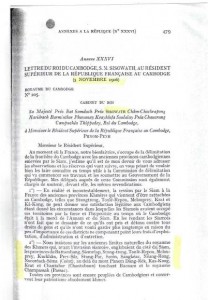 Letter (5 November 1906) from the King of Cambodia, H.M. King Sisowath to France
(Source: International Court to Justice, 1962a, Case Concerning the Temple of Preah Vihear. Pleadings, oral arguments, documents. The Hague)
Yours, Bora Touch
………………………
Unoficial translation
Letter from the King of Cambodia, H.M. Sisowath,
to the French Colonial Governor in Cambodia
Kingdom of Cambodia
No. 205
Office of the King
H.M. Preah Bat Samdech Preah SISOWATH Cham-Chakrapong Hakrireach Barminthor Phuvanay Kraykeofa Soulalay Preah Chao Krong Kampuchea Thippadey, King of Cambodia
To the Governor of the French Republic in Cambodia,
Phnom Penh
Mr. Governor,
At a time when France, our benefactor, is busy with the delimitation of the border of Cambodia with the former Cambodian provinces abducted by Siam, I believe that it is my duty to send you the following observations and reservations, and I am also asking you to please let these be known, at an opportune time, to the delimitation Commission which will start its works and submit them to the Government of the (French) Republic. My delegates within this Commission are also in charge of supporting the same demands in front of the Commission.
Continue reading "Letter (5 November 1906) from the King of Cambodia, H.M. King Sisowath to France"