Khmer Stylizing in Canada
Posted by: | Posted on:
April 7, 2010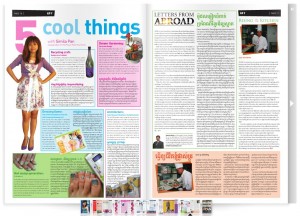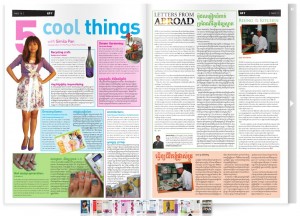 Wednesday, 07 April 2010 15:00 Sophan Seng

April is a busy month for Cambodians all over the Khmer diaspora since Khmer New Year is fast approaching. Since the holiday is not recognised by governments in foreign countries, Cambodians living abroad must wait for the weekend to celebrate the holiday. Some communities celebrate the holiday at Buddhist temples, but more often than not, people celebrate the new year in public halls or other rented spaces.
While the location of the celebration may not be familiar to many Cambodians, the events themselves have changed little among Cambodians living abroad. Go to a Khmer New Year celebration in Canada and you are likely to see authentic food, religious ceremonies, popular games, and traditional arts and entertainment.
The thing that always impresses me most is the beauty of the women wearing traditional Khmer outfits. The graceful appearance of Khmer women and their styles of dress have remained intact. "I have always worn traditional Khmer outfits to attend Khmer festivals, wedding ceremonies and traditional gatherings," said Kimleine, who has been living away from Cambodia since she was a toddler.
I would say that every Khmer family I know has plenty of traditional clothes for such events. Peddlers display different styles of Khmer cloths every time a cultural event is upcoming.
"I like the style a lot, especially Khmer traditional outfits for weddings," said Kimleine.


While traditional styles have remained the same for many years, other styles are always changing, and it can be expensive to keep up. Kimleine complained that the rapid change of karaoke fashion is costly for her to follow. "I think popular Khmer styles like we see on karaoke videos are easily outdated," she said. "So we always need to buy a new one, which is very expensive."
According to researcher Janet Mclellan, Cambodian Canadians are still strongly attached to traditional styles. In a posting on the Multicultural Canada Web site, the author explained that "during cultural celebrations, women and young girls wear the traditional Khmer dress of sarong, sampot and krama (a long scarf in different colours, woven from cotton or silk)". But these outfits are not easy to wear when you are used to more modern clothes. While wearing traditional clothes, one must be careful while walking, sitting or moving.
As with many things in Cambodian culture, the younger generation is being asked to carry on the traditions of their family and countrymen. While most of them, like Kimleine, are happy to do this, it requires an increasing amount of flexibility and adaptability for youth who have embraced modernity in the rest of their life.
| | |
| --- | --- |
| | Sophan Seng is a Cambodian living in Canada. He is the facilitator of the Khmer-Canadian Buddhist Cultural Center and president of the Khmer Youth Association of Alberta. If you are living abroad and you want to share your experiences with our readers, send your letters to lift@phnompenhpost.com This e-mail address is being protected from spambots. You need JavaScript enabled to view it |
Original source: The Phnom Penh Post