Solution for unemployment in Canada
Posted by: | Posted on:
April 21, 2010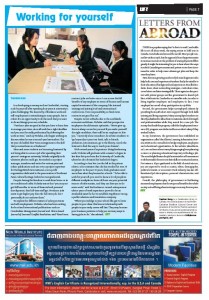 Letters from abroad
Wednesday, 21 April 2010 15:00 Sophan Seng

There is a popular saying that "to live is to work", and while life is not all about work, the saying seems to hold true in Canada, Cambodia and around the world. Most people cannot live without a job, but the approach from the governments in various countries to the problem of unemployment differs greatly. It might be interesting for you to hear about the ways in which Canada's government and private sector have intervened in order to help more citizens get jobs and keep the ones they have.
First, there is a growing number of job search agencies who help both new and experienced workers find jobs suitable to their educational background and experiences. Enrolled students learn about networking strategies, curriculum vitae, cover letters and interviewing skills. These agencies also partner with private groups and the government to launch job fairs, which exist in Cambodia on a smaller scale, in order to bring together employers and employees. In fact, I was employed as a result of my participation in a job fair.

Second, the government helps unemployed citizens by providing them with short-term support through both skills training and living expenses. Many unemployed workers are directly subsidized to allow them to maintain a level of strength and professionalism while they search for a new job. The money that funds this program, called the Employment Insurance (EI) program, was deducted from workers' salary if they worked before.
In my hometown, the government has established an organization called the Alberta Learning Information Services (ALIS) as the central hub to bridge employers, employees and educational opportunities. At the website (alis.alberta.ca/), we can learn about many things ranging from planning a career, or planning educational trajectory to finding a job. The most helpful feature for job hunters is the self-assessment tools that enable them to test their skills in various industries. For instance, if you graduated in the field of social science, you are expected to work as curator, editor, demographer, political scientist, or economist. Each industry has also differentiated job descriptions, personal characteristics, and experiences.
Overall, the philosophy of government in facilitating increased employment has the reciprocal benefit to the whole society as it will bring about a stronger economy for everyone.
| | |
| --- | --- |
| | Sophan Seng is a Cambodian living in Canada. He is the facilitator of the Khmer-Canadian Buddhist Cultural Center and president of the Khmer Youth Association of Alberta. If you are living abroad and you want to share your experiences with our readers, send your letters to lift@phnompenhpost.com |