March, 2010
now browsing by month
Posted by: | Posted on:
March 31, 2010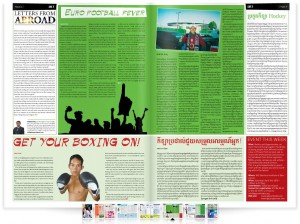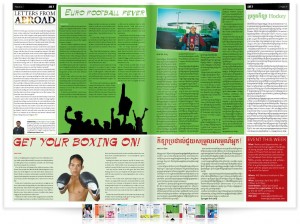 Letters from abroad
Wednesday, 31 March 2010 15:00 Sophan Seng
Just few weeks ago, Canadians were proudly cheering on their team as they celebrated Canada's gold-medal hockey win over America in the 2010 Olympic winter games held in Vancouver. Days afterwards, the National Hockey League (NHL) resumed its regular season, and in April the league will begin its own championship tournament. There are 32 hockey teams in the NHL who represent 32 cities with their hockey-playing prowess.
The league is divided into 16 teams on the West Coast and 16 teams on the East Coast. Canada has six teams in the East Coast league, with the other 26 teams coming from America. The playoffs are the grand finale of the season, where eight teams from each side of the continent play each other for the Stanley Cup, a trophy that is given to the league's best team each year.
"I am cheering for the Calgary Flames to reach the playoffs," said Kevin Troung, who is an 18-year-old fan of the Canadian hockey team. "They are currently battling with the Red Wings of Detroit to get a chance to enter the Stanley Cup finals."
While football is the most popular sport in Cambodia, hockey is without a doubt the most popular sport in Canada, and the two games have many differences. In football, the players run around on the green grass wearing nothing but shin pads to protect themselves from injury. Hockey players, on the other hand, are equipped with helmets, padding and a stick that they use to move the puck (like a flattened ball) around the ice while they move around on their skates like hurricanes. Each side is composed of six players: three forwards who attempt to hit the puck into the opponent's small goal, and two defenders and a goalie who try to stop the other team from scoring. Like soccer, the winner is the team that scores the most goals.
Read More …