Friday, October 28th, 2011
now browsing by day
Posted by: | Posted on:
October 28, 2011
SPEAKING FREELY
Cambodia's unrealized peace promise
By Ou Virak
Speaking Freely is an Asia Times Online feature that allows guest writers to have their say. Please click here if you are interested in contributing.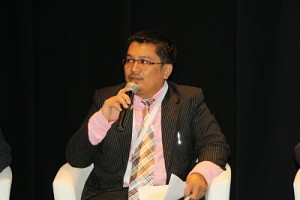 PHNOM PENH – Twenty years ago this week Cambodia entered a brave new dawn. The four Cambodian factions that had fought a protracted civil war since the fall of the Khmer Rouge regime in 1979 came together with signatories from 18 countries in Paris to sign the Agreement on a Comprehensive Political Settlement of the Cambodia Conflict, otherwise known as the Paris Peace
Agreement. It was a document that promised the Cambodian people peace, stability, democracy and human rights after decades of war and hardship.
On paper, the Royal Government of Cambodia (RGC) has followed through on some of the Paris Peace Agreement's promise. It presided over the ultimate disintegration of the Khmer Rouge after more than three decades of war, slaughter and widespread suffering; it established the Khmer Rouge Tribunal in an attempt to provide justice to the victims of the genocidal regime; it signed various international human-rights covenants and treaties; it oversaw Cambodia's entry into the Association of Southeast Asian Nations (ASEAN); and it has achieved a fair degree of economic prosperity and development.
In the fields of democracy and human rights, however, its accomplishments are less clear. Prime Minister Hun Sen's government has routinely flouted many of the covenants it has ratified; further entrenched a pervasive culture of corruption and impunity, allowed the wealth gap between the elite and vast majority of poverty-ridden Cambodians to widen alarmingly, and waged a sustained legislative and administrative campaign to control every aspect of the Cambodian people's lives, showing scant regard for the rule of law, democratic institutions and human rights and freedoms.
Read More …