Sunday, June 16th, 2013
now browsing by day
Posted by:
CambodiaTreks
| Posted on:
June 16, 2013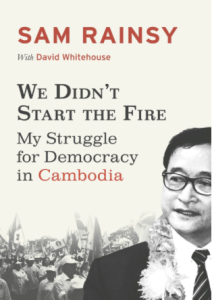 By Roger Mitton
TUESDAY, 11 JUNE 2013

Opposition leader Sam Rainsy in Washington in May. The self-exiled Rainsy was denied entry into Thailand last week, and was reportedly told he would not be allowed back until after the Cambodian election. Photo by AFP

Sam Rainsy, Cambodia's opposition leader and former finance minister, is not a man you would want your sister to marry.

Though still boyishly handsome and stylish, he is outspoken, arrogant and very smart. Such men tend to rise meteorically, then self-destruct before gaining real power.

That said, despite self-imposed exile in France to avoid an 11-year jail sentence he claims is politically motivated, it is still too early to write off Rainsy, 64, as a recent incident in Bangkok proved.

Last Wednesday, the Foreign Correspondents' Club of Thailand planned to host an event at which Rainsy would discuss poverty, corruption and injustice in Cambodia.

Given past conflicts with media-suppressive Thai governments, the FCCT stressed that it was not sponsoring Rainsy's visit and that "responsibility for program content was solely that of the event organiser".

The organiser's name, however, was not revealed, although it was stated that the event would feature the launch of Rainsy's new autobiography, We Didn't Start the Fire: My Struggle for Democracy in Cambodia.

The book recounts his early days in Phnom Penh, his family's expulsion, the Khmer Rouge regime, the Vietnamese occupation, and Prime Minister Hun Sen's control of the country since 1985.