July, 2019
now browsing by month
Posted by:
Leadership Skills
| Posted on:
July 22, 2019
Cambodia denies deal to allow armed Chinese forces at its naval base
ReutersJuly 21, 2019, 5:45 PM PDT
WASHINGTON (Reuters) – China will be able to place armed forces at a Cambodian naval base under a secret agreement the two nations have reached, the Wall Street Journal reported on Sunday, although Cambodian officials denied such a deal had been struck.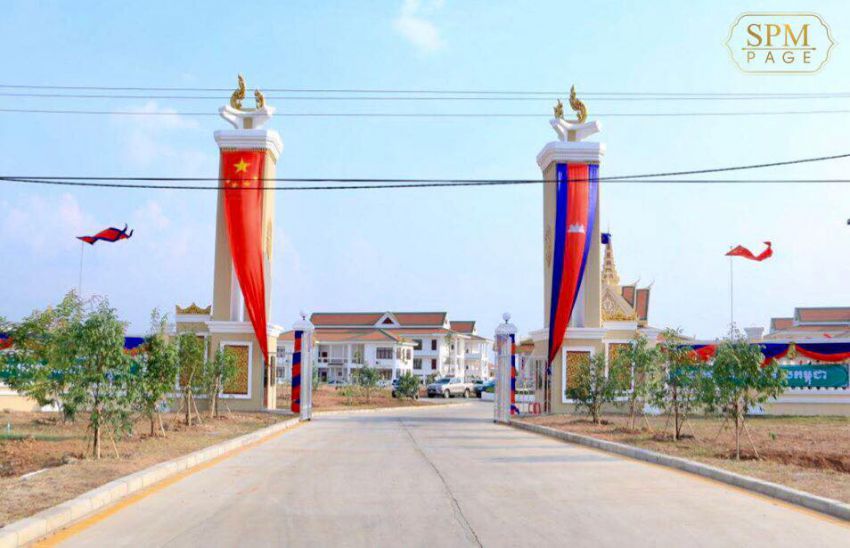 The agreement, reached this spring but not made public, gives China exclusive access to part of Cambodia's Ream Naval Base on the Gulf of Thailand, the Journal reported, citing U.S. and allied officials familiar with the matter.
Such an arrangement would give China an enhanced ability to assert contested territorial claims and economic interests in the South China Sea, challenging U.S. allies in Southeast Asia. Chinese and Cambodian officials denied such an agreement existed, according to the Journal.
Read More …
Posted by:
Cambodian
| Posted on:
July 18, 2019
Shown Here:
Referred in Senate (07/16/2019)
116th CONGRESS
1st Session
H. R. 526
---
IN THE SENATE OF THE UNITED STATESJuly 16, 2019
Received; read twice and referred to the Committee on Foreign Relations
---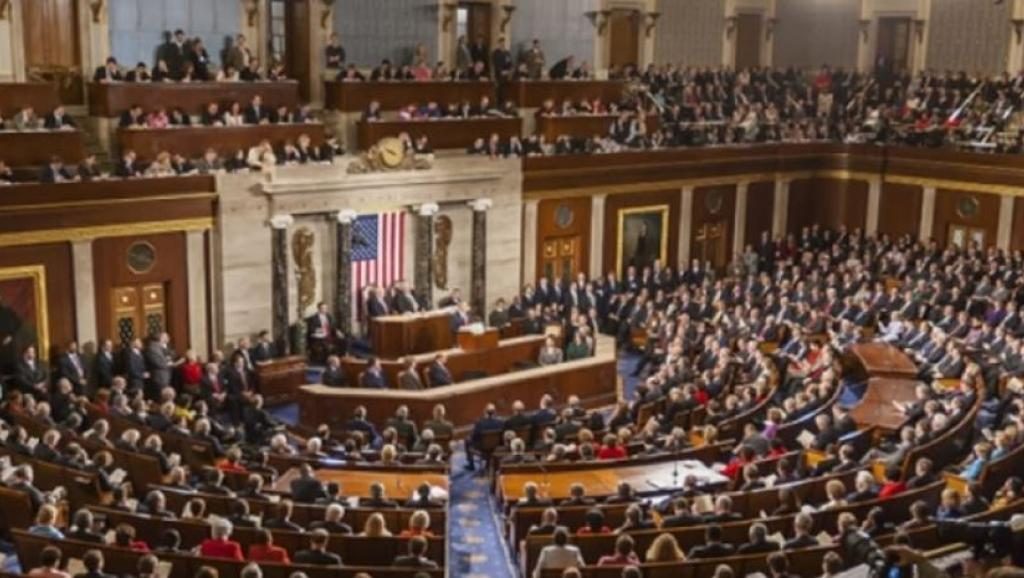 AN ACT
To promote free and fair elections, political freedoms, and human rights in Cambodia, and for other purposes.
Be it enacted by the Senate and House of Representatives of the United States of America in Congress assembled,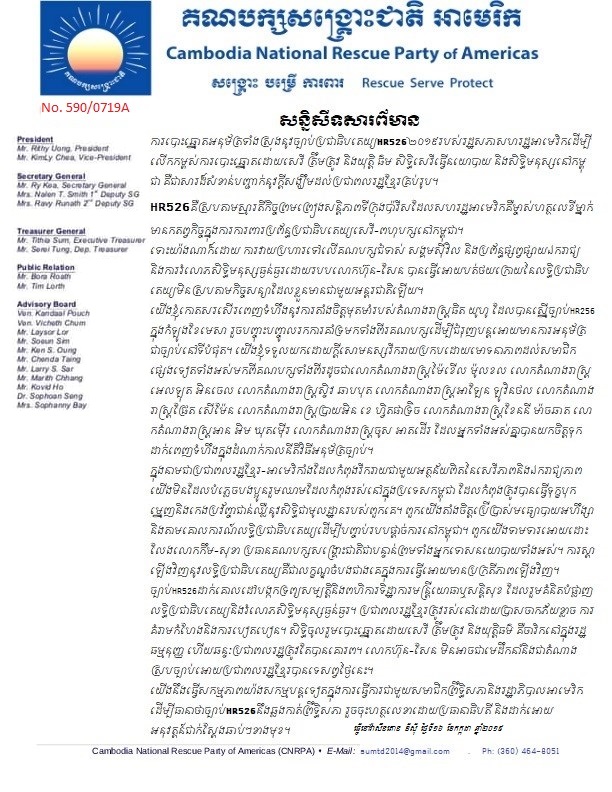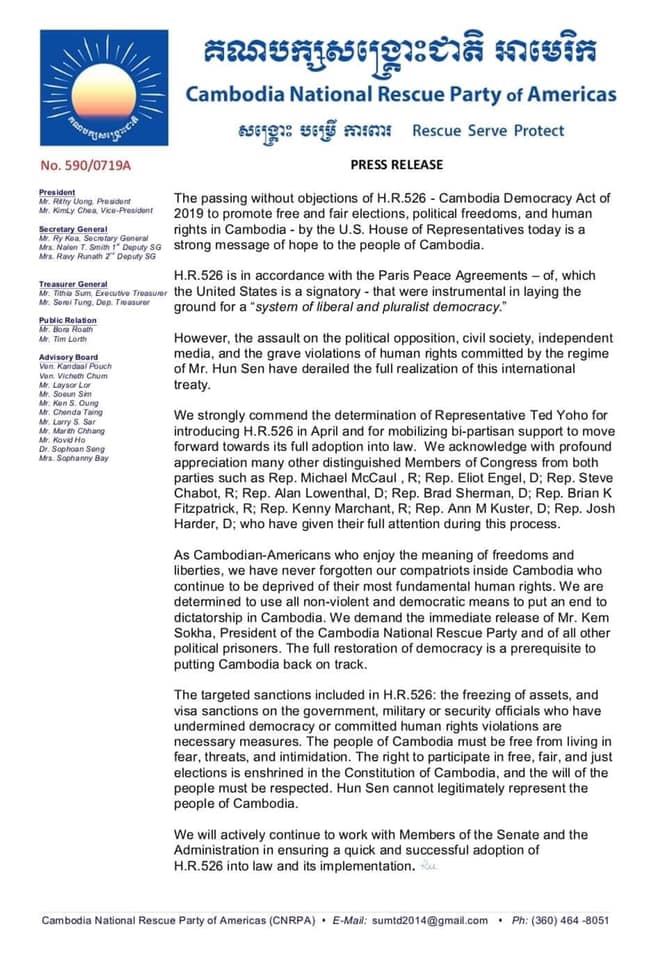 SECTION 1. SHORT TITLE.
This Act may be cited as the "Cambodia Democracy Act of 2019".
SEC. 2. FINDINGS.
Congress finds the following:
(1) Prime Minister Hun Sen has been in power in Cambodia since 1985 and is the longest-serving leader in Southeast Asia. Despite decades of international attention and assistance to promote a pluralistic, multi-party democratic system in Cambodia, the Government of Cambodia continues to be undemocratically dominated by the ruling Cambodia People's Party (CPP), which controls every agency and security apparatus of the state.
(2) In 2015, the CPP-controlled parliament passed the "Law on Associations and Non-Governmental Organizations", which gave the government sweeping powers to revoke the registration of NGOs that the government believed to be operating with a political bias in a blatant attempt to restrict the legitimate work of civil society. On August 23, 2017, Cambodia's Ministry of Foreign Affairs ordered the closure of the National Democratic Institute and the expulsion of its foreign staff. On September 15, 2017, Prime Minister Hun Sen called for the withdrawal of all volunteers from the United States Peace Corps, which has operated in Cambodia since 2006 with 500 United States volunteers providing English language and healthcare training.
(3) The Government of Cambodia has taken several measures to restrict its media environment, especially through politicized tax investigations against independent media outlets that resulted in the closure of The Cambodian Daily and Radio Free Asia in early September 2017. Additionally, the Government of Cambodia has ordered several radio stations to stop the broadcasting of Radio Free Asia and Voice of America programming.
(4) On September 3, 2017, Kem Sokha, the President of the Cambodia National Rescue Party (CNRP), was arrested on politically motivated charges, including treason and conspiring to overthrow the Government of Cambodia, and faces up to 30 years in prison. The CNRP's previous leader, Sam Rainsy, remains in exile. On November 16, 2017, Cambodia's Supreme Court dissolved the CNRP, eliminating the primary opposition party.
(5) Each of the six elections that have taken place in Cambodia since 1991 were conducted in circumstances that were not free and fair, and were marked by fraud, intimidation, violence, and the government's misuse of legal mechanisms to weaken opposition candidates and parties.
(6) In the most recent general election in July 2018, following the dissolution of the CNRP, the CPP secured every parliamentary seat, an electoral victory that a statement from the White House Press Secretary stated was "neither free nor fair and failed to represent the will of the Cambodian people".
(7) The United States is committed to promoting democracy, human rights, and the rule of law in Cambodia. The United States continues to urge the Government of Cambodia to immediately release Mr. Kem Sokha, reinstate the political status of the CNRP and restore its elected seats in the National Assembly, and support electoral reform efforts in Cambodia with free and fair elections monitored by international observers.
SEC. 3. SANCTIONS RELATING TO UNDERMINING DEMOCRACY IN CAMBODIA.
(a) Designation Of Persons Responsible For Undermining Democracy In Cambodia.—
(1) IN GENERAL.—Not later than 180 days after the date of the enactment of this Act, the President shall designate and transmit to the appropriate congressional committees a list of—
(A) each senior official of the government, military, or security forces of Cambodia who the President determines has directly and substantially undermined democracy in Cambodia;
(B) each senior official of the government, military, or security forces of Cambodia who the President determines has committed or directed serious human rights violations associated with undermining democracy in Cambodia; and
(C) entities owned or controlled by senior officials of the government, military, or security forces of Cambodia described in subparagraphs (A) and (B).
(2) IMPOSITION OF SANCTIONS.—The President shall impose the sanctions described in subsection (b) on each foreign person designated pursuant to paragraph (1).
(3) UPDATES.—The President shall transmit to the appropriate congressional committees updated lists under paragraph (1) as new information becomes available.
Read More …
Posted by:
Leadership Skills
| Posted on:
July 16, 2019
Hun Sen's Man in Washington (State)
Cambodia's strongman has found an unlikely American voice.
BY CHARLES DUNST | JULY 16, 2019, 1:47 PM
PHNOM PENH, Cambodia—Cambodian Prime Minister Hun Sen is having trouble making friends in the United States under President Donald Trump.
While past Presidents George W. Bush and Barack Obama pursued tentative cooperation with Cambodia, the United States—when it is paying attention to Cambodia at all—has grown increasingly frustrated with the Hun Sen government's authoritarianism and alignment with China. The White House has issued repeated rebukes, even cutting aid to Cambodia. And in May, three U.S. senators—Lindsey Graham, Dick Durbin, and Marco Rubio—introduced a bipartisan bill prescribing financial penalties if Cambodia does not "protect its sovereignty from interference" by China and reverse its crackdown on the political opposition.
Unable to find purchase in Washington, Hun Sen, for domestic political purposes, has turned to an unlikely next best: Washington state.
Doug Ericksen, a Republican who represents Washington state's 42nd legislative district in the state senate and served previously as one of Trump's campaign deputies, inearly April registered with the U.S. Justice Department as a foreign agent of the Cambodian government, cementing his status, several years in the making, as Hun Sen's American defender-in-chief.
As relations between Phnom Penh and Washington began to sour—a rift accelerated by Hun Sen's imprisonment of opposition leader Kem Sokha in 2017—Ericksen, a run-of-the-mill state-level Republican lawmaker, began turning up more and more in Cambodia and in Cambodian media. During visits to Cambodia beginning in 2016 that predate his formal registration as a lobbyist, he lent his voice to pro-government media outlets, which used his remarks to counter an increasingly unified chorus of Western criticism. The audience in mind is domestic: Cambodians, according to Noan Sereiboth, a blogger who leads the Cambodian youth political discussion group Politikoffee, "want the relation[ship] with the U.S. [to be] closer." Public opinion polling tells a similar story. Hun Sen wants and perhaps needs to show that he enjoys U.S. support, even as official relations grow poorer.
To that end, as the White House condemns him and the U.S. Senate mulls economic penalties for Cambodia, Hun Sen has turned to word games to help keep up perceptions. Even in the United States, the distinction between Washington, D.C., the nation's capital, and Washington state, in the Pacific Northwest, is the subject of occasional confusion. In Cambodia, that confusion is augmented by an understandable lack of familiarity with U.S. geography and encouraged by the Cambodian government and media, which refer to Ericksen as a senator, not as a state senator.
Hun Sen has turned to word games to help keep up perceptions.
Read More …