Cambodian Controversial
now browsing by tag
Posted by: | Posted on:
January 7, 2009
The January 7 celebrations in context

Written by Sophan Seng
Wednesday, 07 January 2009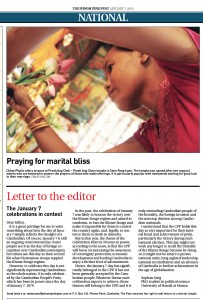 Dear Editor,
It is a great privilege for me to write something about how the day of January 7 simply reflects the thought of a Cambodian. Of course, January 7 is still an ongoing controversial day. Some people see it as the day of foreign occupation over Cambodian sovereignty, but others see this day as their second life when Vietnamese troops toppled the Khmer Rouge regime.
However, to celebrate this day is not significantly representing Cambodians as the whole nation. It is only celebrated by the Cambodian People's Party, which has been in power since the day of January 7, 1979.
In the past, the celebration of January 7 was likely to honour the victory over the Khmer Rouge regime and aimed to condemn, to ban the Khmer Rouge and make it impossible for them to control the country again, and, legally, to sentence them to death in absentia.
But in this year, the theme of the celebration after its 30 years in power, according to the news, is that the CPP will focus on increasing the awareness of sovereignty protection, economic development and leading Cambodia to enjoy a further level of advancement.
Read More …