Letter to Editor
now browsing by tag
Posted by:
Cambodian
| Posted on:
February 18, 2017
Rainsy's Resignation Begins New Chapter
As the article "Rainsy Quits Amid Threat, But CNRP Still in Danger" (February 13) notes, Sam Rainsy resigned as president of the CNRP to save his party from dissolution at the hands of Prime Minister Hun Sen-with commune election coming in June and the national election next year.
Academics see Mr. Hun Sen's non-stop obsession to divide and weaken the CNRP as a pre-emptive tactic before the elections, ensuring his preferred outcome. His activities have surpassed all efforts to reform and destroyed what good might have come of it.
Mr. Rainsy has laid out an inclusive policy to include Cambodians overseas, especially millions of migrant workers, to be able to vote, as opposed to Mr. Hun Sen who has advocated to exclude them.
Apart from his personal integrity and genuine patriotism, Mr. Rainsy is clear and intelligent in handling political truces with Mr. Hun Sen. With more than 23 years experience in leading opposition party, his effort paid off in 2013. Seas of people gathered in tsunamic-like crowd to welcome him back home at the airport a few days prior to the national election, which the CNRP nearly won.
From now on, Mr. Rainsy will be an icon of change and idealistic pragmatism in Cambodia. His political career is not over. As long as Cambodian people, especially younger voters, remain supportive of his decadeslong struggle, his vision for Cambodia will cease to be a dream.
Sophan Seng is executive director of the Committee for Election Rights of Overseas Cambodians.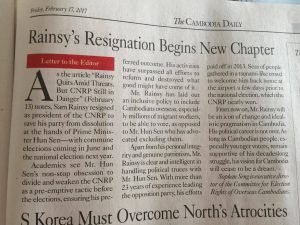 Posted by: | Posted on:
January 7, 2009
The January 7 celebrations in context

Written by Sophan Seng
Wednesday, 07 January 2009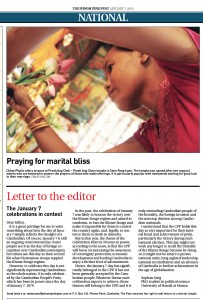 Dear Editor,
It is a great privilege for me to write something about how the day of January 7 simply reflects the thought of a Cambodian. Of course, January 7 is still an ongoing controversial day. Some people see it as the day of foreign occupation over Cambodian sovereignty, but others see this day as their second life when Vietnamese troops toppled the Khmer Rouge regime.
However, to celebrate this day is not significantly representing Cambodians as the whole nation. It is only celebrated by the Cambodian People's Party, which has been in power since the day of January 7, 1979.
In the past, the celebration of January 7 was likely to honour the victory over the Khmer Rouge regime and aimed to condemn, to ban the Khmer Rouge and make it impossible for them to control the country again, and, legally, to sentence them to death in absentia.
But in this year, the theme of the celebration after its 30 years in power, according to the news, is that the CPP will focus on increasing the awareness of sovereignty protection, economic development and leading Cambodia to enjoy a further level of advancement.
Read More …