We Didn't Start the Fire: My Struggle for Democracy in Cambodia
By Sam Rainsy. Chiangmai: Silkworm Books, 2013. Softcover: 210pp.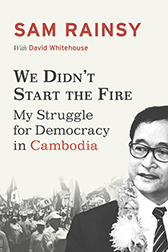 Sam Rainsy is the French-educated leader of Cambodia's political 
opposition to Hun Sen, the self-styled "strong man" who, except 
for a two-year interlude in the 1990s, has been Cambodia's prime 
minister since 1984. This campaign autobiography was originally 
published in France, where Rainsy lived in exile between 2010 
and mid-2013. It was timed to precede the July 2013 Cambodian 
national elections, which occurred soon after Rainsy returned to 
Phnom Penh. In the elections, the opposition unexpectedly won at 
least 55 seats in the National Assembly. 
After the elections, Rainsy claimed on patchy evidence that 
the opposition had won them outright and was prepared to govern 
the country. Hun Sen rejected these claims. Rainsy also refused to 
allow the elected members of the opposition to take their seats. As 
this is written (July 2014) they still have not done so. Like many 
Cambodian leaders in the past, and like Hun Sen, Rainsy has no 
respect for such imported concepts as a loyal opposition or sharing 
power. In Cambodia, politics is a zero-sum game.
We Didn't Start the Fire
 covers Cambodian history since Sam 
Rainsy was born. The book is short, and history is often scrappily 
presented, but Rainsy is a well-trained economist and a courageous, 
intelligent patriot. For these reasons his memoir is worth reading. 
The chapters about his early life (pp. 1–22) are poignant and 
revealing. Similarly, his account of his tumultuous time as Cambodia'

s 
finance minister in the 1990s (pp. 63–88) is of interest, because 
Rainsy's Quixotic failure to clean up the country's system got him 
dismissed from office while his description of the 1997 grenade 
attack that almost killed him and did kill 20 of his supporters
(pp. 93–97) is vivid, clear-headed and scary. Although it is clear 
that the attack emanated from Hun Sen, no charges were ever laid 
and the murders remain unsolved. 
The rest of the book is padded out with details of Rainsy's 
marriage, his career as a banker in France, the support he has 
gathered in Western countries and the ups and downs of his political 
life. The memoir closes with a withering (and to my mind accurate) 
indictment of conditions in Cambodia today, followed by Rainsy's 
utopian proposals for "putting out the fire" once the opposition 
under his leadership might come to power.