Letter to the Editor: Cambodians Overseas Have the Right to Vote
Posted by:
Cambodian
| Posted on:
August 21, 2017
Letter to the Editor: Cambodians Overseas Have the Right to Vote
BY READER | AUGUST 14, 2017
Regarding your article "CNRP Will Propose Changes to Allow Voting From Abroad" (August 7), the Committee for Election Rights of Overseas Cambodians (CEROC) would like to respond.
—Letter to the Editor—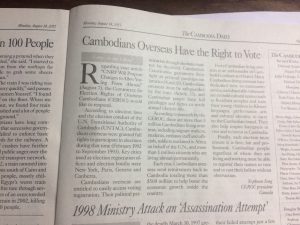 According to election laws and the election conduct of the U.N. Transitional Authority of Cambodia (UNTAC), Cambodians overseas were granted full rights to participate in elections during that time (February 1992 to September 1993). Key cities used as election registration offices and election booths were New York, Paris, Geneva and Canberra.
Cambodians overseas are entitled to easily access voting registration. Their political participation through elections must not be deprived. Cambodia's Constitution guarantees their right to political participation (articles 34 and 35). Cambodians overseas must be safeguarded by the state (Article 33), and Cambodian people have full privileges and rights to settle abroad (Article 40).
According to research by the CEROC, there are more than 3 million Cambodians living overseas, including migrant workers, students, embassy staff and officials, soldiers stationed in Africa on behalf of the U.N., and more than 1 million citizens who are living abroad permanently.
Each year, Cambodians overseas send remittances back to Cambodia totaling more than $500 million to help boost the economic growth inside the country.
Every Cambodian living overseas is an ambassador of Cambodia's culture and brand. Many Cambodians living overseas have dedicated time to community service and charitable volunteerism to build cultural centers such as Buddhist temples and train their young children in Khmer languages, performance arts and cultural identity, to carry on the Cambodian brand. They also help inspire foreigners to visit and to invest in Cambodia.
Finally, each election must ensure it is free, fair and professional. Cambodian people regardless of where they are living and working must be able to register their names to vote and to cast their ballots without obstruction.
Sophoan Seng
CEROC president
Canada