Saturday, August 11th, 2018
now browsing by day
Posted by:
Cambodian
| Posted on:
August 11, 2018
Next Steps for Accountability
Given these new developments, the U.S. should take concerted action to hold Hun Sen and other cronies in the Cambodian government to account. The U.S. and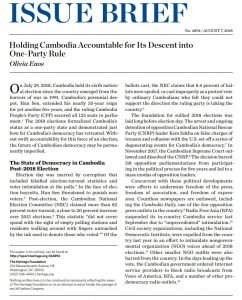 other key actors in the international community, including the European Union, signaled their disapproval of the dissolution of the opposition and deteriorating conditions in the country. These actions may have been too little too late. A more robust response should have been carried out five years ago after flawed 2013 elections revealed a state of deteriorating democracy in Cambodia.22 The U.S. should take further steps to hold the Cambodian government accountable:
Name and sanction Hun Sen and other party cadres for the role they play in undermining democracy in Cambodia. The U.S. Treasury Department should use all available tools in its toolbox to freeze and seize assets of known individuals actively obstructing freedom in Cambodia. It should expand its use of existing Global Magnitsky authorities and use any other relevant authorities to place individuals on the SDN list. Such an action would send a clear signal to Hun Sen that the U.S. will intervene in necessary ways to get Cambodia back on the path toward democratic reform.
Expand existing visa restrictions on Cambodian officials undermining democracy. The U.S. State Department should follow through on promises made in its condemnation of the July 2018 election to expand existing visa restrictions on Cambodian government officials. One potential way to expand these authorities would be to extend visa restrictions unequivocally to family members, especially to Hun Sen's direct family members. (Current visa restrictions only apply to family members on a case-by-case basis.)23
Create and convene an emergency meeting of the Cambodia Contact Group comprised of parties to the 1991 Paris Peace Agreement, including the United States, Japan, Indonesia, Australia, the U.K., and France, to monitor and press for democratic reform. Among the purposes of the Paris agreement was to ensure "the right to self-determination of the Cambodian people through free and fair elections" and "assuring protection of human rights."24 The signatories have a continuing moral obligation in this regard. The contact group should be used to coordinate human rights policies and assistance programs toward Cambodia. In short order, leaders from all of the countries at the foreign-minister level should convene to draw up coordinated plans to hold the Cambodian government accountable and get Cambodia back on the path toward reform.
Condition assistance to Cambodia on the health of democracy. The U.S. should adopt stringent metrics for determining whether Cambodia is eligible for key assistance programs. Such language could mirror proposed conditions in the 2019 State, Foreign Operations, and Related Programs Appropriations bill.25 Language in the Senate version of the appropriations bill is particularly strong and specific. The U.S. government should conduct a thorough review of all assistance to Cambodia and consider instituting more severe restrictions on aid. Emphasis should be placed on holding the Cambodian government accountable without harming the people themselves.
Continue to press for the release of Kem Sokha. Every U.S. government statement issued in response to deteriorating conditions in Cambodia should continue to reference Kem Sokha's imprisonment and request that the Cambodian government release him immediately. The U.S. government should also make clear that there will be additional consequences if Kem Sokha continues to be held. Without a swift, coordinated plan democracy may never be restored in Cambodia. The U.S. and the international community should learn from the mistakes of its limited response after the 2013 election and respond to the 2018 elections in an offensive, rather than defensive, manner. The U.S. should plan for conditions to continue to deteriorate and put in place mechanisms that ensure Hun Sen and his CPP cronies are held to account
Read more details at Asia Foundation…
=====
As Singapore dredges sand out from beneath Cambodia's mangrove forests, an ecosystem, a communal way of life, and one woman's relationship to her beloved home are faced with the threat of erasure.
I remember my first trip to the mangrove forests near the island of Koh Sralau and along Cambodia's coastline. I had no idea how extensive the mangrove forests were or how spectacular they would be. The forests stretched for miles and miles, carving out small islands, narrow waterways and channels, and ecologically diverse estuaries. I wanted to document the impact of sand dredging on the mangroves and on the lives of the people who live and thrive in these forests and the oceans surrounding them.
For over a decade, the government of Cambodia has granted several private companies concessions to mine these mangrove forests for sand. Each year, millions of metric tons of sand are shipped to Singapore to enlarge this island nation's land mass, while Cambodia destroys its only natural protection against erosion, rising sea levels, tsunamis, and hurricanes and lays waste to a vital and fragile ecosystem that thousands of families depend on for their livelihood.
Read more details at Emergence Magazine…
=======
In late July, Cambodia participated (sort of) in the General Election, without having the option to choose the opposition Cambodia National Rescue Party (CNRP), which had been dissolved by the Supreme Court last November. The landslide victory by the ruling Cambodian People's Party (CPP) all but assures Prime Minister Hun Sen of near total control of the country. For poll watchers, observers of democracy and human rights activists, the post-mortem reflection on Cambodia's decline will be painful. But for how long? This brief analysis offers three likely developments in Cambodia that offer both a glimpse of optimism and words of warning.
No. 1: Any imposed sanctions on Cambodia will fail: When the CPP clamped down on political freedoms, Western governments reacted strongly, yet predictably. Economic sanctions were at the top of the list of suggested responses. The United States called forsanctions for Cambodia in January after the arrest of CNRP leader Kem Sokha. Recently, the U.S. and the European Union have called for sanctions on high-ranking officials and more, including thoughts of stripping Cambodia of tax-free access to Western textile markets. If implemented, the loss of revenue could top $650 million. While that wouldcause few reservations for the CPP and Prime Minister Hun Sen, the impact would be felt by up to a million poor Cambodians who work in the textile and garment industries. Sanctions would almost certainly jeopardize efforts to boost national economic standing. The World Bank graduated Cambodia from LDC to lower-middle-income status in 2016and the United Nations has been supporting the country in efforts to move to upper-middle income status by 2030. Threats of sanctions reflect myopic foreign policies that fail to grasp the larger economic and political landscape. While Cambodia will not be able to find alternative Chinese markets for their goods, they will find political solace from Beijing and a new source of legitimate criticism in which to rest short-term political futures. The Americans should learn from the past. The U.S. imposed a trade embargo on Cambodia after the Khmer Rouge gained to power in 1975 and kept them through 1992. Cambodia relied then on China and communist states for their economic survival and it will soon again. Economic sanctions simply don't work. They rarely have.
No. 2: Cambodia's civil society will re-emerge: Creeping authoritarianism in the months before the July 2018 election subjected Cambodian civil society groups working in Cambodia to repressive restrictions. Recently, the Center for Strategic and International Studies (CSIS) found that the judiciary has been used by the government to tighten controls on civil society groups that the regime saw as a threat, including the closure of some independent media organizations, violent responses to demonstrations, and arbitrary detention and arrest of human rights and political activists. The government passed the Law on Associations and NGOs in 2015, which provided a legal means for threatening civil society groups. However, the cost of repression is often high and civil society often quickly learns to adapt to acts of state violence. One need only look at Cambodia's neighbor to the west as an example. Thailand imposed a number of repressive laws in the aftermath of the 2014 coup d'etat. Groups of five people were banned from gathering in public, political activists were arrested, and thousands were forced into re-education camps. But, five years after the coup, civil society is showing signs of re-emergence. Unless Hun Sen is willing to use much more repressive means to curtail civil society activities, it is highly likely that CPP dominance will face the same legitimacy challenges Prayut and the NCPO face today. Discounting the power of civil society in Cambodia is to not properly remember its history. Cambodians who faced human rights challenges during the Khmer Rouge eramobilized society and formed the basis for a robust human rights movement–even before the arrival of UNTAC. While it may not emerge in the short-term, it will inevitably happen.