Thursday, December 5th, 2019
now browsing by day
Posted by:
Leadership Skills
| Posted on:
December 5, 2019
Australia must stop 'sucking up' to Cambodia's 'gangster regime': MP
December 4, 2019 — 2.52pm
Australian MPs from both major parties have united to condemn Cambodian Prime Minister Hun Sen in the wake of the dictator's political opponent being put on trial for widely criticised treason charges.
Liberal and Labor politicians have also sounded the alarm on Chinese influence in the south-east Asian nation, including a planned military build up in the beach town of Sihanoukville.
A Cambodian court this week sent Opposition Leader Kem Sokha's case to trial, after he was arrested in 2017 and his party banned ahead of an election last year that was condemned by the international community.
Monovithya Kem, the exiled daughter of Mr Sokha and herself a major opposition figure, said the Australian government could do much more to pressure the Cambodian government.
"Targeted individual sanctions should happen immediately and only be lifted the day that Cambodia holds free, fair elections," she told The Age and The Sydney Morning Herald.
The European Union last month gave a one-month deadline for Hun Sen to explain what he will do to address human rights violations, while the United States Congress is also considering how to respond.
Labor MP Julian Hill said the Cambodian Prime Minister was running a "gangster regime" and Australia needed to change its approach.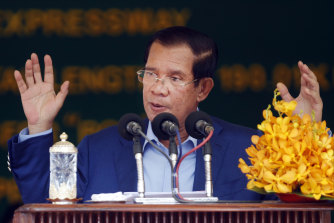 "Putting the Opposition Leader on trial for treason? I mean seriously," Mr Hill said.
"The Australian Government has to stop sucking up to Hun Sen and rethink our approach.
"It's way past time that Australia consider tougher measures such as visa bans and asset freezes for senior members of this odious regime."
Mr Hill said he would now push for a parliamentary inquiry into Cambodia through the Joint Standing Committee on Foreign Affairs, Defence and Trade.
Liberal Senator James Paterson said the charges against Mr Sokha were further evidence that Cambodia was flouting democratic norms.
"Julian Hill and I are unlikely allies. We are from opposite ends of opposing political parties," Senator Paterson said.
Read More …