April, 2010
now browsing by month
Posted by: | Posted on:
April 28, 2010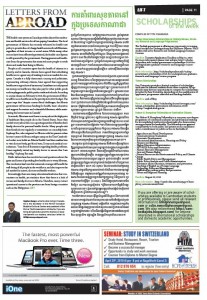 Letters from abroad

The health-care system in Canada provides almost free medication and health services for all tax-paying Canadians. The local government of Alberta has recently reformed its health-care policy to provide free-of-charge health services for all Albertans, regardless of their income or social status. While many other sectors have been effectively privatised, the health-care System is still operated by the government. Having guaranteed health-care from the government has attracted more people to settle down and make their living in Alberta.
People in all countries agree that the health of citizens is a priority, and in Canada, citizens have agreed that subsidising healthcare is a great way of making it more accessible for everyone. Canada is a fully democratic country and politicians, representing ordinary citizens, have agreed that supporting healthcare is a good use of tax money. Canadians not only spend tax money on healthcare; they also pay for other public goods such as playgrounds, public parks, roads and schools. According to a news release on February 9, 2010, the government of Alberta will focus on healthcare as the priority in its 2010 budget. The report says that "despite current fiscal challenges, the Alberta government will increase funding for health, basic education and support for seniors and vulnerable Albertans, while maintaining the lowest taxes in Canada".
As a result, Albertans won't have to worry about the high price of healthcare like people do in the United States. Since they needn't worry about the cost, a growing number of families have family doctors for personal health checks. Many people visit their family doctor regularly or sometimes on a monthly basis. Sopheap Ros, who migrated to Alberta with his parents when he was 3-years-old from a refugee camp on the Thai-Cambodian border, now holds an Alberta Health Card that enables him to visit doctors freely, get blood tests, X-rays and medical consultations. "I am free of frustration regarding health problems. I have regularly visited my family doctor to ensure that I am healthy," Sopheap Ros said.
Read More …
Posted by: | Posted on:
April 21, 2010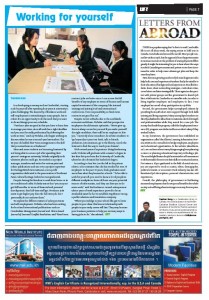 Letters from abroad
Wednesday, 21 April 2010 15:00 Sophan Seng

There is a popular saying that "to live is to work", and while life is not all about work, the saying seems to hold true in Canada, Cambodia and around the world. Most people cannot live without a job, but the approach from the governments in various countries to the problem of unemployment differs greatly. It might be interesting for you to hear about the ways in which Canada's government and private sector have intervened in order to help more citizens get jobs and keep the ones they have.
First, there is a growing number of job search agencies who help both new and experienced workers find jobs suitable to their educational background and experiences. Enrolled students learn about networking strategies, curriculum vitae, cover letters and interviewing skills. These agencies also partner with private groups and the government to launch job fairs, which exist in Cambodia on a smaller scale, in order to bring together employers and employees. In fact, I was employed as a result of my participation in a job fair.
Read More …
Posted by: | Posted on:
April 7, 2010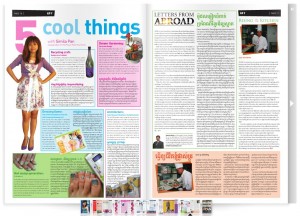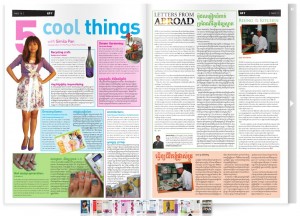 Wednesday, 07 April 2010 15:00 Sophan Seng

April is a busy month for Cambodians all over the Khmer diaspora since Khmer New Year is fast approaching. Since the holiday is not recognised by governments in foreign countries, Cambodians living abroad must wait for the weekend to celebrate the holiday. Some communities celebrate the holiday at Buddhist temples, but more often than not, people celebrate the new year in public halls or other rented spaces.
While the location of the celebration may not be familiar to many Cambodians, the events themselves have changed little among Cambodians living abroad. Go to a Khmer New Year celebration in Canada and you are likely to see authentic food, religious ceremonies, popular games, and traditional arts and entertainment.
The thing that always impresses me most is the beauty of the women wearing traditional Khmer outfits. The graceful appearance of Khmer women and their styles of dress have remained intact. "I have always worn traditional Khmer outfits to attend Khmer festivals, wedding ceremonies and traditional gatherings," said Kimleine, who has been living away from Cambodia since she was a toddler.
I would say that every Khmer family I know has plenty of traditional clothes for such events. Peddlers display different styles of Khmer cloths every time a cultural event is upcoming.
"I like the style a lot, especially Khmer traditional outfits for weddings," said Kimleine.
Read More …