Voice from Cambodia: Khmer Traditional Wedding
Posted by: | Posted on:
February 21, 2012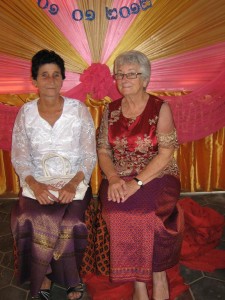 Dear All,
I am back from India and adjusting to being back at work…..trying to think about how to present Bernoulli's Principle to an English as Second Language class, when my own grasp of the concept is tenuous at best….should be an interesting week.
Loung is back from his "honeymoon" and although he is dead tired, he can only be described as looking smug…..he has been looking forward to being married for quite a while. He had asked me to come along on the honeymoon and I was not quick enough to control the look of dismay on my face at this invitation. Thankfully I was off in India so could decline the invitation. He didn't understand my reticence, because as is the custom here, Khmer generally travel in crowds.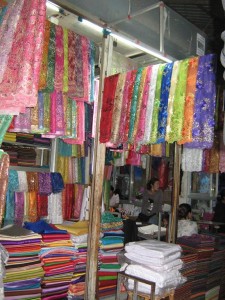 But back to the beginning…
I was quite proud of myself braving the market to buy the fabric for my outfit for Loung's wedding. Row upon row of silk and lace made the choices somewhat difficult,(Photo 775) and I found it difficult not to be distracted by the ranks of gleaming white plastic pubises on which the ready-made blouses were displayed (Photo 776) but I finally settled on some lace and then had the lady at the stall model fabric for the skirt. She had an excellent eye for colour as the first length she chose was in fact the best match.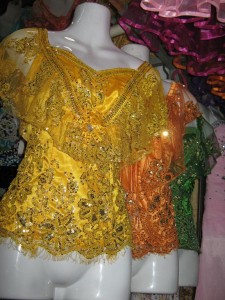 The wedding had originally been scheduled for February, but after consultation with the astrologer, it was moved forward to the 1st and 2nd. of January as being more auspicious dates.Loung brought in his engagement photos to show us at school and as usual a crowd of children clustered around to have a look as well (Photo 817)
I was invited to the wedding party, but asked if I could attend the wedding ceremony instead and was told to turn up at 1:00 p.m.
Lots of phone calls back and forth to find out where it was taking place. I've finally worked out why there is loud music blaring all the time during the wedding …in a town where the roads have no names and the houses have no numbers, the only way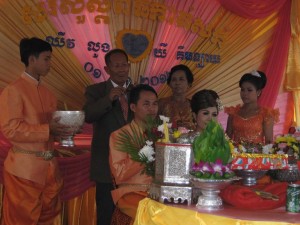 you'll find a wedding address will be by the blaring music. Well, that's my theory anyway!
Events were running to Khmer time and I was asked if I wanted to see the dressing preparations upstairs where the bride, bridesmaids and a host of others were being made up, coiffured and dressed.Layers of pale make-up applied (Photo 932)
Khmer ladies do not like to look too dark-skinned and although Loung assured me that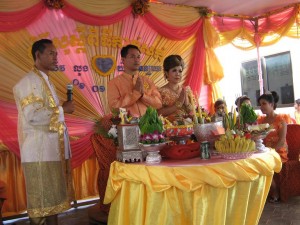 Khmer ladies enjoy all of this preparation, one of the bridesmaids was almost in tears as her hair was teased, lacquered and layered with additional coils of fake curls(Photo 933). Even small children were getting in to the spirit of the event as everyone shared the same pots of make-up.( Photo 934).The dressers unpacked the wedding sarongs and tops and proceeded to pin (with straight pins!) and fold the participants in to to their regalia.(Photo 935)
Meanwhile Loung and the groomsmen were also dressed in outfits that were in the same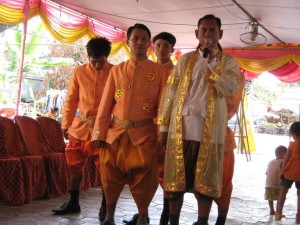 colour range as the ladies (Photo 942). The ceremony was conducted by an MC with a gold mesh jacket and a very loud microphone.(Photo 946). The bride and groom sat with hands in prayer for the most part as a  surrogate bride and groom (I think ) acted out the ceremony in dance and song.(Photo 948)
Part of the ceremony involves cutting the couple's hair to symbolise the beginning of a new family. No actual cutting occurs as there are so many attached hairpieces, but pairs of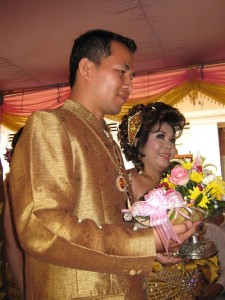 relatives came forward to perform this (Photo 954) and to spray perfume on the couple and shake holy water on them. It became clear that I was to be part of the ceremony….a tiny elderly Khmer woman was assigned to me ( probably to make sure I didn't mess up) and she generally told me where to sit, when to take photos, where to put my bag etc.and when to go cut hair.
Loung introduced her as one of his many grandmothers and I was fascinated by her. Although distinctly Khmer in language, dress and behaviour, she had western features. And Loung confirmed this by referring to her as barang. I asked about her and was told by Loung that during the war her mother would not let her go to France, so I can only assume she must have been the child of a mixed marriage whose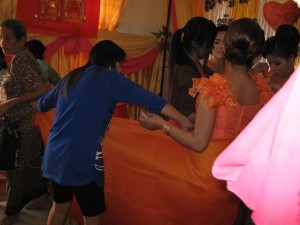 parent opted for her to stay in Cambodia. I can't even imagine how dangerous that must have been for her! (Photo 972)
Meanwhile in the yard, preparations were going ahead for the meal following the ceremony. Lashings of garlic being chopped and a huge boiling pan of stock for the soup. (Photo 957) As soon as the ceremony was completed everyone assumed their normal dress and tucked in to a meal.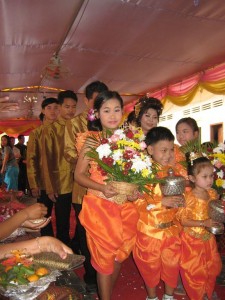 The following morning (7:00 a.m.) was the fruit procession where the groom's relatives and friends bring fruit to the bride's parents.Initially my partner (Same tiny Khmer lady from the day before) and I were given a stack of bright orange perssimons on a silver platter, but someone decided that we needed to carry dried squid (I thought Ali- Ali would approve of that substitution) instead. My partner made sure I had the squid oriented correctly (tentacles facing the front) and we set off.
The fruit was ceremonially presented to the bride's parents by the surrogate bride (Photo 966) and then the couple processed down the centre aisle while the participants showered fragrant petals on them.(Photos (970 and 971)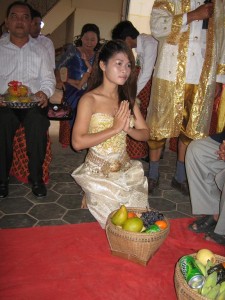 As soon as the formalities were completed  the tables were rolled out and a breakfast of rice porridge was served. Anything left over found its way in to the capacious bags that the little old ladies carry around  with them.
It was a great experience. There are certainly similarities to a Western wedding, but it was made very exotic by the setting and ceremony. I was really fortunate to have been included in Loung's wedding and will always have very fond memories of it.