Thursday, May 16th, 2013
now browsing by day
Posted by:
Sophan
| Posted on:
May 16, 2013
The Khmer Youth Association would like to express deep gratitude and appreciation on the successful welcoming of Bus Tour of Asian Heritage Foundation to celebrate the Month of May signifying for Asian Culture and Diversity in Alberta, Canada.
We are glade to see more than 32 guests unloading from the bus and entering into the compound of our centre. We are glade to see our community members of more than 50 collectively help and participate this extraordinary event.
The presentation was briefly explaining about the history of the community, the history of rich cultural heritage such as ancient monument of Angkor Wat and Angkor Thom, the Khmer clothes, performance art and food, the benefit of Vipassana meditation and its practice etc.
The event was highlighting with 7 distinctive shows:
1. Pinpeat Music Orchestra which is assembled of many original instruments have originated since the Angkor period of 9 century. The instruments are including Sko Touch, Sko Thom, Tre etc. (see attached photo) or more reading on: http://blog.aseankorea.org/archives/13752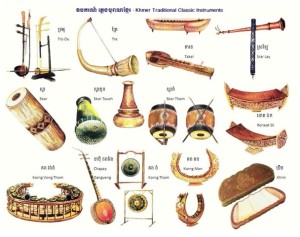 Courtesy of: http://blog.aseankorea.org/archives/13752
2. Preah Thong Tong Sbai Neang Neak which is one of the important parts of Khmer Wedding. Preah Thogn Tong Sbai Neang Neak or groom holding the scarf of bride significantly describes the legend of the birth of Cambodian country. The legend said that Groom must follow Bride by holding the scarf tightly so that he can reach her parents' resident. Legend further describes that Cambodia originally led by a powerful and gorgeous princess, a distant traveler named Preah Thong fell in love with the princess and asked her to be married. In order to travel in a long distance and dangerous way, Preah Thong must ensure that his one hand is holding the scarf tightly while another hand is holding a sword. For Neang Neak who is a family leader in that time, she is a chief in the family to oversee many things including family finance which she is holding on her palm hand as a symbol. The legend was about the Kingdom of Naga (Sacred Serpent) in which some interpretation has been mistaking called Dragon. Naga is the important legendary sacred snake in Cambodia. More reading about the story of Preah Thong Tong Sbai Neang Neak: http://www.tourismcambodia.com/culture/art-and-culture/khmer-wedding.htm
   Note that in the past, the wedding ceremony took up to more than 3 days with more than 62 traditional songs but now it has summarized to 13 songs in 1 day and a half.