Policy Watch by Sophoan: Economy Policy of the CPP addressed by H.E.Ouk Rabun
Posted by:
CambodiaTreks
| Posted on:
June 29, 2013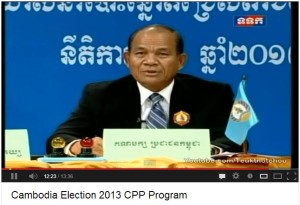 After watching the economy policy of the CPP addressed by H.E.Ouk Rabun who is the permanent member of the Cambodian People's Party (CPP), the address is detailed, clear and well organized. The policy written in the paper is sliced into pieces regarding economy plans if the CPP won election. Of course, if one has anticipated the CPP which is the ruling party since 1997, the policy in each election has not changed much. This election mandate, the CPP has publicly announced that they will carry out the old policy but new implementation approach.
The address in this time, the policy is attractive and achievable, but audience has placed doubts on its political will and concrete implementation. Lesson learned from previous elections, the similar policy has been publicly addressed but after the CPP won, there have been grossly unproductive to what party promised. There are some progress within the policy, but there are many flaws and violations over the policy such as the land concession, the forest management, the non-transparency of mineral and natural resources bidding, the corruption unit which is not independent and neutral in handling with corrupted officials, the widening gap of people's living standard, the inability to collect national revenue especially tax to use for national development, the inability to pay back debts, the craving for more foreign loan without worrying the future adversity of this country and many more. In contradict to inclusive growth and equity economic development, the CPP has successfully built its strong political patronage for future strength of political power.
While maintaining the political status quo has been well aware among the ruling elites of the CPP, the unfair games in each election have been plentifully produced by the CPP although those games are not abiding by the National Constitution, the Democratic Principles and those games were extremely criticized by the foreign observers.
Thus, I appreciate the paper work of this policy and hope the CPP can implement it accordingly if they won the election. Let stay tune to hear other party's economy policy.
Don't forget to caste your vote on July 28, 2013.