Cambodia asks for original maps from UN to verify border line with Vietnam
Posted by:
Cambodian
| Posted on:
July 6, 2015
Cambodia asks for original maps from UN to verify border line with Vietnam
Monday, 06 July 2015; News by Xinhua
Op-Ed: Xinhua
PHNOM PENH, July 6 (Xinhua) — Cambodian Prime Minister Hun Sen on Monday requested all original maps deposited at the United Nations to verify the authenticity of maps the government is using to demarcate border line with its neighboring countries.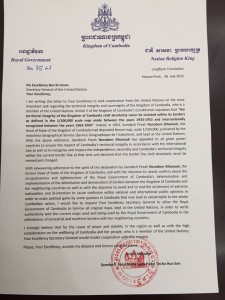 In a letter sent to UN Secretary General Ban Ki-moon, Hun Sen said, "I'd like to request Your Excellency Secretary General to allow the Royal Government of Cambodia to borrow all original maps kept at the United Nations."
The move came after the opposition Cambodia National Rescue Party repeatedly accused the government of using the maps drawn by the Vietnamese during its occupation in the 1980s.
Hun Sen said the request for the original maps is to show the scrupulousness and righteousness of the Cambodian government in delimiting and demarcating borders between Cambodia and her neighbors.
It is also "to avoid and to end the incitement of extreme nationalism and ill-intention to cause confusion within national and international public opinions in order to make political gains by some quarters in Cambodia that may lead to catastrophe to the whole Cambodian nation," he said.
According to the prime minister, late King Norodom Sihanouk deposited the Bonne map, scale 1/100,000, published by the Indochina Geographical Service and internationally recognized between 1963 and 1969 at the United Nations.
Border dispute between Cambodia and Vietnam flared in recent months after the opposition party lawmakers and activists inspected border line and clashed twice with Vietnamese security personnel and civilians.

Also, the Cambodian government said it has found that Vietnamese authorities had dug eight ponds deeply inside northeast Cambodian territory, constructed a military post, and built roads at non-demarcated border areas.
Cambodia shares a 1,270-km border in the east with Vietnam. To date, about 80 percent of the border demarcation between the two countries has been completed.