News On The Upcoming Fake Election Of Cambodia And The Election Boycott
Posted by:
Cambodian
| Posted on:
May 25, 2018
Op-Ed: The CEROC
Lee Morgenbesser, an expert on authoritarian regimes, said the elections would "absolutely not" be free and fair, even with the CNRP's participation.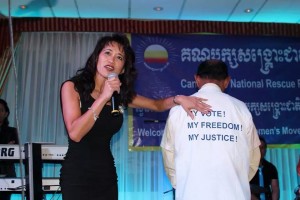 "The minimum standard requires that all parties and candidates be subject to the same procedures for registering and appearing on the ballot; all campaign and compete on a level playing field; all have equal access to the media; voters be free to vote for their preferred candidates; and official results accurately reflect the votes that were cast," he explained.
Cambodia has failed to satisfy each of these requirements – and few would be resolved even if the CNRP were revived.
===
The government has even abandoned symbolic gestures such as Phnom Penh's "Freedom Park," established in 2010 to satisfy the country's Law on Peaceful Demonstrations. The park, which hosted mass protests following the disputed 2013 elections, is supposed to be a designated area for citizens to gather in protest. It was closed down after Hun Sen ordered it to be relocated to the outskirts of the city, around 4 kilometers away from the original park. The relocation seems to violate a clause in the law that requires the park be easily accessible to the public. Today, 10-foot high metal walls have cropped up around the park, blocking access entirely.
The closure of Freedom Park may make little difference, given that Hun Sen has expressed his willingness to kill 100-200 people to maintain stability, and Ministry of Interior spokesman Khieu Sopheak bragged that nobody "dares" to protest.
The forced exclusion of the CNRP has understandably grabbed headlines. But the restrictions on free speech, media, civil society, freedoms of association and assembly, and the possible absence of election observers indicate that even if the CNRP were miraculously resurrected, the Cambodian elections would still be a far cry from free and fair.
===
If passed, the bill must be enacted into law within 180 days, although it is not yet clear when the House will vote on the legislation.
The Cambodia Democracy Act 2018 states that democracy has failed in Cambodia despite "decades of international attention and assistance," and condemns the deteriorating situation for political rights, civil society and the free press.
The legislation's co-sponsor, Alan Lowenthal, called the bill a "major step" towards holding Hun Sen and his associates accountable.
"I believe these sanctions will get the attention of the Cambodian government," Lowenthal said in a statement, stressing that the US and world must act urgently. "I also believe that our action today will encourage other members of the international community to take similar actions and bring additional pressure to bear on Hun Sen."
Cambodian officials identified as being involved in undermining democracy are already banned from traveling to the US following a December decree from the State Department.
There are now bills in both the US Senate and House that would impose asset freezes, although the Senate bill goes even further by requiring that the US oppose loans to Cambodia from international financial institutions. It also bans any negotiations on the more than US$500 million debt Cambodia owes America dating back to the 1970s.
Cambodian officials' assets are difficult to track given that asset "declarations" sit in a closed envelope in the government's Anti-Corruption Unit. Some high-ranking officials like Siphan are dual US-Cambodian citizens.
===
Rainsy also said Hun Sen "is holding his people hostage and blackmailing donor nations" by flaunting the negative effects sanctions would have on average Cambodians.
"I am calling on the Cambodian people to be prepared for some additional hardship in our current fight for a democratic and peaceful change," he said. "As in any battle for a just cause, a short-term sacrifice may be required to secure a better future."
While the US hasn't threatened the garment industry specifically, officials have warned that further action is on the cards.
Sophal foresees more sanctions coming after the July elections, which he doesn't expect the US to recognize as free, fair or legitimate. "It's clear as day the US will reject the results of the election and I expect more sanctions as Cambodian democracy is not only undermined but completely gutted."
====
Voters and abstainers
Rather than a competition between the CPP and another party, the election is shaping up to be a competition between voters and abstainers. With the CPP all-but-guaranteed a win, it is voter turnout that counts. As Cambodian political analyst Meas Nee points out, the CPP's concern is no longer winning the election, but maintaining legitimacy and "minimum recognition" from the international community.
Following the CNRP's call for a boycott, the Cambodian government has responded by accusing Rainsy of violating the constitution and election laws. Pro-government social media activists have added frames encouraging voting to their Facebook profile photos. While the Malaysian grassroots effort to get people to the ballot box earlier this month was perceived as working against the incumbent, in Cambodia it's the ruling party themselves who are trying to get out the vote.
Government officials have acknowledged that citizens have the right to abstain, but some have issued thinly veiled threats. CPP member Ieng Moly warned that it would be easy to identify boycotters simply by looking out for people without the stain of indelible ink on their fingers. He said that such people would be recognised as supporters of the "treasonous rebel group".
Government officials have acknowledged that citizens have the right to abstain, but some have issued thinly veiled threats
It's all a little topsy-turvy; Nee says the ruling party has now found itself in the bizarre position of "nurturing" competitors and convincing their supporters to vote. Hun Sen has even, on multiple occasions, ordered local officials to facilitate registration and advertising for other parties.
Yet the emergence of these parties have raised suspicions. According to Nee, the preponderance of small parties that "came from nothing" is peculiar. He also points out that Khmer National Unity Party leader Nhek Bun Chhay was conveniently pardoned just in time to lead his withering party into the coming elections. A former government advisor, Bun Chhay was arrested in 2017 over a 10-year-old drug case. Mom Sonando, president of the Beehive Social Democratic Party, also returned to the political stage in similarly abrupt fashion. Sentenced to 20 years' imprisonment for secession and incitement in 2012, Sonando's sentence was reduced to five years and suspended in the face of international outcry. Despite resigning as Beehive Party leader, Hun Sen personally encouraged him to rejoin the party for the upcoming election.
Plenty of "questions" also remain about the Khmer Will Party, Nee says, claiming that it serves the ruling party's interests "even if it's not a direct puppet".
===
Ear Sophal, associate professor of Diplomacy and World Affairs at Occidental College, says that legitimacy is no longer on the table for the CPP. Elections, he argues, are the culmination of democracy, not democracy itself, and Cambodia has no democratic characteristics aside from a "fake" election. Although he can't say for sure if the minor parties with no history or supporters were puppets, but he doesn't see them as credible competitors.
Like Nee, Sophal sees the sudden pardons of Nhek Bun Chhay and Mom Sonando as suspicious. "It all smells of Russian kompromat—but it's sad to see that happen to someone who inspired me as much as Mom Sonando. The guy was a bouncer at a strip club back in France. What compromising material can possibly bring him down?" he says.
Hun Sen will be seeking a result that he can claim as his mandate, but in Sophal's eyes, the election is a "nothingburger" and "theatre of the absurd".
"They think they're buying legitimacy, but legitimacy's not for sale," he adds.