Chinese tourists win, poor Cambodians lose with US$4 billion Hong Kong-backed casino in Phnom Penh
Posted by:
Sophoan
| Posted on:
April 10, 2019
Chinese tourists win, poor Cambodians lose with US$4 billion Hong Kong-backed casino in Phnom Penh
Tenants turfed out of Phnom Penh's iconic low-income housing block, the White Building, were told it would be redeveloped to house Cambodians
Instead, NagaCorp is planning a development the size of Marina Bay Sands in Singapore that it hopes will attract high-rolling Chinese gamblers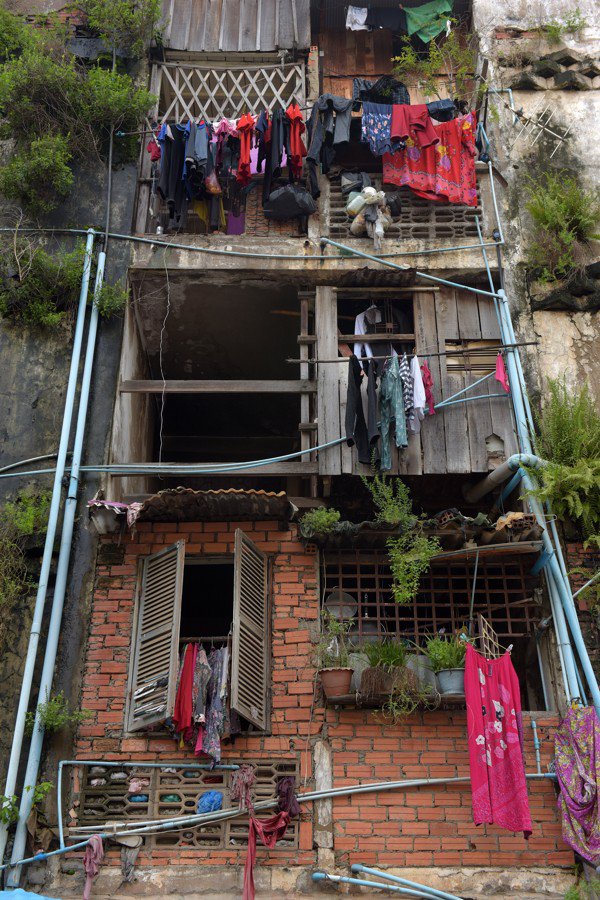 Andrew Nachemson  Kong Meta  , Published: 9:00am, 10 Apr, 2019
Op-Ed: This Week in Asia of SCM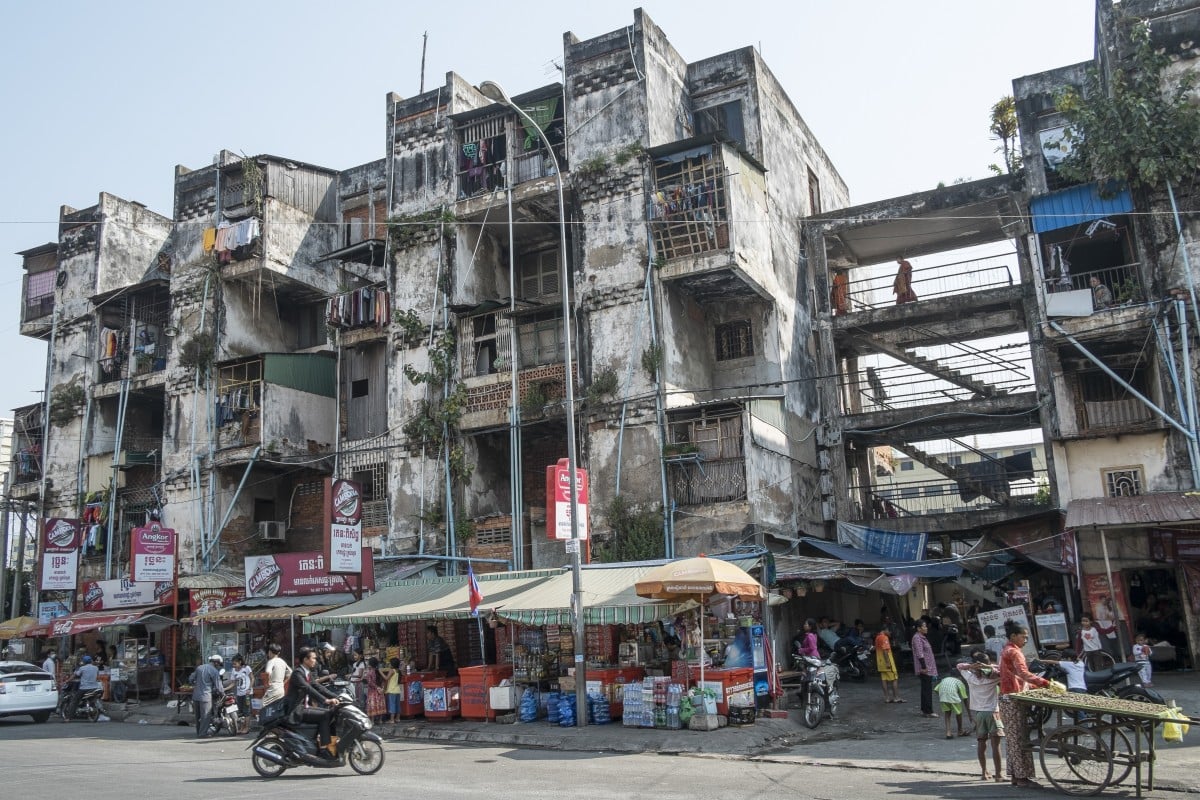 Phnom Penh's White Building, designed by Cambodian architect Vann Volyvann, before its destruction. File photoAn iconic Phnom Penh housing site known as the White Building is being turned into a multibillion-dollar casino development, as Cambodia woos Chinese tourists by catering to their penchant for gambling.Hong Kong-listed developer NagaCorp, controlled by Malaysian billionaire Chen Lip Keong, estimates it will spend US$3.8-US$4 billion on the Naga3 project, its third casino in the country, which will have hotels, condominium facilities and a 12-floor entertainment centre and outlet mall.NagaCorp's deputy chairman Philip Lee told local media on Tuesday: "Naga3 is the single biggest private sector investment so far in the country and may be for years to come. It is about the same size as Marina Bay Sands in Singapore … which is the most expensive entertainment complex in the world."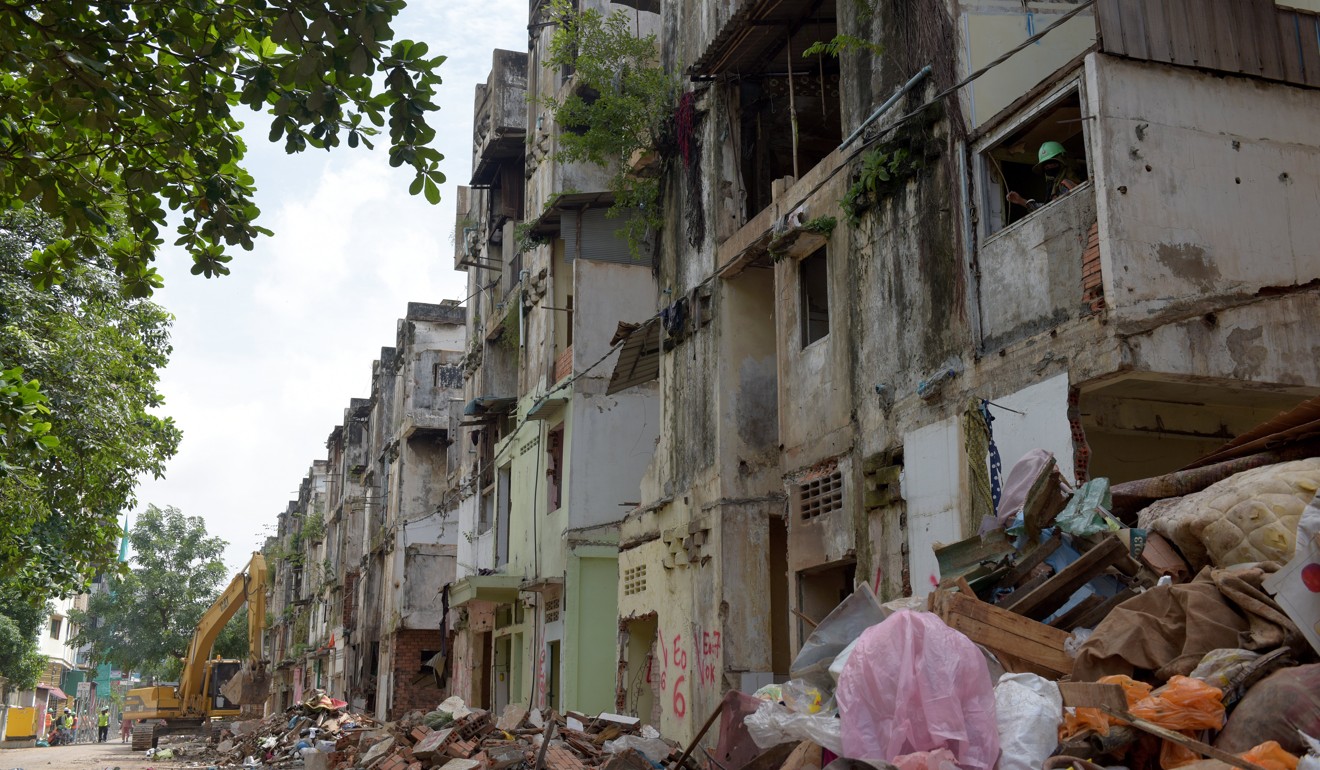 A Cambodian worker (R) looks through a window during demolition work at the White Building residential complex in Phnom Penh. Photo: AFPS
But the news has surprised and upset former residents of the low-income housing block and conservation activists, who had been under the impression the site was being redeveloped to house Cambodians.
Among them is Nhek Chantha, 67, who was turfed out of the White Building in 2017 and moved in with her children as she could not afford a new place.
"[The government] told such a big lie to us. It's a very central place, they should renovate it and allow us to keep living there so it becomes a cultural site for people to see, but they think only about profit," she said.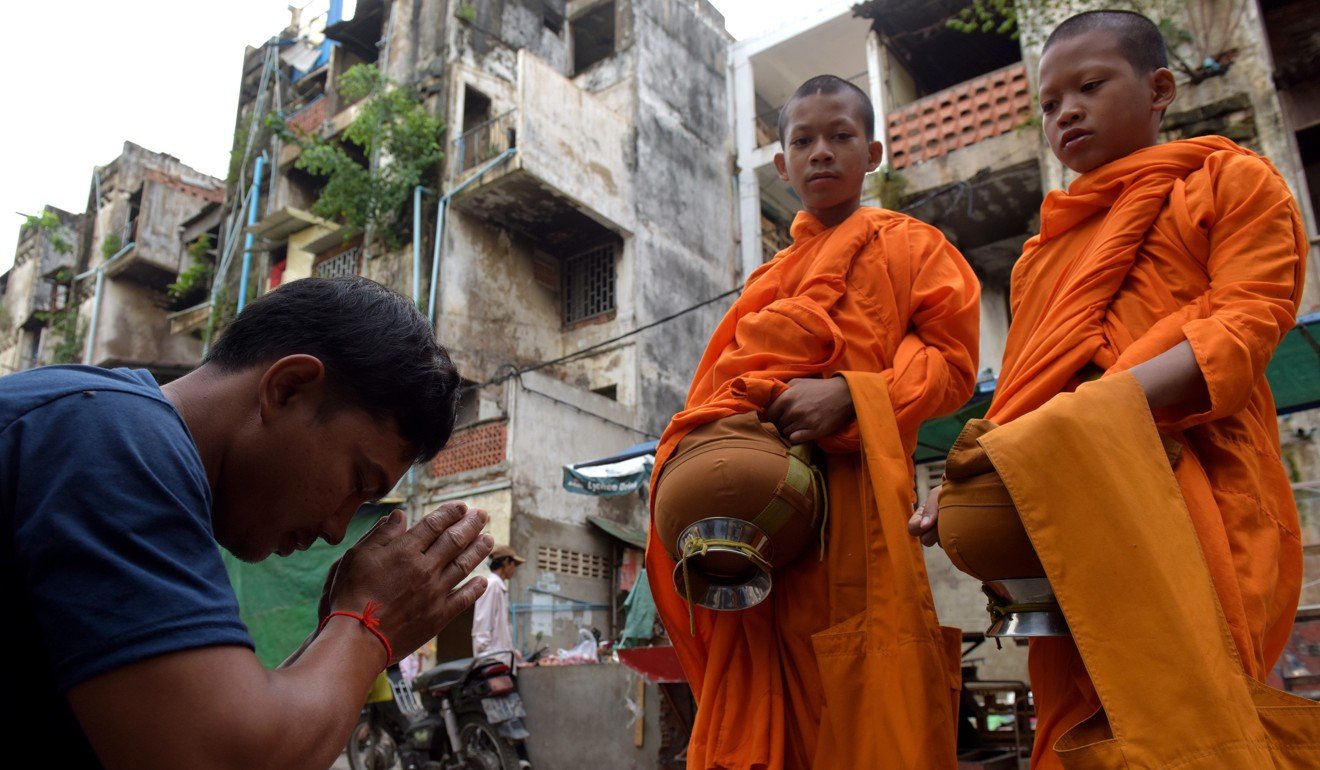 A Cambodian man prays to Buddhist monks at the residential complex known as the White Building before its demolition in Phnom Penh. Photo: AFPS
A Japanese company, Arakawa Co Ltd, was supposed to rebuild the landmark site and turn it into a 21-storey condominium block. Five of the floors were to be reserved for low-income housing that would go to the previous residents of the White Building and 12 floors would be used for private flats. Land Management Minister Chea Sophara in 2016 had asked Cambodians to "be patient while waiting for the new White Building to be finished in four years".
Arakawa did not respond to requests for comment on Monday and Land Ministry spokesman Seng Lot said he did not know how or why the land was transferred to NagaCorp.
Constructed in 1963 as part of the Bassac River Front cultural complex and overseen by legendary architect Vann Molyvann, the White Building was, along with the rest of the city, evacuated in 1975 by the ultra-Maoist Khmer Rouge occupation which targeted artists and intellectuals.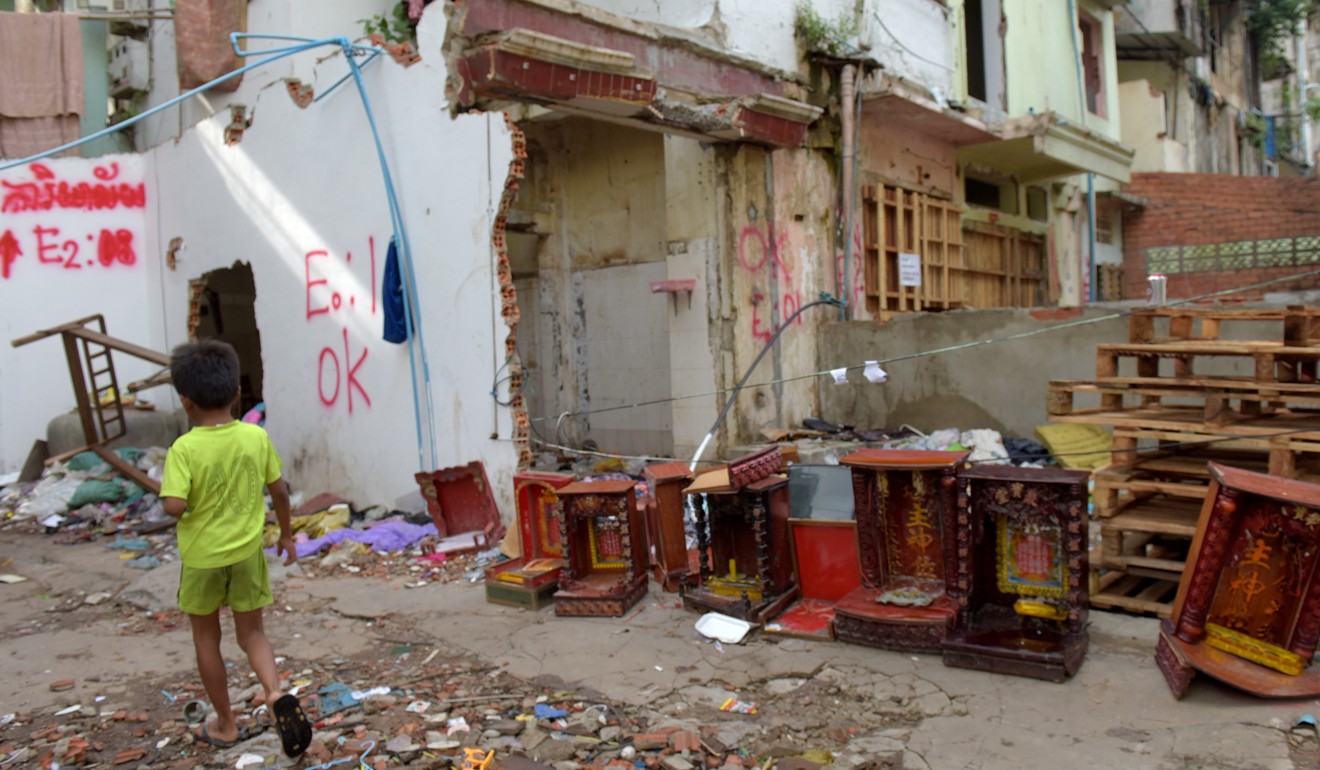 A Cambodian boy walks past spirit houses at the residential complex known as the White Building in Phnom Penh before its demolition. Photo: AFPS
After the regime fell in 1979, a mixed crowd including artists and musicians moved in, turning it into a colourful and close-knit, if sometimes seedy, community until the government demolished it two years ago, saying it was not structurally sound.
Residents were offered compensation packages to leave at US$1,400 per square metre, with many protesting that the payment was insufficient to find new housing in Phnom Penh. According to Key Real Estate, property prices in the centre of the city ranged from US$2,000 to $9,000 per square metre at the beginning of 2018.
San Chey, the executive director of the Affiliated Network for Social Accountability-Cambodia, insisted Arakawa and the government should clarify what happened.
"I think it is a way of transferring land to earn a big amount," he said.
Chey said if the decision had been made independently by the company, it might simply be a business move, but that if the government was involved it would constitute an "irregularity".
"The project was facilitated, coordinated, and involved with the government," he said.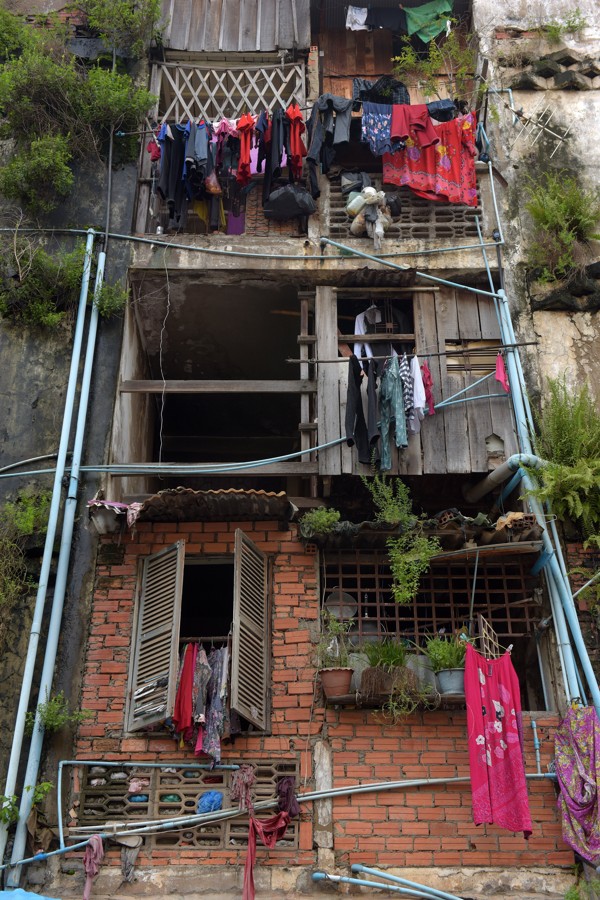 Clothes hang out to dry at the residential complex known as the White Building in Phnom Penh before its demolition. Photo: AFPS
Em Khemara, a spokesman for the housing assistance non-governmental group Sahmakum Teang Tnaut said: "Public housing is desperately needed in Phnom Penh, and as housing is a human right, I think that the choice between a casino and public housing is a choice between business and the rights of the poor to housing."
CHINESE TOURISTS
It is illegal for Cambodians to gamble but the country has banked on high rollers, especially from China, to grow its economy. Last year, Chinese tourist numbers grew by about two thirds to over 2 million.
Chinese investment has redefined Cambodia's coastline with massive tourism projects including resorts, golf courses, airports, and theme parks in the works in Sihanoukville and Koh Kong.
Of the 150 casinos licensed at the end of 2018, NagaCorp is already the biggest even without its proposed third site. Raking in a profit of US$390 million in 2018, NagaCorp paid about 2 per cent of that amount – or US$8.8 million – in taxes.
An official from the Ministry of Economy and Finance told local media they expected to collect around US$56 million in total revenue from all casinos for 2018.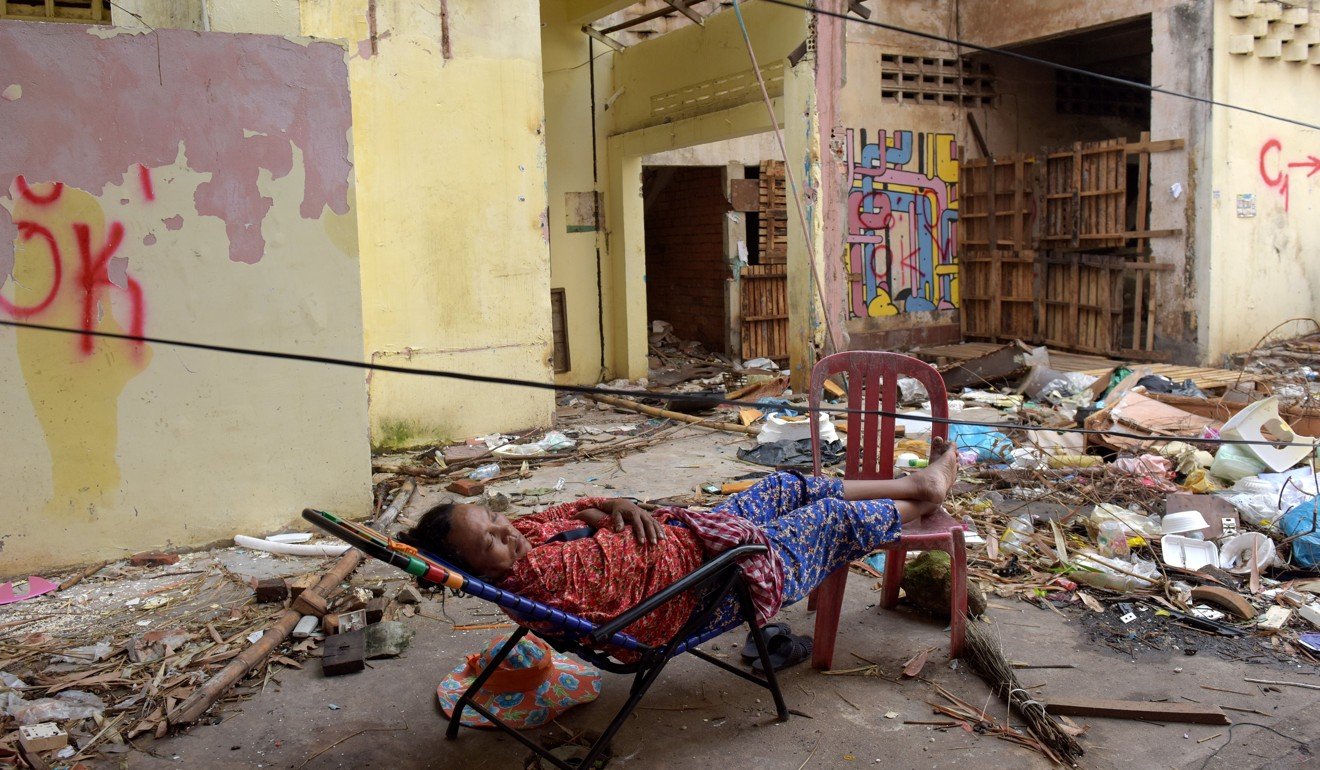 A Cambodian woman sleeps at the residential complex known as the White Building in Phnom Penh before its demolition. Photo: AFPS
NagaCorp has been promised a monopoly on casinos in the capital until 2035. A funding plan has not been confirmed for the Naga3 project, but a filing to the Hong Kong stock exchange says the Malaysian billionaire Chen is considering funding 50 per cent of the development costs with his own money.
Earlier this month, the Malaysian business paper The Edge reported Chen's personal wealth had grown from US$1.6 billion to US$5 billion this year, putting him ahead of fellow gaming tycoon Tan Sri Lim Kok Thay, the CEO of Malaysia's Genting Bhd, which owns the Resorts World hospitality and casino brand.
Cambodian construction worker Long Lo, who moved out of the city after he gave up his flat in the White Building, said he was initially promised US$60,000 for his home but got US$25,000 in the end.
"I was very disappointed, and was not happy with the negotiation because it's not fair, we should get more based on the actual market price," said Lo, 46.
"I don't really support the idea of creating more gambling places, but what can we say as a poor person?" he said.This article appeared in the South China Morning Post print edition as: Casino trumps cheap Housing in Phnom Penh