Gateless: A Story of Child Sex Abuse in Cambodia's Temples
Posted by:
Sophoan
| Posted on:
April 15, 2019
Gateless: A Story of Child Sex Abuse in Cambodia's Temples
Op-Ed: Aljazeera
មានករណីចាប់រំលោភក្មេងប្រុសអាយុរវាង១២-១៣ឆ្នាំដល់ទៅជាង២០០ករណី ហើយករណីនេះជនល្មើសបំពានផ្លូវភេទទៅលើអនីតិជនដល់ទៅ១៧នាក់ តែអ្វីដែលគួរអោយខ្លាចបំផុតគឺទំលាប់លែងអវៈយវៈភេទក្មេងប្រុសត្រូវបានបកប្រែថាជាការស្រឡាញ់ទៅវិញ ហើយច្បាប់ការពារអនីតិជននិងចំណេះដឹងទូទៅចំពោះបញ្ហានេះមិនមានប្រសិទ្ធិភាពសោះឡើយ។ អាជ្ញាធរ ឳពុកម្តាយ ព្រះសង្ឃ និងគ្រូបង្រៀន មិនមានចំណេះដឹងសោះឡើយចំពោះបញ្ហានេះ នេះមិននិយាយដល់វិធានការណ៌ការពារនិងដាក់ទោសទណ្ឌដល់ជនល្មើស។ លោកនេនដែលអង្គុយជក់បារីក្បែរសិស្សតូចៗបង្ហុយផ្សែងបារីធ្វើព្រងើយ និងនៅមានមនោសញ្ចេតនាស្រឡាញ់ឳពុកធម៍ដែលចាប់រំលោភខ្លួន ក៏ដូចជាមានសង្ឃដីការថាទង្វើនេះមិនមានអ្វីខុសនឹងច្បាប់ព្រះពុទ្ធសាសនានោះ គឺជាកម្មវត្ថុជាក់ស្តែងដែលព្រះពុទ្ធសាសនាខ្មែរកំពុងប្រឈមនាពេលបច្ចុប្បន្ន។
កម្ពុជាធ្វើដំណើរ៣០ឆ្នាំនេះគ្រាន់តែដើម្បីអោយអ្នកនយោបាយដឹកនាំបែបប្រជាភិថុតិបន្តភូតភរនិងឆ្លុះបញ្ចាំងពីអំពើសាហាវយង់ឃ្នងរបស់ខ្មែរក្រហមតែប៉ុណ្ណោះ ដូចដែលម្តាយរបស់ជនរងគ្រោះនិយាយថាសម័យខ្មែរក្រហមគឺបង្អត់បាយនិងកាប់សម្លាប់(killing) សម័យសព្វថ្ងៃគឺអោយយើងបិទមាត់ស្ងៀមស្ងាត់សន្សំសុខ(silence)។
A young man seeks justice after being abused in a Buddhist temple in Cambodia.
15 Apr 2019 06:20 GMT Child rights, Cambodia, Abuse, Buddhism, Human Rights
Two young men sit under the shade of trees in Takeo, Cambodia; Se Bros wears a button-up shirt and jeans and Monk Ry wears his deep orange garb.
"Did he ever touch you?" Bros asks over the steady drone of insects, but Ry remains silent.
"I believe he has done something like this to a lot of other children. It's you, me, and other children," Bros says.
In Cambodia, Buddhist temples are regarded as places of refuge and rehabilitation for the community, but for Bros it was the site of his sexual abuse as a child.
The perpetrator was Saravuth Tan, a Cambodian-American who investigators would later find had abused at least 17 young boys sometime during his 14 years' living at the temple.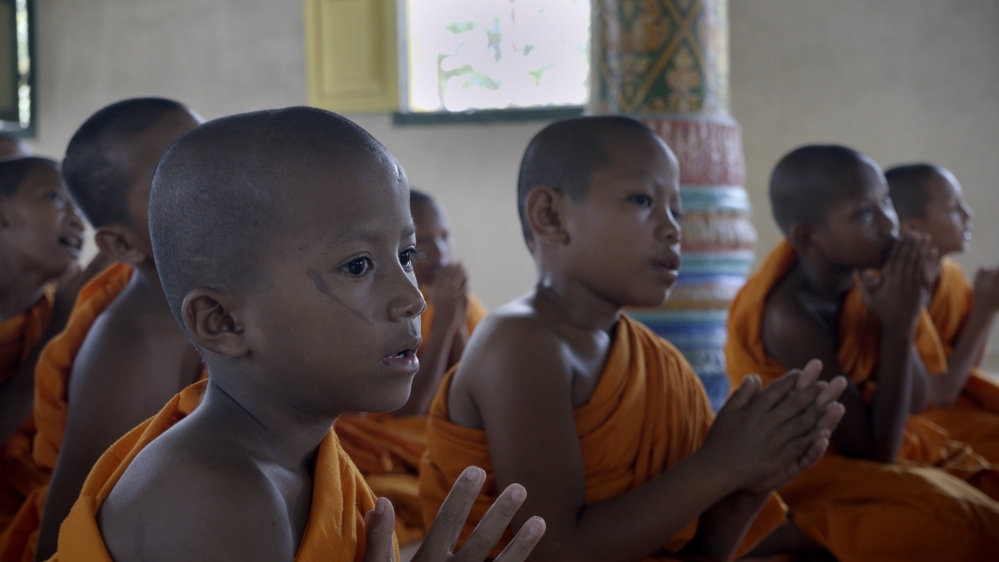 Soon Bros will be testifying against Tan, who he says raped him dozens of times.
"I used to feel ashamed, lost all confidence, I lost focus in my studies, and lost time," says Bros. "Sometimes I felt physically sick because he used to do something bad to me."
But for Monk Ry, Tan was his beloved godfather, someone who cared for him after he escaped his abusive family and became homeless. Tan provided him with food, a home and anything else he needed.
"He loved me as if I am his own child," Ry says. "I don't know where I'd be right now if he hadn't adopted me, maybe not where I am right now."
More than 200 cases of sexual abuse in Buddhist temples have been reported worldwide in the last decade. An increasing number of temple abuse incidents have been reported in Southeast Asia but experts believe most cases remain hidden.
According to Socheat Nong, a child social worker, the problem of sexual abuse in Cambodia is a silent one.
"In general, people in Cambodia don't believe or accept the fact that sexual abuse happens to boys," he says. "Even those who work with children, including counsellors and social workers, know very little about how to help boys who have been abused."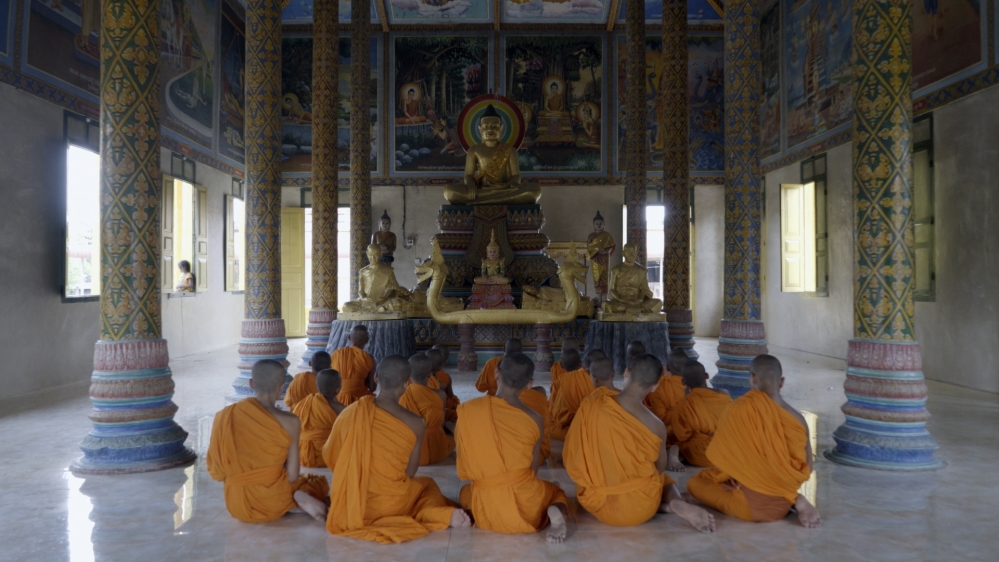 As the Tan investigation unfolds, a more unsettling truth comes out: a chief monk says that the monks at the temple knew about the problem all along.
Gateless follows two young survivors reckoning with their pasts, and what happens when child abuse is treated with a blind eye.
____________________________________________________________________________________
FILMMAKER'S VIEW
By Lorraine Ma
I first went to Cambodia in 2013 with a filmmaker and personal mentor to shoot a documentary on child sex trafficking. After the trip, the filmmaker discovered she had cancer, and her health deteriorated rapidly over the next three years. In 2016, before she passed away, she reached out to ask if I would pick up her unfinished project. I agreed to do so, but I did not have a plan as to how it would happen.
Two days after her memorial service, I was notified that I had been awarded a grant by the Hong Kong Documentary Initiative, a programme headed up by Oscar-winning filmmaker Ruby Yang. With the support of the initiative and my producers, finally, I returned to Cambodia in 2017.
I went back to Cambodia knowing I was going to make a film on the child sex trade, but what I uncovered startled me: the abuse of young boys inside sacred Buddhist temples, under the watch of supposedly saintly and trusted monks. What was more alarming was that many of these monks were completely ignorant about any form of sexual abuse, and had absolutely no concept of child protection.
Buddhism is an incredibly complex and culturally nuanced faith, and this film is by no means a comprehensive portrayal of it.
Gateless focuses on one case of abuse within Theravada Buddhism in rural Cambodia, but I believe this case is a microcosm of a systemic problem. While such sensitive matters often go unreported, just from looking up news articles alone, my team has found over 200 sexual abuse cases in the past 10 years, across different Buddhist sects, and at temples in countries all over the world.
This film initially aimed to champion the lives of children in vulnerable circumstances, and it is my hope that it continues to do so. Masculinity is traditionally defined as being strong and brave, and as a result, boy sex abuse victims are often overlooked and ignored. Through the stories of two young men, Gateless shows that regardless of gender and religion, children should not be violated.
Source: Al Jazeera