Tuesday, November 12th, 2019
now browsing by day
Posted by:
Piece Thing Matters
| Posted on:
November 12, 2019
Statement by the Spokesperson on the latest developments in Cambodia
Brussels, 11/11/2019 – 08:51, UNIQUE ID: 191111_2 Statements by the Spokesperson
The decision of the Phnom Penh Municipal Court to ease the conditions of detention of Cambodian opposition leader Kem Sokha is a first step in the right direction. However, Kem Sokha remains under court supervision, his case is not closed and he is banned from engaging in any political activities.
The European Union reiterates the importance of the Cambodian authorities taking immediate action to open the political space in the country, to establish the necessary conditions for a credible, democratic opposition and initiate a process of national reconciliation through genuine and inclusive dialogue. In particular, we expect Kem Sokha to be fully released and his political rights reinstated so that he can play a full part in political life. We also expect the Cambodian authorities to reinstate the political rights of all opposition members banned from political life and to fully release all opposition members, supporters and activists recently put under detention.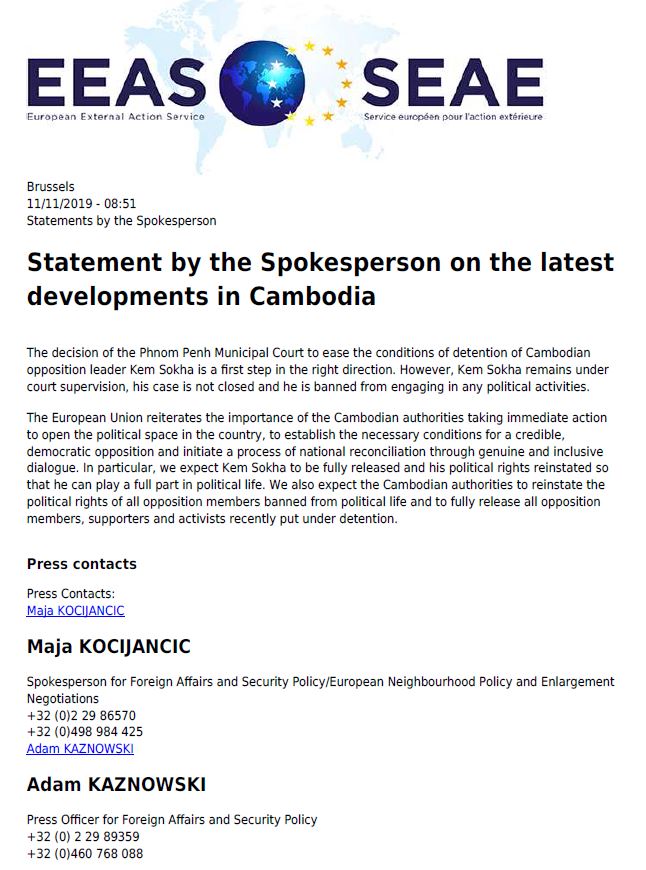 Maja KOCIJANCIC(link sends e-mail) Spokesperson for Foreign Affairs and Security Policy/European Neighbourhood Policy and Enlargement Negotiations+32 (0)2 29 86570+32 (0)498 984 425
Adam KAZNOWSKI(link sends e-mail)Press Officer for Foreign Affairs and Security Policy+32 (0) 2 29 89359+32 (0)460 768 088