Archives
now browsing by author
Posted by:
Piece Thing Matters
| Posted on:
November 28, 2020
Reading this latest article by Elizabeth Becker, a well-known journalist and author on Cambodia, Mu Sochua is considered the most outspoken woman for Cambodian women. With her decades of social activism and politician professional, Madame Sochua has sharply faced off with patriarchal society of Cambodia under dictatorship leadership so-called "strongman Hun Sen". The plight of Cambodia has been known to the outside world by the Angkor the Great and the Pol Pot the Genocidal, while the in-between this two dichotomy is the flip-flip, deceitful, tactical, corrupt, dictatorial, and irrational leadership of Hun Sen.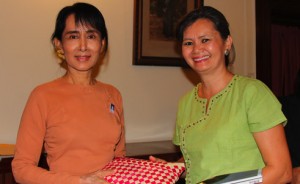 Madame Sochua is among those survivals from the killing field of Pol Pot who have been embedded by the strongest mindset and determination to bring about hopes and smiles to Cambodians and their children through the pathway of democracy and human rights. She is determined to follow struggling model of Burmeses civic rights Aung San Suu Kyi. Once, she was proposed for Nobel Peace Prize nomination. Cambodian people and many journalists had keenly named her "Cambodian Aung San Suu Kyi".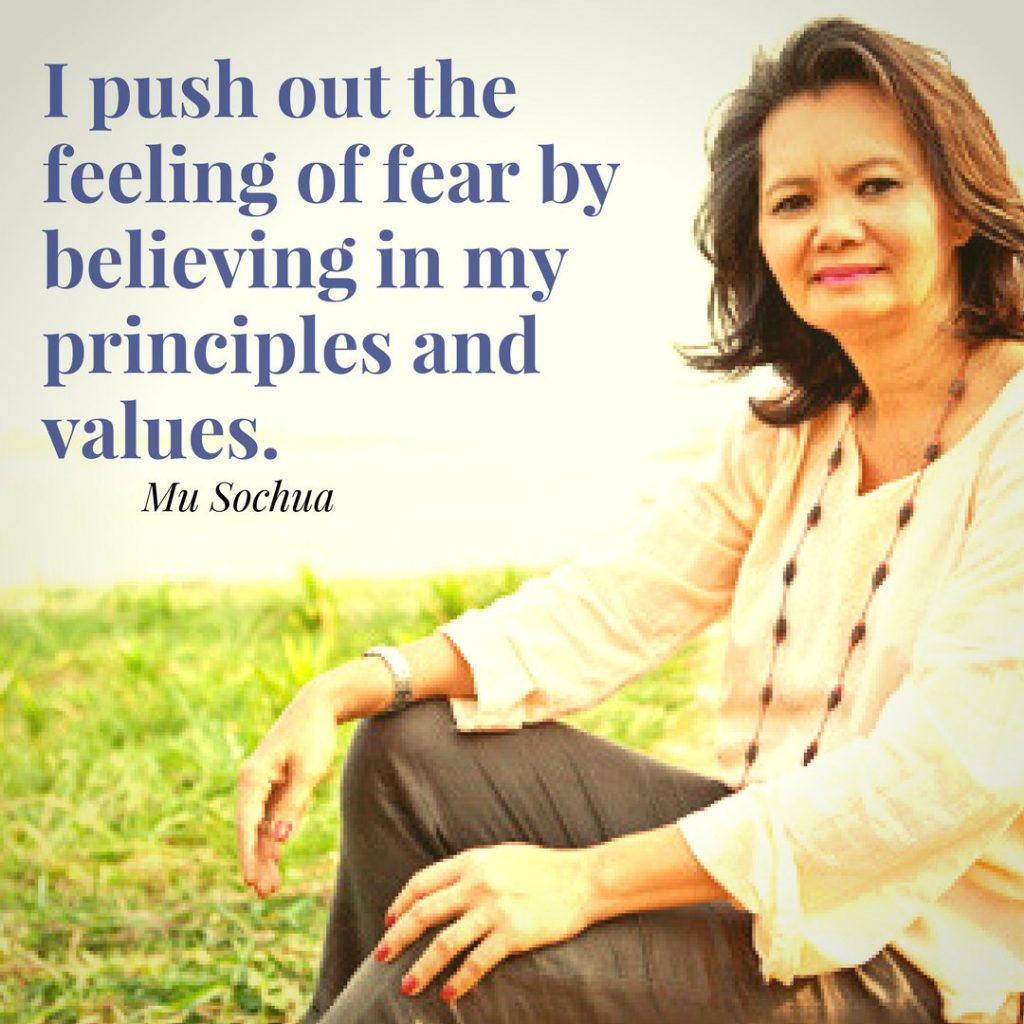 Aung San Suu Kyi accepted to stay in house arrest by rejecting Burmese junta suppressed her to living in self-exile. Her optimism and pragmatism have resulted in power sharing with the Junta through a model the Western world called "gradual but pragmatic democratization of Myanmar". First, she was a Nobel Peace Prize candidate, but it has been discarded later when she is blamed for joining hand with the Junta to discriminate against Rohingya muslim minority; and she has been named "from peace icon to pariah". Thus, her recent victory over the Junta under her leadership of National League for Democracy (NLD) party, is a testimony of her "optimism and pragmatism" yielding through her decades of judicial struggle against the Junta. During her time under house arrest, Aung San Suu Kyi devoted herself to Buddhist meditation practices and to studying Buddhist thought. This deeper interest in Buddhism is reflected in her writings as more emphasis is put on love and compassion.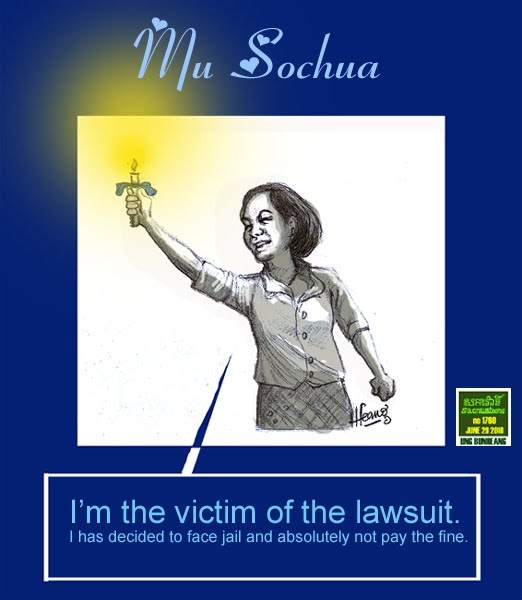 According to Elizabeth Becker "Sochua is a reminder of the unbearable personal sacrifices required to protect and promote democracy in this age of brutal tyrants, especially for women" and her devotion to return back to Cambodia in November 9, 2019 of Cambodia Independence Day, was a reality. She has never given up to return back to Cambodia. Her age is rolling up with her strength in determination, devotion, and dedication. Her bogus charges by the Deputy Persecutor Seng Heang of "inciting to commit a felony and plotting" was set to trial this November 26, 2020 but adjourned to January and March, 2021, among those 150 people as en mass trial by the Phnom Penh Municipal Court. Mu Sochua has determined to go back on time but due to entering ban by Hun Sen government, she missed this first trial while a lawyer worked on her behalf. But the next hearing, she is certainly present at the Court.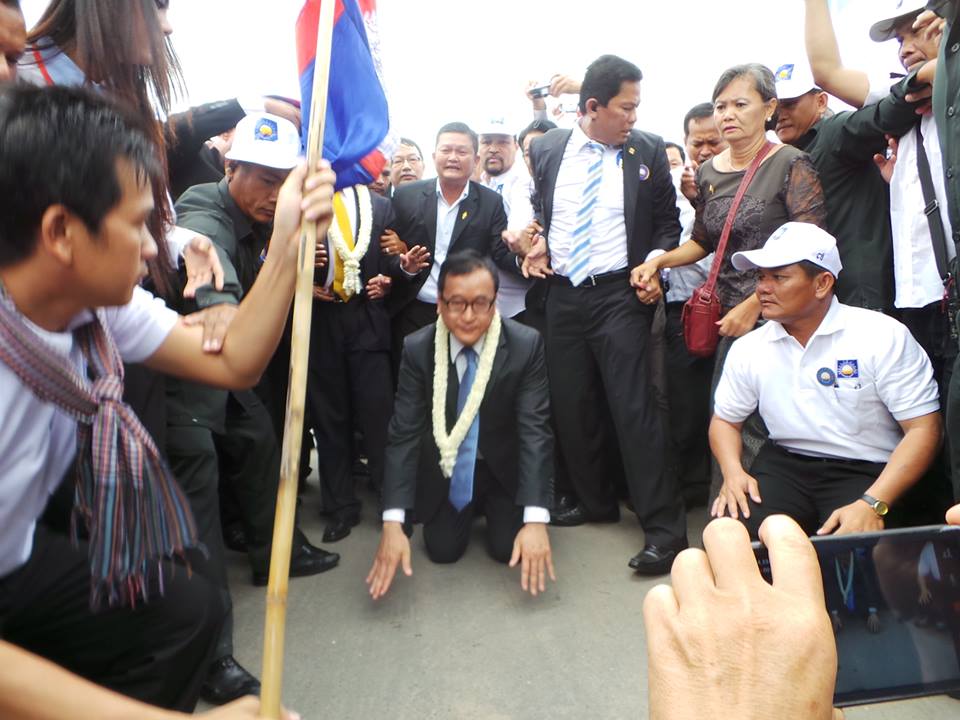 She is loyal to Sam Rainsy and all CNRP leaders who have fresh and collective mindset to "make Cambodia better" through pathway of genuine democracy, the rule of laws, social justice, and human rights. She and her colleagues shall be in Cambodia this January the latest the world must keep eyes on!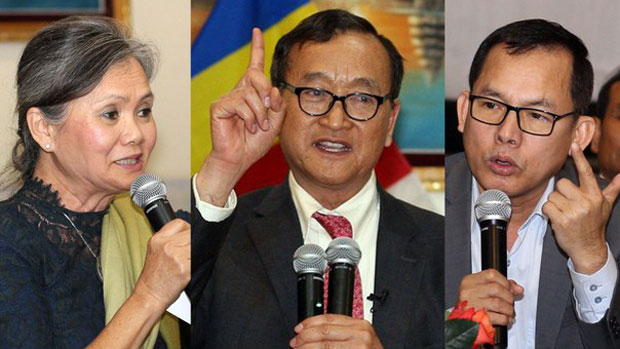 Posted by:
Piece Thing Matters
| Posted on:
November 19, 2019
Hun Sen rival faces trial even as EU threatens Cambodia sanctions
Op-Ed: Nekei Asean Review, Kem Sokha will be tried for treason despite being released from house arrest
SHAUN TURTON, Contributing Writer NOVEMBER 19, 2019 14:35 JST
Cambodian Prime Minister Hun Sen and the European Union flag. The EU last week sent Cambodia its preliminary report on whether to suspend the country from special trade privileges over its human rights record. (Nikkei Montage/ Source photo by Reuters)
PHNOM PENH — Cambodian Prime Minister Hun Sen is pressing ahead with a treason case against a leading opposition figure who has just been released from house arrest, despite the nation facing European Union trade sanctions over its human rights record.
Hun Sen said on Monday that charges against Kem Sokha would not be dropped as demanded by the EU, Cambodia's biggest export destination. "This case doesn't require one or two days, or one month or two months, it will take a long time," the strongman leader said.
Sokha was arrested in 2017 and faces up to 15 years in prison for what the government has claimed were plans for a U.S.-backed coup. His arrest and the subsequent Supreme Court ruling that dissolved his main opposition Cambodia National Rescue Party (CNRP), saw Hun Sen's ruling party capture every parliamentary seat in last year's national election.
The crackdown, which also targeted civil society and media outlets, sparked an EU review of the country's special trade privileges under the Everything But Arms scheme (EBA).
Losing the preference, which grants duty and quota free access to the bloc for all exports except weapons and ammunition, could be disastrous for the country's 750,000-worker strong apparel and footwear sector, which generated more than $8 billion in exports last year.
The EU last week sent Cambodia its preliminary report on whether to suspend the country from the initiative, which is conditional on countries abiding by human and labor rights set out by the United Nations.
Its findings were not made public but a leaked copy, obtained by Radio Free Asia, reportedly concluded Cambodia had not taken enough steps to address "severe and systematic" violations of its principles.
In a statement, Cambodia's Foreign Affairs Ministry claimed RFA's coverage of the report was "not accurate" but did not provide any details from the document to contradict the outlet's story. It said the government would review the report and submit "an appropriate response that will reflect updates of recent developments."
In a sign of the mounting pressure, authorities last week relaxed house arrest conditions for Sokha, who can now travel in Cambodia but cannot leave the country or participate in political activities. The court also officially closed the case's more than two-year investigation period.
In announcing the charges would not be dropped on Monday, Hun Sen claimed the court process was "independent," an assertion at odds with the track record of Cambodia's politically compliant judiciary.
President of the Cambodia National Rescue Party (CNRP) Kem Sokha, right, shakes hands with European Union ambassador to Cambodia Carmen Moreno at his home in Phnom Penh on Nov. 13. © Reuters
Just last week, Hun Sen ordered the release on bail of more than 70 opposition activists arrested for supporting failed plans by self-exiled opposition leader Sam Rainsy to return to Cambodia and lead an uprising.
Following a familiar playbook, the moves appeared an effort to soften the oppression of opponents. The government also announced tentative steps to allowing independent media to once again purchase airtime on local radio stations.
Sebastian Strangio, author of "Hun Sen's Cambodia," said using prisoners as "bargaining chips" was a well established practice by the strongman over his 30 years in power.
"These types of concessions have long been part of the political game," he said.
"The pattern has concealed a steady drift towards more and more control in Hun Sen and the CPP's hands," Strangio said. "The EU had to threaten half a billion dollars estimated worth of economic impacts on Cambodia in order to get Hun Sen to back down on this and it's taken a plus to get this concession out of him."
But whether Hun Sen's apparent concessions will sway the EU remains to be seen. While Sokha's improved conditions were welcomed, the move also appeared a strategic ploy to engender a split between the opposition leader and his CNRP co-founder, Sam Rainsy.
"The decision has been made to play Kem Sokha against Sam Rainsy, to dilute, diminish or marginalize Sam Rainsy at the time his status has been rising," longtime Cambodian political commentator Lao Mong Hay told the Nikkei Asian Review. "It's too late and too little," he said of the concessions.
Cambodia's exiled opposition leader Sam Rainsy talks to the media upon arrival at Soekarno-Hatta International Airport in Indonesia on Thursday. He met lawmakers in Indonesia before returning to his base in Paris.   © AP
Read More …
Posted by:
Piece Thing Matters
| Posted on:
November 12, 2019
Statement by the Spokesperson on the latest developments in Cambodia
Brussels, 11/11/2019 – 08:51, UNIQUE ID: 191111_2 Statements by the Spokesperson
The decision of the Phnom Penh Municipal Court to ease the conditions of detention of Cambodian opposition leader Kem Sokha is a first step in the right direction. However, Kem Sokha remains under court supervision, his case is not closed and he is banned from engaging in any political activities.
The European Union reiterates the importance of the Cambodian authorities taking immediate action to open the political space in the country, to establish the necessary conditions for a credible, democratic opposition and initiate a process of national reconciliation through genuine and inclusive dialogue. In particular, we expect Kem Sokha to be fully released and his political rights reinstated so that he can play a full part in political life. We also expect the Cambodian authorities to reinstate the political rights of all opposition members banned from political life and to fully release all opposition members, supporters and activists recently put under detention.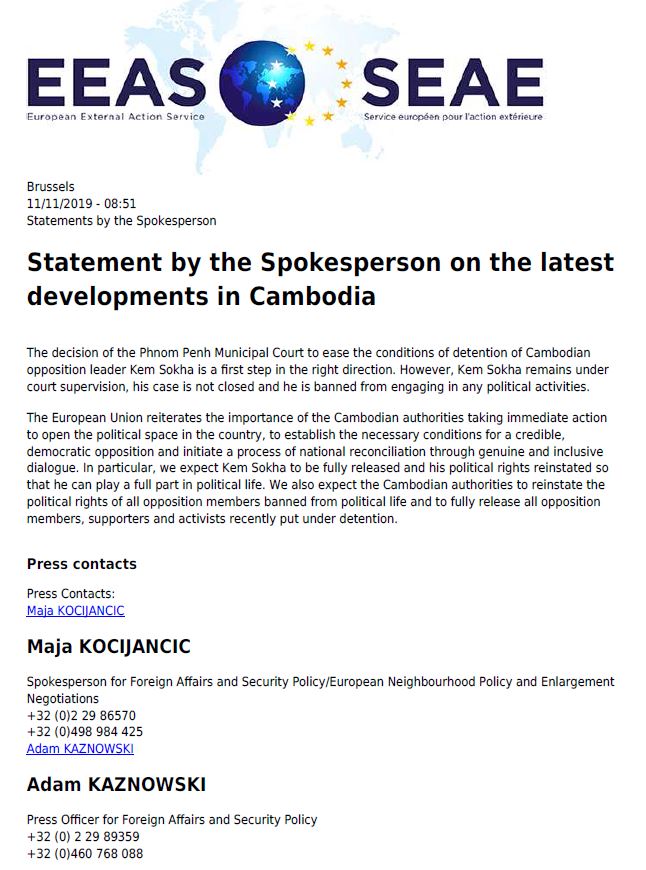 Maja KOCIJANCIC(link sends e-mail) Spokesperson for Foreign Affairs and Security Policy/European Neighbourhood Policy and Enlargement Negotiations+32 (0)2 29 86570+32 (0)498 984 425
Adam KAZNOWSKI(link sends e-mail)Press Officer for Foreign Affairs and Security Policy+32 (0) 2 29 89359+32 (0)460 768 088