Wednesday, January 18th, 2012
now browsing by day
Posted by: | Posted on:
January 18, 2012
All Koun Khmers must watch this video clip. It is a struggle of non-violence by prominent leaders such as Ghandi and Luther King. Non-violence is a struggle against the Leviathans whose political culture is using power and violence. Non-violence means to counter-strike but counter-strike by using the mean of non-violence.
Clarification on the film "Bringing Down A Dictator": The film was not the work of Popovic's Center for Applied Action and Strategies (CANVAS), but the work of a small, independent company in Washington, D.C., with funding from the International Center on Nonviolent Conflict. The film, translated into about a dozen languages, has a broad impact on nonviolent movements in the past decade. On the work of the company producing the film, log on to www.aForceMorePowerful.org. Two segments of "A Force More Powerful" have been translated into Khmer and the company has downloaded them to YouTube at http://www.youtube.com/watch?v=DV_rdWsl9To&feature=plcp&context=C3674762UDOEgsToPDskIkoecUwF0ukf5qw-6qu_ve
Readers are urged to see the film in Khmer.
Gaffar Peang-Meth
Posted by: | Posted on:
January 18, 2012
FOR PUBLICATION
AHRC-ETC-004-2012
January 17, 2012
An article by Dr. Gaffar Peang-Meth published by the Asian Human Rights Commission
CAMBODIA: Toppling cambodian dictators is not impossible if we think smart and act smart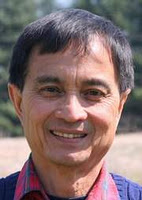 My grandson, 12, a seventh grader, read "The Case for Democracy: The Power of Freedom to Overcome Tyranny and Terror" (2004), a bestseller by a former Soviet prisoner, Natan Sharansky. He passed the book to me, saying I might be interested in reading it.
I had read about Sharansky, 9 years a prisoner in the Soviet gulag; I hadn't read his book. I immediately opened the book to pages my grandson had bookmarked: Sharansky's distinction between "free societies" and "fear societies"; Sharansky's description of believers, dissenters and the millions of "double thinkers" who don't speak their thoughts because of fear of arrest, imprisonment and physical harm so they speak with their "eyes" but go through the motion of supporting rulers who are interested only in remaining forever in power.
Sharansky contends that elections are not enough to dub a society free – a free press, an independent judiciary, the rule of law must exist before genuine free elections are held. He became controversial as he blasted conservatives for placing "stability" above human rights in international relations, and liberals for failing to distinguish between struggling democracies and authoritarian regimes that overtly trample human rights. Sharansky advocates the universality of freedom and human rights.
As I browsed through the book, a Khmer saying came to my mind: "Tumpaeng snorng russey," referring to young bamboo shoots that grow to replace aging bamboo trees – the future is in the making.
Posted by: | Posted on:
January 18, 2012
This document is historically and remarkably marvelous for all Koun Khmers to read and conceptualize it. It is a letter by King Sisowath to King Napoleon III to intervene the matter of border encroachment by Siam and Annam. We don't really understand the whole story that by this letter, French protested the Siam to return back all provinces controlled by Siem to Cambodia. But at least, by the affair of colonialism to delineating its territory and the intellectual crusading for territorial independence of King Sisowath, Cambodia has been maintained its current map and national identity to the world that this greatest kingdom in the past has still remained its heritage and identity….cheer to French and Cambodian nationalist leaders!
Letter (5 November 1906) from the King of Cambodia, H.M. King Sisowath to France
(Source: International Court to Justice, 1962a, Case Concerning the Temple of Preah Vihear. Pleadings, oral arguments, documents. The Hague)
Yours, Bora Touch
………………………
Unoficial translation
Letter from the King of Cambodia, H.M. Sisowath,
to the French Colonial Governor in Cambodia
Kingdom of Cambodia
No. 205
Office of the King
H.M. Preah Bat Samdech Preah SISOWATH Cham-Chakrapong Hakrireach Barminthor Phuvanay Kraykeofa Soulalay Preah Chao Krong Kampuchea Thippadey, King of Cambodia
To the Governor of the French Republic in Cambodia,
Phnom Penh
Mr. Governor,
At a time when France, our benefactor, is busy with the delimitation of the border of Cambodia with the former Cambodian provinces abducted by Siam, I believe that it is my duty to send you the following observations and reservations, and I am also asking you to please let these be known, at an opportune time, to the delimitation Commission which will start its works and submit them to the Government of the (French) Republic. My delegates within this Commission are also in charge of supporting the same demands in front of the Commission.