Thursday, August 1st, 2013
now browsing by day
Posted by:
CambodiaTreks
| Posted on:
August 1, 2013
Dear All,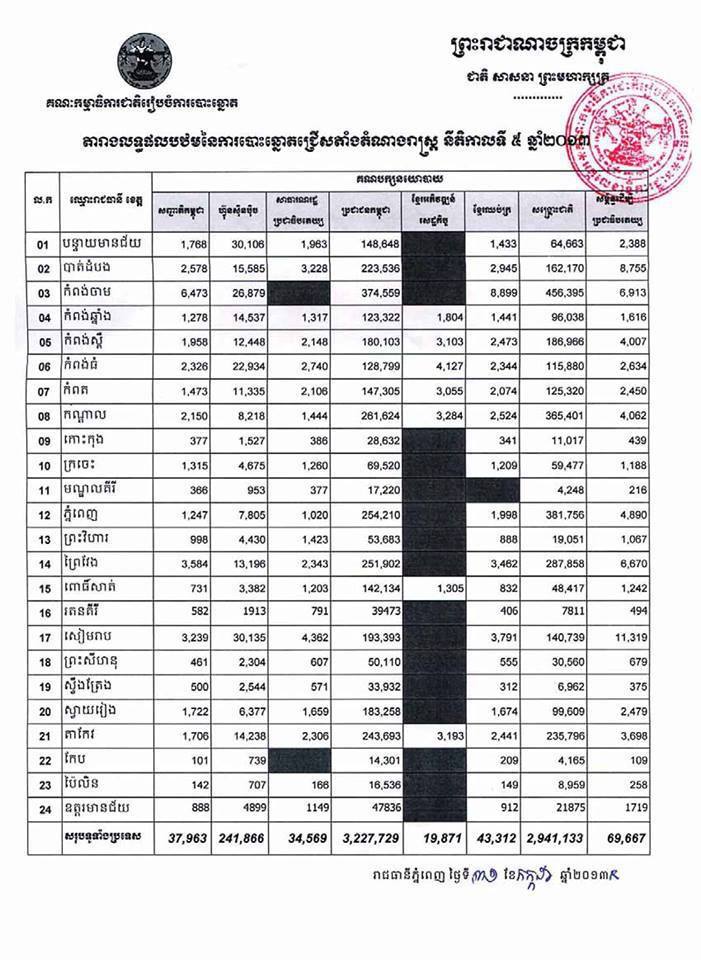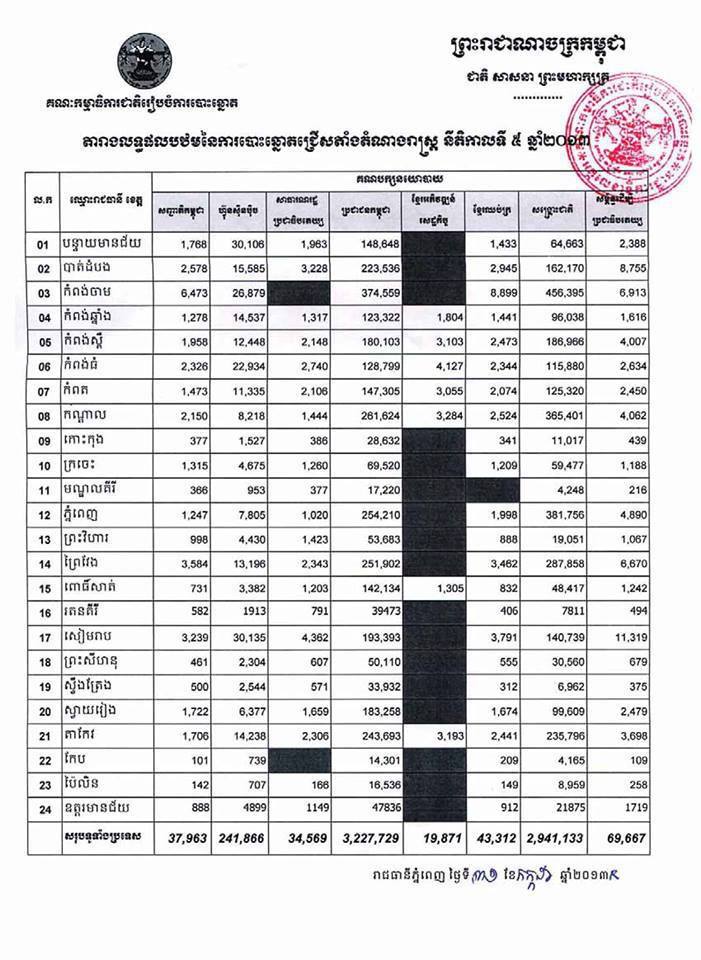 Please see below the NEC preliminary election results of popular votes by province.
The CPP receives 3,227,729 and the CNRP receives 2,941,133.
 As you are aware, the NEC has agreed to compare their results with those of the parties, starting from August 3. The original Khmer version of the results is attached.
5th National Assembly Elections (2013-2018)
Preliminary Results

No.

Province

Political Party

CNP

FCP

RDP

CPP

EDP

KAPP

CNRP

LDP

1

Banteaymeanchey

1,768

30,106

1,963

148,648

1,433

64,663

2,388

2

Battambang

2,578

15,585

3,228

223,536

2,945

162,170

8,755

3

Kampong Cham

6,473

26,879

374,559

8,899

456,395

6,913

4

Kampong Chhang

1,278

14,537

1,317

123,322

1,804

1,441

96,038

1,616

5

Kampong Speu

1,958

12,448

2,148

180,103

3,103

2,473

186,966

4,007

6

Kampong Thom

2,326

22,934

2,740

128,799

4,127

2,344

115,880

2,634

7

Kampot

1,473

11,335

2,106

147,305

3,055

2,074

125,320

2,450

8

Kandal

2,150

8,218

1,444

261,624

3,284

2,524

365,401

4,062

9

Koh Kong

377

1,527

386

28,632

341

11,017

439

10

Kratie

1,315

4,675

1,260

69,520

1,209

59,477

1,188

11

Mondulkiri

366

953

377

17,220

4,248

216

12

Phnom Penh

1,247

7,805

1,020

254,210

1,998

381,756

4,890

13

Preah Vihear

998

4,430

1,423

53,683

888

19,051

1,067

14

Prey Veng

3,584

13,196

2,343

251,902

3,462

287,858

6,670

15

Pursat

731

3,382

1,203

142,134

1,305

832

48,417

1,242

16

Ratanakiri

582

1,913

791

39,473

406

7,811

494

17

Siem Reap

3,239

30,135

4,362

193,393

3,791

140,739

11,319

18

Preah Sihanouk

461

2,304

607

50,110

555

30,560

679

19

Steung Treng

500

2,544

571

33,932

312

6,962

375

20

Svay Rieng

1,722

6,377

1,659

183,258

1,674

99,609

2,479

21

Takeo

1,706

14,238

2,306

243,693

3,193

2,441

235,796

3,698

22

Kep

101

739

14,301

209

4,165

109

23

Pailin

142

707

166

16,536

149

8,959

258

24

Oddar Meanchey

888

4,899

1,149

47,836

912

21,875

1,719

Total

37,963

241,866

34,569

3,227,729

19,871

43,312

2,941,133

69,667

 
Source: National Election Committee
Best,
Socheata