Hun Sen takes one last shot at Todd
Posted by:
Cambodian
| Posted on:
September 5, 2015
Hun Sen takes one last shot at Todd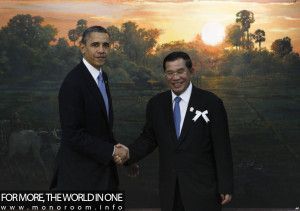 Boasting of his more than 30 years' ruling Cambodia, Prime Minister Hun Sen said on Saturday that he could teach a thing or two to the West about running a country while managing demands for change.The premier, who is Southeast Asia's longest-serving current leader, recalled a conversation he had with former United States ambassador William Todd as the diplomat prepared to leave Cambodia earlier this month.
"I told him, have you forgotten who His Excellency [William Todd] is speaking with?
His Excellency is actually speaking with a professor who can teach him, his president, and the prime ministers of other countries about the issues that come with change," Hun Sen said, speaking at a dinner held by an association of Cambodia's most powerful tycoons on the capital's Koh Pich, or Diamond Island.
"If I didn't understand change and couldn't control it, how would it be possible for me to stay in power for over 30 years?"
Hun Sen said he had grown weary of hearing calls for "change" from Western countries, mocking the US for the changes that had come about in some countries in the Middle East.
"I am tired of the advice of some countries telling Cambodia to change," he said.
"I told [Todd] that because America's inability to control 'change' in Libya, Syria, Iraq and Afghanistan, ISIS is now active."
Hun Sen went on to say that Cambodia had undergone successful transformations without outside interference.
"Cambodia has changed from a planned economy to a market economy through its own reforms," he said. "I urge all foreigners to respect and understand Cambodia."
The US ambassador's statements have provoked the ire of Hun Sen's ruling Cambodian People's Party in the past.
In May, the Foreign Ministry called Todd "insolent" for a blog post he wrote asking the government to review a bevy of laws on NGOs, trade unions and online speech, while the US Embassy was slammed by the government in July for expressing "deep concern" over the arrest of 11 opposition activists, including one US citizen.
During his speech on Saturday, Hun Sen said he did not want to admonish Todd, although he hoped the new US ambassador would be more "aware" of Cambodian political realities than Todd.
Hun Sen and Todd met on August 11 at the Peace Palace in Phnom Penh prior to the ambassador's departure.
William Heidt was confirmed as the new ambassador to Cambodia on August 5 in Washington, although he has yet to arrive in the Kingdom.
Responding to the premier's comments, opposition Cambodia National Rescue Party spokesman Ou Chanrith said change could happen peacefully if carried out by free and fair elections rather than toppling governments, adding that Cambodia had nothing to teach the West about governance.
"It's laughable," he said. "[Westerners] have been in democratic countries for years, and have practised this successfully while we have just learned about it."
"I don't know what we can teach them; I think they understand democracy better than us."
Hun Sen has often tied the relative stability of Cambodia in recent decades to his party's tight grip on power, warning of a reappearance of civil war were his party to lose.
In a speech in January, he also compared the religious extremists of the Islamic State to Pol Pot, the leader of the Khmer Rouge regime – in which Hun Sen served as a military commander.
However, political analyst Ou Virak said that countries that have especially long-serving leaders, while establishing some measure of stability, often create their own problems.
"We have not yet resolved our national problems," he said.
The US embassy declined to comment yesterday.