Hun Manet speaks to Beverley O'Connor of ABC News
Posted by:
Cambodian
| Posted on:
October 16, 2015
Pragmatically speaking, there are many things to be considered from his speech, but I have not been confident and it shall not buy out on his two points argument: peace and stability, and corruption is a universal human failure.
In front of the 70% Cambodian young voters, Hun Sen has failed terribly on his boast of stability, peace and incremental progress during this 30 years under his power grip. Now his son has inherited such failure argument to aim on what?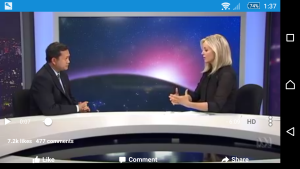 Corruption is not a universal practice and it is not a universal value at all. He might not be able to distinguish the difference between institutional corruption and individual corruption (which lean into nature of human greed)? More than this whenever he has never spoken up against corruption, it means he has conspirated it or involved in corruption. This last resort is very unfortunate for Cambodia to be survived on this planet.
At the end, observing from his stance, it is not wrong to attest the public saying: "like father like son" within a general perception. One of the likeness illustrated is the "self-defense" politics… I could assure you all that this self-defense approach has been very outdated. Whenever the incumbent clan of Cambodia politics has never learnt to accept mistakes, failure, reality, and Pragmatism, the navy of Cambodia is remained in the brink of danger.
(Courtesy: Sophoan Seng facebook)