Political Paradigm of Pragmatism from the Khmer Youth part 41
Posted by:
Cambodian
| Posted on:
October 27, 2015
This part (41), Mr. Sophan Seng continued to analyse on Education Reform in Cambodia. The critics by Opposition Leader, Mr. Sam Rainsy, on the weakness of Cambodia education has been viewed differently according to the government's responses. In reality, Cambodia education has faced many shortcomings such as school infrastructure, livable wage for teachers, up-to-date curriculum, and accreditation etc. Cambodian graduates regardless High School or Post Secondary, have not been endorsed by Asian nations or having equivalency with them.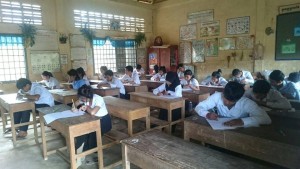 In term of practical knowledge, his high school graduation as example could not enable himself to face up with the external world. He was taught overwhelmingly on academics but not citizenship, social adaptation, and leadership skills at all. Schooling for Cambodian future generation should not just focus on reading and writing Khmer language, or knowing math; but students can apply those knowledge in the real world.
On the other hand, the rebuttal from minister of MOEYs and Prime Minister Hun Sen, has been seen as self-defense rather than to accepting the reality and adjust the shortcomings accordingly.