Letter to Editor of Phnom Penh Post on Sam Rainsy's Resignation
Posted by:
Cambodian
| Posted on:
February 17, 2017
A new chapter in Cambodia politics
Dear Editor,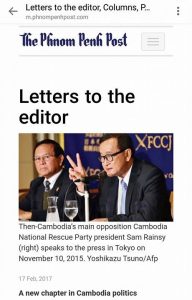 The most popular news during these few days is the resignation of Sam Rainsy from Cambodia National Rescue Party's presidency and membership. There are many views on pros and cons of his journey. Cambodian people in general are missing him so much for his decision-making but their love and attachment towards his heroic determination has been surprisingly increasing. Hence, some analysts viewed his resignation as a disadvantage for both himself and the CNRP as whole.
Actually, Sam Rainsy's resignation is to save his party from dissolving, a fate Prime Minister Hun Sen seeks to bring about. Hun Sen has repeatedly made clear his intention to amend the Political Party Law to ban convicted individuals from entering top leadership of the party as well as to dissolve the party if a member is convicted. Strategically, Sam Rainsy sidestepped Hun Sen's narcissistic intentions ahead of the upcoming commune elections and 2018's national election. Sam Rainsy has been found guilty in a defamation lawsuit against him and there are many more lawsuits against him. Every Cambodian knows that those charges are politically motivated.
Academics and observers see Hun Sen's obsession to divide and weaken the CNRP as a pre-emptive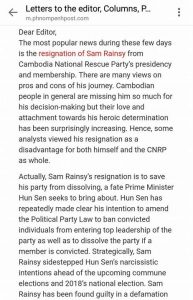 tactic to ensure a positive outcome for the CPP in elections. This activity has surpased all efforts of reform. Jailing NGO staff members including secretary of the National Election Committee Ny Charia is seen as an attempt to tame the election body, and this latest effort to outlaw the strongest opposition party is seen as a move to weaken his opponent before allowing them to enter the ring.
Besides personal integrity, honesty, sacrifice and love for his nation, Sam Rainsy has proved vivid and intelligent in handling political truces with Hun Sen. With more than 27 years of experience in political leadership in opposition to Hun Sen, Sam Rainsy was greeted by a sea of people to welcome him back home at the airport a few days before the election campaign kicked off in 2013.
Some people believe his resignation is an example of irresponsible leadership. In fact, it is parallel to that of George Washington, who stepped down after serving two terms, despite the fact that many believed he could have ruled for life. He did this for the love of his country. Likewise, Sam Rainsy has shown to be the first role model to all Cambodian people, willing to cede power for the good of the people.
In the future, Sam Rainsy will be an icon of change and idealistic pragmatism in the Kingdom. His political career is not yet over, and won't be over so long as Cambodians, especially younger voters, are still supportive of his struggle.
Source for Reference: http://m.phnompenhpost.com/columns/letters-editor