Sam Rainsy's Resignation from Party's President signified a new chapter of Cambodia politics
Posted by:
Cambodian
| Posted on:
February 15, 2017
Political Analysis
The most popular news during these few days is the resignation of Sam Rainsy from Cambodia National Rescue Party (CNRP)'s Presidency and membership. There are many views on pros and cons of his journey. Cambodian people in general are missing him so much for this decision-making but their love and attachment towards his heroic determination has been surprisingly increasing.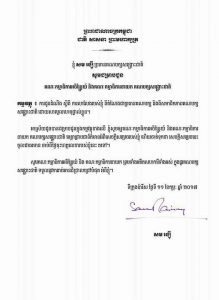 Actually, Sam Rainsy announced his resignation from party's Presidency of CNRP this February 11, 2017 is to intentionally save his party from dissolving attempted by Prime Minister Hun Sen. Hun Sen had repeatedly warned on amending the political party law to ban convicted individuals from entering top leadership of the party as well as to dissolve the party from such convicted degree if found. Strategically, Sam Rainsy stepped ahead of Hun Sen's authoritarianism and narcissism for the upcoming elections i.e. commune election 2017 and national election 2018. Sam Rainsy has been convicted by a defamation lawsuit against him and there are many lawsuits in row to trial him. Every Cambodian knows that those charges are politically motivated.
Academics and observers see Hun Sen's non-stopped obsession to divide and weaken CNRP as a preemptive tactic before the election and its predictable outcome. This activity has surpassed all efforts of reform and it is truly destroying those reform goodness. Jailing NGO's staff members including secretary of the National Election Committee (NEC), Ny Charia, is seen as an attempt to tame the election body, and this latest effort to outlaw the strongest opposition party CNRP is seen as to weaken his opponent before allowing them to enter the ring. Want it or not, Sam Rainsy has laid out inclusive policy by advocating to include Cambodians overseas especially those millions of migrant workers to be able to vote in Cambodia elections in which contradicting to Hun Sen who has advocated to exclude them.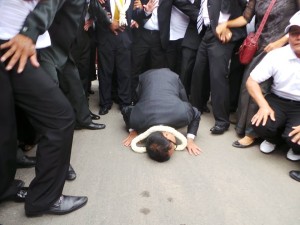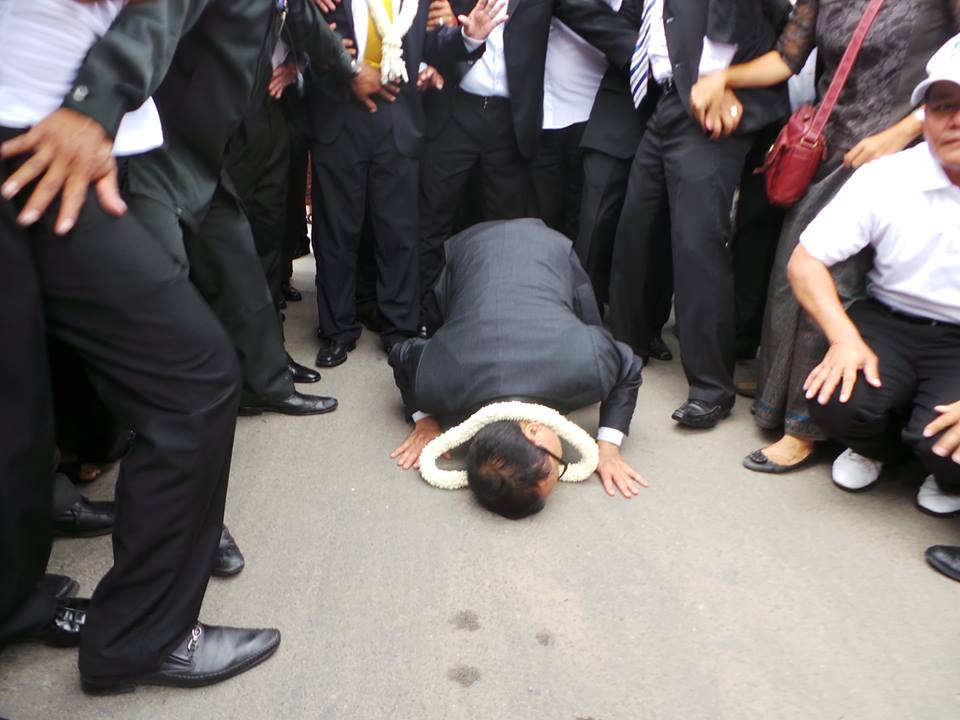 Beside of personal integrity, honesty, sacrifice and genuine patriotism for his nation, Sam Rainsy is vivid and intellectual in handling political truces with Hun Sen. With his over 27 years experience in political leadership as opposition party particularly competing with Hun Sen, his effort yielded in 2013 as the government effort to disqualify him from political leadership has impregnably backfired Hun Sen. Evidently, sea of people gathered in tsunamic-like crowd to welcome him back home at the airport few days before the election campaign in 2013, was a historic momentum.
Some people explain the disadvantage of his stepping back by resigning from president duty as irresponsible leadership. In fact, his regression is paralleling to that of George Washington of America as history tells that the founding father sacrificed power in order to respect crafted national constitution of limiting President power to two mandates. Saying this, Sam Rainsy has shown first role model to all Cambodian people in accepting to give up power when appropriate time has come in order to maximize the collective interests of major citizens. Many people tried to explain that Sam Rainsy's popularity is not be comparable to that Thaksin Shinawatra of Thailand which this is wrong because Sam Rainsy has never earned his popularity from populist policy or harbouring it from any powerful position.
From this moment, Sam Rainsy will be an icon of change and idealistic pragmatism in Cambodia. His political career is not yet ended. When Cambodian people especially younger voters are still supportive of his last decades struggle, his future political achievement is not a dream any more.
Note that the controversial proposal to amend the political party law aiming to dissolve CNRP is attached here. According to the Phnom Penh Post, the drafting is added beyond what Hun Sen ordered in the Assembly because if this law is ratified in this February 20 by the law-makers from CPP, it will adjudicate to ban convicted individuals from party's leadership such as president, vice president, permanent members, and committee members, to dissolve a party which is not only by the power of higher court but by the Ministry of Interior, the so-called threat to national security is very loose as incitement and defamation have been used to link to colour revolution by the powerful,  and provision on foreign funding is loosely defined as it could be interpreted to all funding from Cambodians overseas.