Cambodia is in need of this Sergei Magnitsky Law to Responding Current Political Setback
Posted by:
Cambodian
| Posted on:
September 19, 2017
PETITION TO THE HOUSE OF COMMONS IN PARLIAMENT ASSEMBLED
Whereas:
Canada should not be used by those foreign nationals who grossly violated internationally recognized human rights, as a safe haven for themselves and their families, or to hide away the proceeds from their illicit activities;
The U.S. has promulgated the Global Magnitsky Human Rights Accountability Act, Estonia has adopted a similar law, and Great Britain and Norway are considering actions, aiming at establishing restrictive measures towards those who violated internationally recognized human rights. It is expected that other countries which value respect for human rights will follow suit;
As Canada celebrates its sesquicentennial (150th) birthday, there is no gift to those who aspire respect for human rights everywhere in the world more precious than a law passed by its Parliament to promote respect for human rights; and
Officials in the Communist regime in Vietnam systematically violate human rights by brutally suppressing political dissidents. They should also be subject to the restrictive measures called for in both Bill S-226 and Bill C-267.
We, the undersigned, citizens and permanent residents of Canada, call upon the House of Commons in Parliament assembled to pass Bill S-226 and Bill C-267, also known as the Justice for Victims of Corrupt Foreign Officials Act (Sergei Magnitsky Law).
==========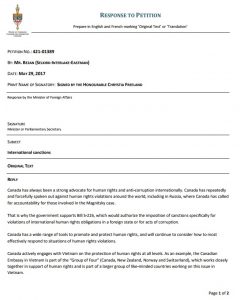 PETITION NO.: 421-01389
BY: MR. BEZAN (SELKIRK-INTERLAKE-EASTMAN)
DATE: MAY 29, 2017
PRINT NAME OF SIGNATORY: SIGNED BY THE HONOURABLE CHRYSTIA FREELAND
Response by the Minister of Foreign Affairs SIGNATURE Minister or Parliamentary Secretary
SUBJECT International sanctions
ORIGINAL TEXT
REPLY
Canada has always been a strong advocate for human rights and anti-corruption internationally. Canada has repeatedly and forcefully spoken out against human rights violations around the world, including in Russia, where Canada has called for accountability for those involved in the Magnitsky case.
That is why the government supports Bill S-226, which would authorize the imposition of sanctions specifically for violations of international human rights obligations in a foreign state or for acts of corruption.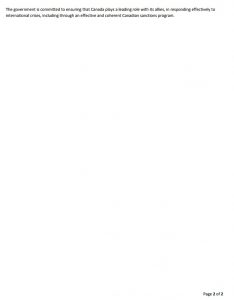 Canada has a wide range of tools to promote and protect human rights, and will continue to consider how to most effectively respond to situations of human rights violations.
Canada actively engages with Vietnam on the protection of human rights at all levels. As an example, the Canadian Embassy in Vietnam is part of the "Group of Four" (Canada, New Zealand, Norway and Switzerland), which works closely together in support of human rights and is part of a larger group of like-minded countries working on this issue in Vietnam.
The government is committed to ensuring that Canada plays a leading role with its allies, in responding effectively to international crises, including through an effective and coherent Canadian sanctions program.