Letter from Members of Parliament around the world to Prime Minister Hun Sen to reverse his dictatorship machine
Posted by:
Cambodian
| Posted on:
December 11, 2017
His Excellency Samdech Techo Hun Sen
Prime Minister Kingdom of Cambodia
4 December 2017
Dear Prime Minister Hun Sen,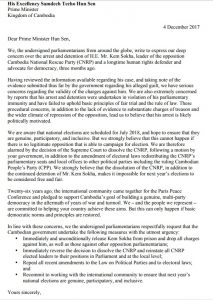 We, the undersigned parliamentarians from around the globe, write to express our deep concern over the arrest and detention of H.E. Mr. Kem Sokha, leader of the opposition Cambodia National Rescue Party (CNRP) and a longtime human rights defender and advocate for democracy, three months ago.
Having reviewed the information available regarding his case, and taking note of the evidence submitted thus far by the government regarding his alleged guilt, we have serious concerns regarding the validity of the charges against him. We are also extremely concerned by reports that his arrest and detention were undertaken in violation of his parliamentary immunity and have failed to uphold basic principles of fair trial and the rule of law. These procedural concerns, in addition to the lack of evidence to substantiate charges of treason and the wider climate of repression of the opposition, lead us to believe that his arrest is likely politically motivated.
We are aware that national elections are scheduled for July 2018, and hope to ensure that they are genuine, participatory, and inclusive. But we strongly believe that this cannot happen if there is no legitimate opposition that is able to campaign for election. We are therefore alarmed by the decision of the Supreme Court to dissolve the CNRP, following a motion by your government, in addition to the amendment of electoral laws redistributing the CNRP's parliamentary seats and local offices to other political parties including the ruling Cambodian People's Party (CPP). We strongly believe that the dissolution of the CNRP, in addition to the continued detention of Mr. Kem Sokha, makes it impossible for next year's elections to be considered free and fair.
Twenty-six years ago, the international community came together for the Paris Peace Conference and pledged to support Cambodia's goal of building a genuine, multi-party democracy in the aftermath of years of war and turmoil. We – and the people we represent – are committed to helping your country achieve these aims. But this can only happen if basic democratic norms and principles are restored.
In line with these concerns, we the undersigned parliamentarians respectfully request that the Cambodian government undertake the following measures with the utmost urgency:
Immediately and unconditionally release Kem Sokha from prison and drop all charges against him, as well as those against other opposition parliamentarians;
Immediately reverse the decision to dissolve the CNRP and reinstate all CNRP elected leaders to their positions in Parliament and at the local level;
Repeal all recent amendments to the Law on Political Parties and to electoral laws; and
Recommit to working with the international community to ensure that next year's national elections are genuine, participatory, and inclusive.
Yours sincerely,
Abdullah Sani Abdul Hamid, Member of Parliament, Malaysia
Ahmed Munzoor Shaik Emam, Member of Parliament, South Africa
Alan Lowenthal, Member of the House of Representatives, United States of America
Alessia Mosca, Member of the European Parliament, Italy
Alice Lau Kiong Yieng, Member of Parliament, Malaysia
Ana Gomes, Member of the European Parliament, Portugal
André Gattolin, Senator, France
Antonio L. Tinio, Member of the House of Representatives, Philippines
Arlene "Kaka" Bag-ao, Member of the House of Representatives, Philippines
Arlene Brosas, Member of the House of Representatives, Philippines
Azman Ismail, Member of Parliament, Malaysia
Barbara Lochbihler
Member of the European Parliament, Germany
Beate Müller-Gemmeke
Member of the Bundestag, Germany
Bendita Moniz Magno, Member of Parliament, Timor-Leste
Bertu Merlas, Member of the House of Representatives, Indonesia
Bob Blackman, Member of Parliament, United Kingdom
Boon Chye Lee, Member of Parliament, Malaysia
Brando Benifei, Member of the European Parliament, Italy
Brigida A. Correia, Member of Parliament, Timor-Leste
Carlos Zarate, Member of the House of Representatives, Philippines
Charles Chong, Member of Parliament, Singapore
Charles Honoris, Member of the House of Representatives, Indonesia
Charles Santiago, Member of Parliament, Malaysia
Chong Chieng Jen, Member of Parliament, Malaysia
Chua Tian Chang, Member of Parliament, Malaysia
Claudia Roth, Member of the Bundestag, Germany
Darell Leiking, Member of Parliament, Malaysia
David Anderson, Member of Parliament, Canada
David Martin, Member of the European Parliament, United Kingdom
David Sweet, Member of Parliament, Canada
Domingos de Carvalho, Member of Parliament, Timor-Leste
Donny Imam, Member of the House of Representatives, Indonesia
Dr. Ko Chung Sen, Member of Parliament, Malaysia
Dzhevdet Chakarov, Member of Parliament, Bulgaria
Elvina Souza Carvalho, Member of Parliament, Timor-Leste
Emmi De Jesus, Member of the House of Representatives, Philippines
Enrique Guerrero, Member of the European Parliament, Spain
Er Teck Hwa, Member of Parliament, Malaysia
Eva Kusuma Sundari, Member of the House of Representatives, Indonesia
Fadli Zon, Member of the House of Representatives, Indonesia
Fauzi Abdul Rahman, Member of Parliament, Malaysia
Federico Pinedo, Senator, Argentina
Fong Kui Lun, Member of Parliament, Malaysia
Frances L. Castro, Member of the House of Representatives, Philippines
Frédérique Ries, Member of the European Parliament, Belgium
Fuziah Salleh, Member of Parliament, Malaysia
Gobind Singh Deo, Member of Parliament, Malaysia
Gooi Hsiao Leung, Member of Parliament, Malaysia
Goran Milevski, Member of Parliament, Macedonia
H. Refrizal, Member of the House of Representatives, Indonesia
Hee Loy Sian, Member of Parliament, Malaysia
Hendrawan Supratikno, Member of the House of Representatives, Indonesia
Henky Kurniadi, Member of the House of Representatives, Indonesia
Hilde Vautmans, Member of the European Parliament, Netherlands
Hlengiwe Mkhaliphi, Member of Parliament, South Africa
Irine Roba, Member of the House of Representatives, Indonesia
Irma Hutabarat, Member of the House of Representatives, Indonesia
Jan Adriaan Esterhuizen, Member of Parliament, South Africa
Javier Nart, Member of the European Parliament, Spain
Jimmy Wong Sze Phin, Member of Parliament, Malaysia
Johari Abdul, Member of Parliament, Malaysia
John McKay, Member of Parliament, Canada
Josef Weidenholzer, Member of the European Parliament, Austria
Judy Sgro, Member of Parliament, Canada
Julian Hill, Member of Parliament, Australia
Julian Tan Kok Ping, Member of Parliament, Malaysia
Julie Ward, Member of the European Parliament, United Kingdom
Julijana Nokolova, Member of Parliament, Macedonia
Kai Gehring, Member of the Bundestag, Germany
Kamaruddin Jaafar, Member of Parliament, Malaysia
Kamarul Baharin Abbas, Member of Parliament, Malaysia
Kardaya Warnika, Member of the House of Representatives, Indonesia
Kasthuri Patto, Member of Parliament, Malaysia
Kerstin Andreae, Member of the Bundestag, Germany
Kerstin Lundgren, Member of Parliament, Sweden
Leandro Lobato, Member of Parliament, Timor-Leste
Ledia Hanifa Amalia, Member of the House of Representatives, Indonesia
Lidia N. Santos Martins, Member of Parliament, Timor-Leste
Liew Ching Tong, Member of Parliament, Malaysia
Lim Guan Eng, Member of Parliament, Malaysia
Lim Kit Siang, Member of Parliament, Malaysia
Lim Lip Eng, Member of Parliament, Malaysia
Loke Siew Fook, Member of Parliament, Malaysia
M. Kulasegaran, Member of Parliament, Malaysia
Mahfudz Siddiq, Member of the House of Representatives, Indonesia
Mahfuz Omar, Member of Parliament, Malaysia
Maman Imanulhaq, Member of the House of Representatives, Indonesia
Mandlenkosi Sicelo Galo, Member of Parliament, South Africa
Mandlenkosi Sicelo Mabika, Member of Parliament, South Africa
Manivannan Gowindasamy, Member of Parliament, Malaysia
Mansor Othman, Member of Parliament, Malaysia
Marietje Schaake, Member of the European Parliament, Netherlands
Melchias Marcus Mekeng, Member of the House of Representatives, Indonesia
Mercy Barends, Member of the House of Representatives, Indonesia
Mhd Hatta Md Ramli, Member of Parliament, Malaysia
Michael Jeno, Member of the House of Representatives, Indonesia
Michael Teo Yu Keng, Member of Parliament, Malaysia
Mkhuleko Hlengwa, Member of Parliament, South Africa
Mncedisi Lutando Wellington Filtane, Member of Parliament, South Africa
Mohamad Hanipa Maidin, Member of Parliament, Malaysia
Mohamad Idris Jusi, Member of Parliament, Malaysia
Mohamad Imran Abdul Hamid, Member of Parliament, Malaysia
Mohamed Azmin Ali, Member of Parliament, Malaysia
Mujahid Yusof Rawa, Member of Parliament, Malaysia
Ng Wei Aik, Member of Parliament, Malaysia
Nga Kor Ming, Member of Parliament, Malaysia
Ngeh Khoo Haam, Member of Parliament, Malaysia
Nhlanhlakayise Moses Khubisa, Member of Parliament, South Africa
Norbert Neuser, Member of the European Parliament, Germany
Nqabayomzi Kwankwa, Member of Parliament, South Africa
Nurhayati Assegaf, Member of the House of Representatives, Indonesia
Nurul Izzah Anwar, Member of Parliament, Malaysia
Olinda Guterres, Member of Parliament, Timor-Leste
Omid Nouripour, Member of the Bundestag, Germany
Ong Kian Ming, Member of Parliament, Malaysia
Oscar Ling Chai Yiew, Member of Parliament, Malaysia
Patricino F. dos Reis, Member of Parliament, Timor-Leste
Petras Austrevicius, Member of the European Parliament, Lithuania
Raja Kamarul Baharin Shah Raja Ahmad, Member of Parliament, Malaysia
Ramkarpal Singh, Member of Parliament, Malaysia
Ramón Jáuregui Atondo, Member of the European Parliament, Spain
Ramon Tremosa i Balcells, Member of the European Parliament, Spain
Raul Daza, Member of the House of Representatives, Philippines
Rav Rocamora, Member of the House of Representatives, Philippines
Risa Hontiveros, Senator, Philippines
Sergio Gutiérrez Prieto, Member of the European Parliament, Spain
Shamsul Iskandar Mohd Akin, Member of Parliament, Malaysia
Sibusiso Christopher Mncwabe, Member of Parliament, South Africa
Sim Tong Him, Member of Parliament, Malaysia
Sim Tze Tzin, Member of Parliament, Malaysia
Siti Mariah Mahmud, Member of Parliament, Malaysia
Sivakumar Varatharaju Naidu, Member of Parliament, Malaysia
Sivarasa Rasiah, Member of Parliament, Malaysia
Steven Sim Chee Keong, Member of Parliament, Malaysia
Surendran Nagarajan, Member of Parliament, Malaysia
Sylvia Kotting-Uhl, Member of the Bundestag, Germany
Sylvie Guillaume, Member of the European Parliament, France
Tabea Rößner, Member of the Bundestag, Germany
Tan Kok Wai, Member of Parliament, Malaysia
Tan Kwee Kwong, Member of Parliament, Malaysia
Tb Ace Hasan Syadzily, Member of the House of Representatives, Indonesia
Teddy Baguilat, Jr., Member of the House of Representatives, Philippines
Teo Kok Seong, Member of Parliament, Malaysia
Teo Nie Ching, Member of Parliament, Malaysia
Teresa Kok Suh Sim, Member of Parliament, Malaysia
Thomas Gambke, Member of the Bundestag, Germany
Tom Villarin, Member of the House of Representatives, Philippines
Tony Pua Kiam Wee, Member of Parliament, Malaysia
Tuti Nusandari Roosdiono, Member of the House of Representatives, Indonesia
Uwe Kekeritz, Member of the Bundestag, Germany
Viva Yoga Mauladi, Member of the House of Representatives, Indonesia
Wan Azizah Wan Ismail, Member of Parliament, Malaysia
William Jee Keen Leong, Member of Parliament, Malaysia
Wong Chen, Member of Parliament, Malaysia
Wong Ling Biu, Member of Parliament, Malaysia
Wong Tien Fatt, Member of Parliament, Malaysia
Xolani Ngwezi, Member of Parliament, South Africa
Zairil Khir Johari, Member of Parliament, Malaysia
MP-Sign-On-Letter-Kem-Sokha_04-Dec-2017