Sunday, March 24th, 2019
now browsing by day
Posted by:
Piece Thing Matters
| Posted on:
March 24, 2019
Cambodia: Investigate Land Activist's 'Disappearance'
Op-Ed: HRW
កម្ពុជាមានធ្វើសត្យាប័ន្នអនុសញ្ញារួមអន្តរជាតិស្តីពីកិច្ចការពារមនុស្សគ្រប់រូបពីការបាត់ខ្លួនដោយបង្ខំ(The International Convention for the Protection of All Persons from Enforced Disappearance = ICPPED)កាលពីខែមិថុនា ឆ្នាំ២០១៣ ប៉ុន្តែការបាត់ខ្លួននិងទិទណ្ឌភាពនៃការគ្មានទោសភ័យចំពោះអ្នកបាត់ខ្លួននិងអ្នកស្លាប់ទាំងនោះនៅមានដេរដាសក្នុងសង្គមមួយនេះ។ ជាក់ស្តែងការបាត់ខ្លួននិងបាញ់សម្លាប់ទៅលើកម្មករ-កម្មការិនីនៅផ្លូវវេងស្រេង ការស្លាប់រាប់រយនាក់នៅកោះពេជ្រ ការបាត់ខ្លួនព្រះតេជគុណមាស-វិចិត រ និងលោកស៊ុម-មឿននេះជាដើម។
Preah Vihear Authorities Should Urgently Produce Sum Moeun
(New York) – Cambodian authorities should immediately reveal the whereabouts of a land activist forcibly disappeared in Preah Vihear province, Human Rights Watch said today.
On January 20, 2019, at about 5:30 p.m., soldiers from Battalion 261 of Army Command Intervention Division 2 of the Cambodian armed forces arrested Sum Moeun, 54, a community leader in a local land dispute, and his son, Moeun Mean, 26, in Yeang commune, Chaom Ksan district. Soldiers transferred them to Kulen Promtep Wildlife Sanctuary Headquarters, where they were detained overnight. On January 21, only Moeun Mean was taken before the provincial court prosecutor. The wildlife sanctuary headquarters said that Sum Moeun had escaped at around 8 a.m. that morning.
"The Cambodian government needs to produce Sum Moeun in court and lawfully charge him or return him home to his family," said Brad Adams, Asia director. "There should be an immediate, independent investigation of this case with full cooperation from the army, which is commanded by Prime Minister Hun Sen's son, Gen. Hun Manet."
Relatives of Sum Moeun said they received information that soldiers allegedly hit and beat him with gun butts and slapped him when they arrested him. A photo taken while he was in custody appears to show bruises on Sum Moeun's face.
In June 2013, Cambodia ratified the International Convention for the Protection of All Persons from Enforced Disappearance (ICPPED), which defines an enforced disappearance as the arrest or detention of a person by state officials or their agents followed by a refusal to acknowledge the deprivation of liberty, or to reveal the person's fate or whereabouts. Because they are outside of the protection of the law, a person who has been forcibly disappeared is at heightened risk of torture and extrajudicial execution.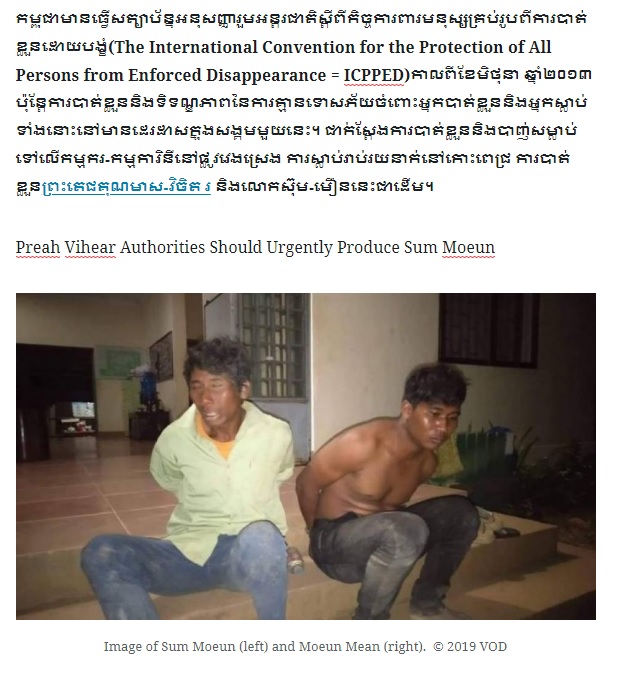 The convention against enforced disappearances obligates the government to investigate allegations that a person was forcibly disappeared, even in the absence of a formal complaint. The authorities are also required to take appropriate measures to protect relatives from any ill-treatment, intimidation, or sanction as a result of the search for information about a "disappeared" person.
"Sum Moeun's wife has not heard from him since his arrest and has made repeated public calls to the authorities to help find her missing husband," Adams said. "His family has good reason to fear for his safety."
Between January 16 and 27, security guards and soldiers arrested 15 villagers as part of a crackdown on villagers in Yeang commune accused of illegal clearing of state forest land. Fourteen villagers remain in pre-trial detention, including Moeun Mean, and face 5 to 10 years in prison.
Read More …