Letter: A Neutral Election Body Would Accept Chao Ratanak Complaint
Posted by:
Leadership Skills
| Posted on:
June 15, 2022
Letter: A Neutral Election Body Would Accept Chao Ratanak Complaint
Op-Ed: Khmer Oversea,  VOD English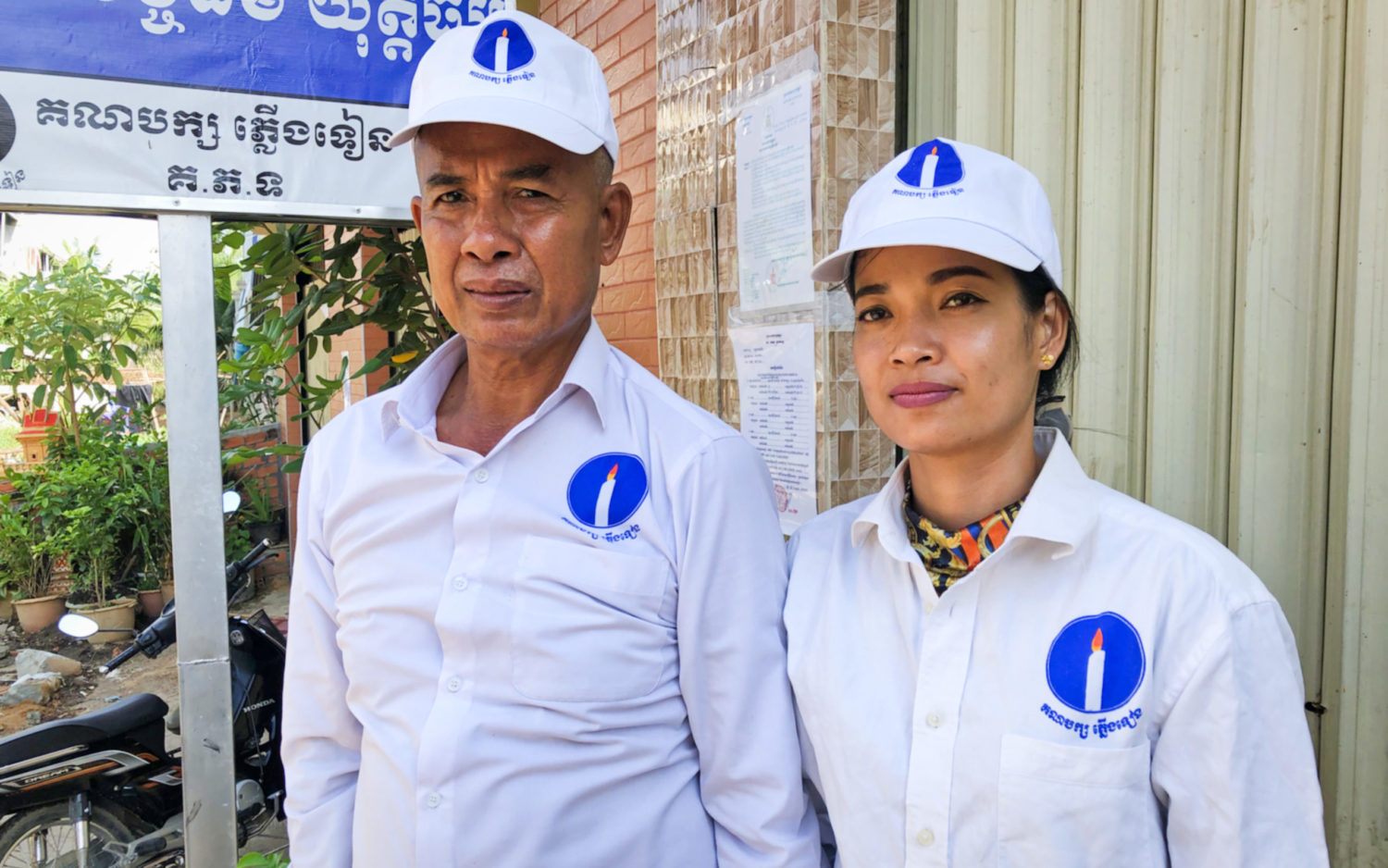 Chao Ratanak, Candlelight Party's commune chief candidate in Poipet commune, stands next to her father, Chao Veasna, a former opposition councilor in the commune, outside her house on May 14, 2022. (Matt Surrusco/VOD)🔊 Listen to this
Reading the article "Election Committee Rejects Candlelight Complaint Due to Lack of Specifics" recalls to mind how for Cambodian voters back in the 1998 national election — after the coup d'etat in 1997 — the legacy of the professional election institution built by the UNTAC was demolished and a new National Election Committee rebuilt. And in 2017, when the Cambodia National Rescue Party was dissolved, the legacy of an NEC created by the spirit of "culture of dialogue" was also demolished.
The response of the local election committee in the latest case is not a surprise, as the professionalism of neutrality has not been embedded in their workmanship at all. If this local election committee was well-trained, comprehensive, professional, and fearless to perform their duty without reprisal, they would try to accommodate complaints filed by Chao Ratanak without creating any further obstruction. But their performance shows not only an incapability for professional conduct but also bias toward the ruling party without doubt.
Observing the leadership structure of the current NEC, regardless of the instalment of party activists, the bureaucratic hierarchy from the national level to provincial level and to local agents is not necessary at all, and this structure creates more avenues to favor the ruling party than to serve the interests of voters. The judicial system being used as a political tool for the ruling party also disincentivizes professional conduct for the NEC and its staff.
Since Cambodia has conducted elections according to the spirit of Paris Peace Agreements, only two elections have been regarded as credible and professional, i.e. 1993 and 2017. Hence, the political maturity of the Cambodian people and their dynamic activism have paved concrete hope for the betterment in the near future.
Sophoan Seng
President, Committee for Election Right of Overseas Cambodians
===
លិខិត៖ បើស្ថាប័នរៀបចំការបោះឆ្នោតអព្យាក្រឹត គេនឹងទទួលយកពាក្យបណ្តឹង ចៅ រតនៈ

សេង សោភ័ណ្ឌ
| ថ្ងៃចន្ទ ទី១៣ ខែមិថុនា ឆ្នាំ២០២២ ម៉ោង ១០:០៣ ព្រឹក

ការអានអត្ថបទ "គណៈកម្មាធិការរៀបចំការបោះឆ្នោតបដិសេធការតវ៉ាដោយភ្លើងទៀនដោយចោទថាខ្វះភាពច្បាស់លាស់" រំលឹកឡើងវិញពីរបៀបដែលអ្នកបោះឆ្នោតកម្ពុជាត្រលប់ទៅការបោះឆ្នោតជាតិឆ្នាំ 1998 បន្ទាប់ពីរដ្ឋប្រហារឆ្នាំ 1997 កេរដំណែលនៃស្ថាប័នបោះឆ្នោតមានវិជ្ជាជីវៈដែលបង្កើតឡើងដោយអ៊ុនតាក់គឺរុះរើចោល ហើយ​គណៈកម្មាធិការ​ជាតិ​រៀបចំ​ការ​បោះឆ្នោត​ថ្មី​មួយ​ទៀត​ត្រូវ​បាន​គេ​កសាងសង់​ថ្មីឡើង​វិញ។ ហើយនៅឆ្នាំ ២០១៧ នៅពេលដែលគណបក្សសង្គ្រោះជាតិត្រូវបានរំលាយ កេរដំណែលរបស់ គ.ជ.ប ដែលបង្កើតឡើងដោយស្មារតី "វប្បធម៌សន្ទនា" ក៏ត្រូវបានបំផ្លាញចោលផងដែរ។
ការឆ្លើយតបរបស់គណៈកម្មាធិការជាតិរៀបចំការបោះឆ្នោតមូលដ្ឋាននៅក្នុងករណីចុងក្រោយនេះមិនមែនជាការភ្ញាក់ផ្អើលនោះទេ ព្រោះវិជ្ជាជីវៈនៃអព្យាក្រឹតភាពមិនត្រូវបានបង្កប់នៅក្នុងផ្នត់គំនិតរបស់ពួកគេទាល់តែសោះ។ ប្រសិនបើគណៈកម្មការជាតិរៀបចំការបោះឆ្នោតមូលដ្ឋាននេះ មានការបណ្តុះបណ្តាលត្រឹមត្រូវ ចំណេះដឹងទូលំទូលាយ មានវិជ្ជាជីវៈ និងគ្មានការភ័យខ្លាចក្នុងការបំពេញកាតព្វកិច្ចដោយមិនមានការសងសឹកណាមួយទេនោះ ពួកគេនឹងព្យាយាមដោះស្រាយបណ្តឹងដែលប្តឹងដោយ ចៅ រតនៈ ដោយមិនមានការបង្កជាឧបសគ្គអ្វីតទៅទៀត។ ប៉ុន្តែ​ការ​អនុវត្ត​របស់​ពួកគេ​មិន​ត្រឹម​តែ​បង្ហាញ​ពី​ភាព​អសមត្ថភាព​សម្រាប់​ការ​ប្រព្រឹត្តមុខ​វិជ្ជាជីវៈ​ប៉ុណ្ណោះ​ទេ ប៉ុន្តែ​ថែម​ទាំង​លម្អៀង​ទៅ​កាន់​គណបក្ស​កាន់​អំណាច​ដោយ​គ្មាន​ការ​សង្ស័យ​។
ការសង្កេតលើរចនាសម្ព័ន្ធដឹកនាំរបស់ គ.ជ.ប បច្ចុប្បន្ន ដោយមិនគិតពីការដំឡើងសកម្មជនបក្សនោះទេ ឋានានុក្រមការិយាធិបតេយ្យពីថ្នាក់ជាតិដល់ថ្នាក់ខេត្ត និងភ្នាក់ងារមូលដ្ឋានគឺមិនចាំបាច់ទាល់តែសោះ ហើយរចនាសម្ព័ន្ធនេះវារឹតតែបង្កើតនូវមធ្យោបាយជាច្រើនទៀតដើម្បីអនុគ្រោះនិងលំអៀងទៅរកគណបក្សកាន់អំណាច ជាជាងបម្រើផលប្រយោជន៍អ្នកបោះឆ្នោត។ ប្រព័ន្ធ​តុលាការ​ដែល​ត្រូវ​បាន​គេ​ប្រើ​ជា​ឧបករណ៍​នយោបាយ​សម្រាប់​គណបក្ស​កាន់​អំណាច​ក៏​បាន​បង្អាក់​បន្ទុចការ​ប្រព្រឹត្តមុខ​វិជ្ជាជីវៈ​ដល់ គ.ជ.ប និង​បុគ្គលិក​របស់​ខ្លួន។
ចាប់តាំងពីប្រទេសកម្ពុជាបានរៀបចំការបោះឆ្នោតស្របតាមស្មារតីនៃកិច្ចព្រមព្រៀងទីក្រុងប៉ារីស មានតែការបោះឆ្នោតពីរប៉ុណ្ណោះដែលត្រូវបានចាត់ទុកថាគួរឱ្យទុកចិត្ត និងប្រកបដោយវិជ្ជាជីវៈ ពោលគឺឆ្នាំ ១៩៩៣ និងឆ្នាំ ២០១៧។ ទោះយ៉ាងណាក៏ដោយ ភាពចាស់ទុំខាងនយោបាយរបស់ប្រជាពលរដ្ឋខ្មែរ និងសកម្មភាពសង្គមដ៏ស្វាហាប់របស់ពួកគេ បានក្រាលគ្រឹៈប៉េតុងនូវក្តីសង្ឃឹមជាក់ស្តែងសម្រាប់ភាពល្អប្រសើរ នាពេលខាងមុខ។
សេង សោភ័ណ្ឌ
ប្រធានគណៈកម្មាធិការដើម្បីសិទ្ធិបោះឆ្នោតរបស់ពលរដ្ឋខ្មែរនៅក្រៅប្រទេស