Cambodia USA Relations
now browsing by tag
Posted by:
Leadership Skills
| Posted on:
February 8, 2019
Why Hun Sen needs China now more than ever
Pending US and EU sanctions threaten to sink Cambodia's economy. Will China come to the rescue?
Op-Ed: Asia Time
By DAVID HUTT, PHNOM PENH
In multiple and mounting ways, from aid to trade to diplomatic protection, China keeps its geopolitical ally Cambodia afloat. That patron-client relationship was on full display late last month when Cambodian Prime Minister Hun Sen made a hat-in-hand four-day state visit to Beijing.
The leader came away with what he sought: More money, more promises and more comradely assurances. Beijing reportedly pledged to provide Cambodia with US$588 million in aid over the next three years, to import 400,000 tons of rice, increase bilateral trade from $5.7 billion last year to $10 billion in 2023, and broadly more investment.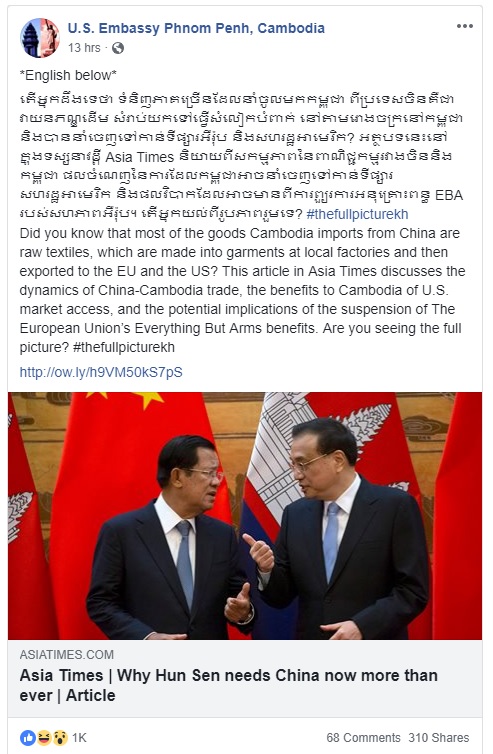 "At present, China-Cambodia relations are facing new development opportunities," China state-media outlet Xinhua quoted President Xi Jinping as saying after his meeting with Hun Sen last week. Hun Sen, for his part, wrote in a post-visit Facebook post that Xi "praised [China's] special cooperation with Cambodia and vowed to make the relationship even stronger" and that its future development assistance for that country will be "twice more solid."
China's patronage is arguably more important now than ever, as the United States (US) moves to sanction Hun Sen's regime and the European Union (EU) looks to withdraw the country from its duty-free Everything But Arms (EBA) trade scheme. Both are punitive responses to Cambodia's recent democratic retreat, exemplified by the dissolution of country's main opposition party in November 2017, a move that drove many of its members into exile.
Hun Sen's ruling Cambodian People's Party (CPP) thus won all the seats in the National Assembly at last July's general election, a result many Western observers and governments saw as rigged and illegitimate. The CPP has claimed that any Western criticism of its rule is an assault on the country's sovereignty and insult to its independence, claims the long-ruling party has played up to nationalistic effect.
China, it seems, is now backing that anti-Western narrative. Its new ambassador to Cambodia, Wang Wentian, recently asserted that Western nations want to "attack the cooperation between Cambodia and China." Geopolitical shifts partly explain why Beijing has appeared to indulge the Cambodian government's worst anti-democratic instincts and move to a de facto one-party state after years of Western-favored multi-party democracy.
Elections last year in Pakistan, Maldives and Malaysia all saw skeptics of China's $1 trillion infrastructure-building Belt and Road Initiative (BRI) rise to democratic power. Other regional countries have also started to air misgivings or stalled on BRI-related projects. While some reports of BRI downsides and debt traps have been exaggerated, there is a rising regional backlash against Chinese investments that are perceived to erode nations' sovereignty and finances.
Xi stressed at a high-level symposium to mark the BRI's fifth anniversary held in Beijing last August that its projects aim to "improve the global governance system" and build a world "community of shared destiny." It's a message China aims in particular for neighboring Southeast Asia, where big BRI plans for connecting infrastructure to promote and facilitate more regional trade are on the drawing board.
Read More …
Posted by:
Leadership Skills
| Posted on:
January 19, 2019
Interview: Senior Pentagon Official Visits Cambodia, Talks Phnom Penh Ties, Indo-Pacific Strategy
19 January 2019
"Bilateral defense ties have undergone drastic setbacks over the past few years amid Cambodia's growing closer security ties with China and political tensions surrounding Cambodia's general elections last year."PHNOM PENH —
[Editor's Note: U.S. Department of Defense Deputy Assistant Secretary for South and Southeast Asia Joseph H. Felter visited Cambodia this week to discuss the restoration of military cooperation with Cambodia. Bilateral defense ties have undergone drastic setbacks over the past few years amid Cambodia's growing closer security ties with China and political tensions surrounding Cambodia's general elections last year. The senior Pentagon official sat down in Phnom Penh on Wednesday with VOA Khmer to discuss defense ties with Cambodia and the U.S. Indo-Pacific strategy aimed at dealing with China's growing influence in the region.]
VOA: Can you tell us about this trip of yours to Cambodia?
Felter: That was special because this is my first trip to Cambodia in this capacity as the Deputy Assistant Secretary of Defense for South and Southeast Asia. It was also the first time we had a senior-level defense talk in quite some time in Cambodia – defense dialogue which took place on Tuesday hosted by Gen. Neang Phat [Ministry of Defense secretary of state].
VOA: Who did you meet on the Cambodian side and what issues did you discuss?
Felter: On Tuesday I met with Gen. Neang Phat. He was hosting with his senior members from his staff from the Ministry of Defense and the Cambodian military. Just today, we visited Ream Naval Base and met with Vice Admiral Ouk Seiha, commander of the base, and his staff.
VOA: Can you tell us what issues you raised with Cambodian officials?
Felter: Gen. Neang Phat is the secretary of state of the Ministry of National Defense. As part of the Defense Policy Dialogue, we discussed a range of issues like regional and international security, multilateral and bilateral cooperation. What I thought to be the most important part of our discussion on Tuesday with the Defense Policy Dialogue was mapping out a way forward to improve and enhance military-to-military cooperation between the United States and Cambodia to identify a way we can improve our defense ties and military cooperation.
VOA: We have seen many joint activities have been canceled due to the political situation in Cambodia. Have you brought this into discussions with Cambodian officials to find ways to restart them?
Felter: Yes, we have restarted on some levels. Encouragingly, Cambodia agreed to restart our POW/MIA [Prisoner of War/Missing in Action] cooperation and we find this very encouraging. Later this month we will have a joint on-field activity where we actually go out and do recovery operations of two missing pilots that we are searching for. So we find this very encouraging. Following this, we will be able to enhance our existing state partnership program. This is the partnership program with the Eisenhower National Guard that we will be sending many subject experts here to help the Cambodian military develop their peace-keeping skills. We know that Cambodia will participate in peace-keeping operations and missions around the world so we look forward to that. And there is a way forward beyond that. We will identify a number of activities that we can do to build on this military-to-military cooperation and enhance defense relationship. But to go down that path, we were clear in our discussion on Tuesday with Gen. Neang Phat that a number of things will have to happen on the Cambodian side that has to take initiative in areas of promoting national reconciliation, opening space for civil society and media. Some specific areas down that path include improving bilateral and multilateral exercises, restarting joint combined exchange training which we did in the past, the naval exercise CARAT (Cooperation Afloat Readiness and Training). Angkor Sentinel is another example.
VOA: Your call for release the of Kem Sokha, the opposition leader, is met with a negative response from Cambodian officials. What do you think about that?
Read More …