Environment
now browsing by category
Posted by:
Sophoan
| Posted on:
March 24, 2018
Dear Respectful Members,
This thread is to express my deep sorry and frustration that because of what I mentioned about "PM Hun Sen didn't appear in the group photo because he said he was at the toilet?" that made Louk Pu BA faced removing from the Campro group (link 1, link 2). Whatever reasons his removal is referred to, I think that, this action is just a paralleled "victims are victimized" conduction in Cambodia society.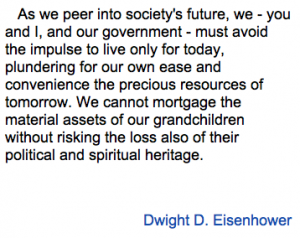 Observing from those most fundamental activities to the most essential practises on national stage, they are showing us (the underdogs) the path to its evilization that we should shoulder to deevilize them, if possible. Parents have victimized their children by just their excuse "I am your father/mother", neighbours have victimized children through their funny bullying behaviours, and state leaders have used laws for their advantage to suppress the victims of land grabs and incompetence of the courts and dissents etc.
With the below attached threads, we might get some more info on what Pu BA is facing. He emailed me privately to anticipate my claims of PM Hun Sen was busy in toilet allowing the eminent leaders of Australia-ASEAN took group photo without him. I think Pu BA is among those Cambodian-Australians who were affected by the outrageous life threatening by PM Hun Sen's public speech. Some sarcastic words of Pu BA towards PM Hun Sen is not been comparable to what PM Hun Sen has used state's medium to denounce, to scold, to threat, and to anticipate grip of intimidation towards those dissents against him, at all.
I have always described the "victims are victimized" as a social failure in Cambodia. This activity has run underneath social fabric and caused our future short and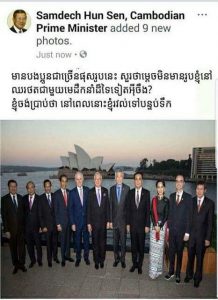 unsustainable. Once, the conviction was laid that "
While the Western countries believe in giving space and liberty to their citizens to bravely speak up their voice and fully engage in social development in the hope of long term survival of their motherland, Cambodia is in dichotomous effort by the government. This historical and remarkable contrast has happened since Cambodian people protest against the additional border treaty with Vietnam in 2005, many of them were arrested and jailed, once Prime Minister Hun Sen promised to make coffins for those who dare to claim back Khmer Krom lost land for Cambodia, and with many other occasions including banning Alex from his campaign to protect the Cambodia forests, is seen as an attempt to threat those bottom line people activism who are working to protect their lands and forests and to open way or encourage the wrong doers such as land grab activities, deforestation and logging, and forced eviction etc. to continue their wrong deeds without obstacles
" 
(original link).
As some of the members said, in our discussion group, there are variety of speeches, sarcasms, threats(sic), and harsh exchanges etc. but at th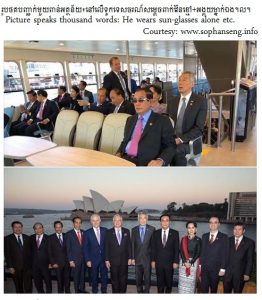 e end, this is how the wise have learnt to accept, to tolerate, and to exchange knowledge within a healthy multi-cultural setting. Some regulations and rules are good in producing healthy multi-cultural society, but some are just tools for the controllers to exercise their own biased territory. So let be frank in ourselves and treat things fairly and credibly.
I would like to plea Louk Sophal to explain more reasons to deleting/removing Pu BA from the group. With two warnings will become completely removing is still redundant. This practice has placed all other members at stake and reduced the quality of goals and definition and mission statement set within Campro by all members. Pou BA should be asked for his volunteering stance of view rather than being dictated towards him. And he should be reinstated.
Thank you very much for your kind consideration.
Sophoan
Posted by:
Cambodian
| Posted on:
November 16, 2017
Op-Ed: Kyodo News
Cambodia's Supreme Court orders dissolution of major opposition party
   PHNOM PENH, Nov. 16 Kyodo –    Cambodia's Supreme Court on Thursday ordered the dissolution of the country's main opposition party, in a ruling made ahead of next year's general election in which the party had been expected to do well.
     The ruling, which was handed down by presiding judge Dith Munty after a day-long hearing, also banned 118 Cambodia National Rescue Party members, including party president Kem Sokha, from politics for five years.
     The top court heard the case based on a complaint filed by the Interior Ministry, which alleges that Kem Sokha conspired with foreigners in trying to topple the government.
     Kem Sokha was arrested in September in a case widely considered to be politically motivated and is expected to be tried later this month, while around half of the party's lawmakers have fled the country, fearing arrest.
     Soon after the ruling, Cambodian Prime Minister Hun Sen hailed the decision, saying it will secure the stability, peace and sustainable development of Cambodia.
     Hun Sen, the prime minister since 1985, making him the world's longest-serving head of government, said all CNRP's members and their supporters — excluding the party leaders banned from politics — could join his ruling Cambodian People's Party or other political parties. He said a few dozen other political parties remained that can compete in the next election scheduled for July 29, 2018.
     Hun Sen also said that in less than two weeks, the seats won by the CNRP in the last national general and local elections will be redistributed.
     During the last general election in 2013, the opposition party won 55 seats in the 123-seat National Assembly, against 68 seats captured by Prime Minister Hun Sen's ruling CPP, meaning all seats were won by those two parties.
     The court hearing was held amid tight security to prevent CNRP supporters from protesting around the courthouse.
     Following the decision, the CNRP issued a statement condemning the ruling, saying it ignored the will of more than three million Cambodians who voted for the CNRP.
     The CNRP also said it will never recognize the ruling, and the CNRP remains legal as its members of the national parliament and those holding positions in local authorities were elected by the people.
     Furthermore, the statement appealed to the international community to take action to rescue the opposition party so it can take part in a free and fair election next year, and to press for the immediate release of party leader Kem Sokha.
     The ASEAN Parliamentarians for Human Rights issued a statement saying the move demolished the final pillar of Cambodian democracy and ushered in an era of de facto one-party rule.
     "ASEAN Parliamentarians for Human Rights (APHR) called on international partners to cancel their engagement in next year's national elections, arguing that the CNRP's dissolution effectively robbed the vote of any legitimacy," it said.
     "The Supreme Court has hammered the final nail in the coffin for Cambodian democracy. Its decision not only leaves the country without its only viable opposition party less than a year before scheduled elections, but also completely undermines Cambodia's institutional framework and the rule of law," said APHR Chairperson Charles Santiago, a member of the Malaysian parliament.
     "One thing remains crystal clear: the CNRP was dissolved not for breaking any laws, but simply for being too popular and a threat to the ruling party's dominance. Cambodia's judiciary has once again proved that its main objective is not justice, but the furtherance of the Prime Minister's personal prerogatives," he added.
==Kyodo