There is an impertinent question I have always wanted to ask Sam Rainsy,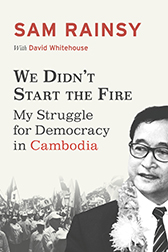 leader of Cambodia's opposition Cambodia National Rescue Party (CNRP) contesting this weekend's elections. Why exactly did you name your previous political party after yourself? The answer to the question comes on page 98 of his new memoir, a personally revealing and persuasive book that bears the somewhat silly title of We Didn't Start the Fire: My Struggle for Democracy in Cambodia.
It was March 1998, a volatile time in Phnom Penh, especially for activists and opposition members mindful of the previous year's bloody coup and political violence. In 1997, Rainsy, then head of the Khmer Nation Party – which was founded in 1995 after he broke with the ineffectual royalists of Funcinpec – had survived a grenade attack that killed almost 20 people.
The opposition accused prime minister Hun Sen's security forces of the attack. But the following year Rainsy found himself the target of an altogether different type of assault: copyright infringement. In Rainsy's telling, the ruling Cambodian People's Party (CPP) had created a breakaway faction to counter-claim the "Khmer Nation Party" name. With the 1998 national elections looming, the courts would not make a decision on who rightfully owned the name before the polls, and Rainsy believes the delay was meant to sow confusion among voters who wanted to support him.
"This left us with no choice. Sam Rainsy was the only name that couldn't be stolen," he writes, quick to add the answer that pops up in any reader's mind. "The fact that the party was named after me was not intended to imply a cult of personality."
He had no choice. Much of Rainsy's life, as told in this memoir, has this inexorable quality to it. He stepped up when no one else would step up. He filled the role of reformer when others in public life cowered in fear.
In recounting his youth, at least, this narrative has a ring of truth to it. His political education started early. Shortly after Cambodia's independence in 1953, then-King Norodom Sihanouk abdicated the throne in favor of his father to establish the political movement Sangkum Reasr Niyum. In the 1950s, Rainsy's father, Sam Sary (in Cambodia, family names come first and given names last), went from a judgeship to holding several ministerial positions. Eventually, he moved into Sihanouk's inner circle.
However, the relationship didn't last long. Sihanouk and Sary, to put it mildly, didn't see eye to eye. Sihanouk brooked little dissent in his regime, and he "routinely used murder and repression against his opponents", Rainsy writes. In a 1955 referendum, voters were asked, according to Rainsy's recounting, to pick between a white ballot and a black one. White if they loved Sihanouk; black, well, you get the point.
He took home a laughable 925,667 votes, while a mere 1,834 opposed. "Readers are asked to judge for themselves how much has changed in the intervening decades," Rainsy writes. A continuing theme of the book is that each successive regime has built on the repressive policies of its predecessor. In one form or another, he argues, the tactics have never changed.
Impressionable youth
Sary didn't believe in the strongman style. In 1956, he brought home photos to show Rainsy, then seven years old, of Hungarian dissidents killed in a crackdown by Russian security forces. The photos made a lasting impression on him, he writes.
The fallout with Sihanouk started when Sary, who had moved his family to London to serve as ambassador, made the local papers in an embarrassing scandal. His "mistress," who also lived with the family, had been beaten up and taken to hospital. Rainsy says his mother actually caused the injuries but his father accepted responsibility.
Sihanouk was annoyed with the bad publicity, and the family was called back to Phnom Penh, where Sary aimed for a new start by founding a newspaper and seeking to create a new political party. This, apparently, was too much for Sihanouk. In fear after the editor of his newspaper was arrested, Sary fled across the border to Vietnam. His story after this becomes muddled, caught up in the ever-shifting allegiances of Cambodian politics.
Rainsy writes that Sary irked the leaders of the anti-Sihanouk Khmer Serei movement and was killed by them a few years after leaving Cambodia. He was shot in the back while in southern Laos. Thus began the family tradition of fleeing the country into exile when things got too hot at home, a tradition the politically engaged Rainsy would uphold in 1997, 2005 and again in 2009.
In 1965, though, he was just a privileged youngster without a father. The family moved to Paris, and from here the book becomes more personal. Rainsy – perhaps with the help of his co-author, British journalist David Whitehouse – is in passages very warm, charming, sentimental, and amusing. For instance, he remembers his grandmother commenting on the "snow that people don't eat", and other cultural stumbling blocks in acclimating from Cambodia to Western Europe.
He later decides to study economics at Institut d'etudes politiques de Paris, or Sciences Po, so he could one day "make myself of use" to his impoverished country. He thereafter falls in love and marries Tioulong Saumura, the daughter of a career Cambodian diplomat. Saumura would also later enter politics, becoming an MP in Phnom Penh.
Up to this point, Rainsy's story is a life that started in turmoil and, through much hard work and striving, turned out fine; in this sense, it is a story that any number of Cambodians can relate to. Leaving the country and starting anew overseas is as Cambodian as fish amok and the Tonle Bassac river. Abroad, both he and Saumura embarked on successful careers in finance.
An idyllic picture emerges during his years in Paris. Rainsy's lifelong love of animals dating back to his childhood endured and he kept "cats, dogs, chickens, and rabbits" at their new suburban house. In these pages, one senses a twinge of nostalgia for the life predating his entry into the rough and tumble of Cambodian politics. Only in the epilogue does Rainsy offer an apology of sorts to one of his daughters for not being a full-time father.
At this point, Rainsy's involvement with Cambodia's politics is still removed. He reads in Le Monde about Lon Nol overthrowing Sihanouk in 1970. The change occurs when refugees start arriving in Paris after fleeing the Khmer Rouge regime that toppled Lon Nol in 1975, and ratchets up a notch further when the Khmer Rouge are overthrown by Vietnamese invaders in 1979.
In 1982, as part of a United Nations delegation to lobby against the pro-Vietnam regime in Cambodia, "I started to get some grasp of exactly how naive I was in the political arts, and realized that personal relationships, especially in the international sphere, are of decisive importance."
Into the fray
After describing life on the sidelines, Rainsy moves into political action and the book's narrative gathers pace. In 1991, he returns after living abroad for 25 years, arriving in Phnom Penh during the changing environment heralded by the arrival of the United Nations Transitional Authority, or UNTAC, which backed democratic elections in 1993.
"I was a stranger in my own town. This was soon brought home to me in spectacular fashion. One day soon after I arrived I became violently ill after drinking fruit juice sold by a street vendor," he writes. "Most Cambodians would have been able to resist the germ, but I had lost my immunity and become like a European during my long exile."
Leveraging his economics background, he becomes finance minister after the 1993 elections but soon becomes disillusioned with corruption and the weird power-sharing agreement that prevailed at the time. Though Funcinpec had won the 1993 elections, Hun Sen and the CPP had worked out a deal in which the head of Funcinpec, Sihanouk's son, Norodom Ranariddh, was "first prime minister," and Hun Sen was "second prime minister".
The arrangement, Rainsy points out, sounded even more ridiculous in French: premier premier minister and the deuxieme premier minister. Underscoring the absurdity, Rainsy writes: "It has been said that Cambodian history is a play that has too few actors." The politics of the 1990s narrows the cast even further.
Rainsy eventually aims all of his arrows at Hun Sen and the CPP. He lambasts what he characterizes as half-hearted efforts to fight corruption and the misuse of foreign aid money, which then as now accounted for a huge percentage of Cambodia's budget. He describes a rigged system in which the low salaries of civil servants gives them no choice but to grab a hold of the graft vacuum cleaner and suck up whatever they can.
Alleged vote-rigging, political attacks, intimidation tactics – all feature in the corrupt portrait Rainsy paints of Cambodia's CPP-dominated politics. Unfortunately, he wanders and includes many superfluous details that distract from main narrative.
For instance, just as Rainsy is wrapping up an analysis of systemic bribery, he shifts into a discussion of evictions and land rights. The middle section of the book begins to feel like a cobbled together version of human rights reports instead of one man's clear-headed plan for a country.
Rainsy makes a lot of promises, too many to count. In the book's last chapter he lays out a number of changes he would make if his party, now known as the Cambodia National Rescue Party following a merger with another opposition party last year, is elected to power.
Among other measures, Rainsy writes he would cancel controversial land concessions that have led to evictions; allow overseas Cambodians to vote; use price interventions to assist poor farmers; introduce a wealth tax; create a minimum monthly wage and a civil service based on achievement; adopt a pension system; move the Khmer Rouge tribunal outside of the country to avoid what he insinuates is government meddling in the process; change laws so whistleblowers are better protected; establish an independent broadcasting agency; set up a universal insurance program; make education and health care more accessible; and limit to five-years the term of any prime minister.
None of these are necessarily revolutionary ideas, and Rainsy doesn't pretend that they are. In policy terms, "what needs to be done in Cambodia is pretty simple," he admits. The book, which started as a memoir, quickly and somewhat regrettably morphs into a political wishlist of a politician on the hustings.
Today, Rainsy is back in Cambodia after spending four years in exile in Paris. In 2009, he fled Cambodia to avoid a prison sentence stemming from uprooting territorial markers on the border with Vietnam. He was granted a royal pardon just ahead of the national elections this Sunday – though the pardon does not allow him to run for office.
How well his party does on Sunday will reflect Cambodians' appetite for political change. Whatever the case, Rainsy has survived to play an influential role in the opposition. His father was not given the same chance, and his death in Rainsy's youth was likely the first in a series of events that set him on his political path. Though he claims politics was not his choice, at the end of the book Rainsy writes that if he had the opportunity to change his life's course he would do it all the same.
___________________
This book review has been published by the Asia Times Online: We Didn't Start the Fire: My Struggle for Democracy in Cambodia