Cambodia: Parliament Approves Rules Allowing For Dissolution Of Opposition Parties
Posted by:
Cambodian
| Posted on:
February 22, 2017
Cambodia: Parliament Approves Rules Allowing For Dissolution Of Opposition Parties
Op-Ed: Stratfor: Situation Reports
Already, CNRP pressure has managed to get CPP to move elections forward from July to February 2018. As the vote approaches, the pressure on the CPP will only mount. Cambodia's economy is growing, a boon for the establishment, but its benefits have been felt unevenly. Moreover, the growth is leading to demographic and workforce changes that could prove challenging for the government to manage, creating new constituencies to please or neutralize. The majority of Cambodians now have no memory of the conflict period — or the Khmer Rouge — and have less tolerance for the abuses of power that come with a stabilizing strongman. Cambodia also has a large non-profit community and, with increasing Internet access, more awareness of international norms. More tangibly, the populations of Cambodia's cities are growing and, with the industrial workforce concentrated in Phnom Penh, increasingly throwing their weight behind the CNRP.
But this framework of power has proved increasingly challenging to maintain, particularly as the peace dividend Hun Sen deftly exploited in the initial post-war era fades. Of the four general elections held since Hun Sen came to power, virtually all have been plagued by fraud allegations, contentious negotiations and government interference — the price of centralized rule. The biggest challenge to Hun Sen's continued rule came three years ago. In the July 2013 elections, the opposition Cambodia National Rescue Party (CNRP) won 55 seats in parliament, including 22 from the CPP — the strongest-ever performance for a Cambodian opposition party. Still, the vote was marred by irregularities, compelling opposition leader Sam Rainsy to stage massive protests in the capital of Phnom Penh. (Rainsy, a former finance minister and lawmaker, has been trying to unseat Hun Sen since 1998.)
VS
In fact, over the past five years, Hun Sen has further centralized the government around himself, chiefly by placing family members in key government positions. His oldest son, Lt. Gen. Hun Manet, is deputy commander of a powerful praetorian guard that rivals the national military. Two other sons have also risen to the rank of general. All have been touted as potential successors. Meanwhile, the CPP establishment elite is deeply entrenched in the political and economic system, with deep bureaucratic ties. Moreover, Cambodia is ethnically homogenous, without the major regional cleavages of Thailand, Myanmar and Vietnam. With a strong grip on the military, rural electorate and bureaucracy, there have been no real institutional competitors to the CPP in Cambodia.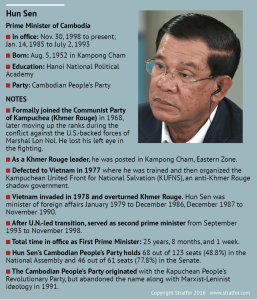 Read details and make reference at Stratfor