The amendment of law on political parties is unconstitutional
Posted by:
Cambodian
| Posted on:
February 23, 2017
Political Paradigm of Pragmatism from the Khmer Youth part 99
This part (99), Mr. Sophan analysed two outstanding issues happening in Cambodia i.e. the resignation of Sam Rainsy from CNRP and the amendment of political parties law by the order of Prime Minister Hun Sen.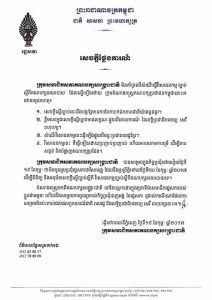 Sam Rainsy's resignation happened amid attempt to dissolve Cambodia National Rescue Party (CNRP) through law amending of political party crafted in 1998. The amending was carried out by the law-makers from CPP solely after Hun Sen stated in his speech during a session of parliamentary meeting. That session was succeeded in dissolving majority and minority mechanism in the parliament strengthened parliamentary institution. In his speech as the law was amended clearly showed that a political party could be easily dissolved if 1. President is found guilty in a convicted crime, 2. Vice President is found guilty in a convicted crime, 3. Permanent member is found in a convicted crime, 4. Committee member is found in a convicted crime, 5. Party is found in secession activity, incitement, or threat to national security, and 6. Party is found receiving fund or financial support from foreigner etc. The definition of the new amended law is very vague and could be easily interpreted by the powerful to fit their desire. More than this, high court is not only responsible to judge the case, the Ministry of Interior has leverage to bring case to the court as well as to conduct its task directly. Sam Rainsy resigned earliest to save his party from dissolving. Sam Rainsy has been convicted in the defamation lawsuit and the court convicted him to criminal jailing and huge compensation to the plaintiff.
For the amended law on political parties, it has been vastly condemned by national and international community. This law is a preemptive tactic Hun Sen is undergoing to ensure the vast loss of popularity of his leadership. It has amended in just few months before the commune election in June 4, 2017 and the national election in 2018.
"This day will be remembered for the triumph of dictatorship over the dream of the Paris Peace Accords for a rights respecting, multi-party democracy," said Phil Robertson, deputy Asia director for Human Rights Watch. "It's no exaggeration that these amendments are like a gun aimed straight at the heart of the opposition party, leaving only the question of when and on what grounds this political execution will take place,"
Read this link for this new amended law drafting in Khmer and in English