To Liberate Cambodia
Posted by:
Cambodian
| Posted on:
January 12, 2018
Op-Ed: GlobalResearch
Cambodian Politics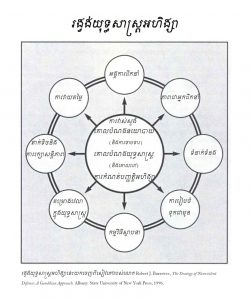 Politically, Cambodians are largely naïve with most believing that they live in a 'democracy' despite the absence of its most obvious hallmarks such as civil and political rights, the separation of powers including an independent judiciary, free and fair elections, the right of assembly and freedom of the press (with the English-language newspaper The Cambodia Daily recently closed down along with some radio stations). And this is an accurate assessment of most members of the political leadership of the CNRP as well.
Despite a 30-year record of political manipulation by Hun Sen and the CPP – during which 'Hun Sen has made it clear that he does not respect the concept of free and fair elections': see '30 Years of Hun Sen: Violence, Repression, and Corruption in Cambodia' – which has included obvious corruption of elections through vote-rigging but also an outright coup in 1997 and the imprisonment or exile of opposition leaders since then, most Cambodians and their opposition leaders still participate in the charade that they live in a 'democracy' which could result in the defeat of Hun Sen and the CPP at a 'free and fair' election. Of course, there are exceptions to this naïveté, as a 2014 article written by Mu Sochua, veteran Cambodian politician and former minister of women's affairs in a Hun Sen government, demonstrates. See 'Crackdown in Cambodia'.
Moreover, as Sovannarun has noted: most Cambodians 'still think international pressure is effective in keeping the CPP from disrespecting democratic principles which they have violated up until this day. Right now they wait for US and EU sanctions in the hope that the CPP will step back.' See, for example, 'The Birth of a Dictator'. He asks:
'Even assuming it works, when will Cambodians learn to rely on themselves when the ruling party causes the same troubles again? Are they going to ask for external help like this every time and expect their country to be successfully democratized?'
The problem, Sovannarun argues, is that
'Cambodians in general do not really understand what democracy is. Their views are very narrow. For them, democracy is just an election. Many news reports refer to people as "voters" but in Khmer, this literally translates as "vote owners" as if people cannot express their rights or power beside voting.'
Fortunately, recent actions by the CPP have led to opposition leaders and some NGOs finally declaring the Hun Sen dictatorship for what it is. See, for example, 'The Birth of a Dictator'. But for Sovannarun,
'democratization ended in 1997. The country should be regarded as a dictatorship since then. The party that lost the election in 1993 still controlled the national military, the police and security force, and the public administration, eventually using military force to establish absolute control in 1997. How is Cambodia still a democracy?'
However, recent comprehensive research undertaken by Global Witness goes even further. Their report Hostile Takeover 'sheds light on a huge network of secret deal-making and corruption that has underpinned Hun Sen's 30-year dictatorial reign of murder, torture and the imprisonment of his political opponents'. See 'Hostile Takeover: The corporate empire of Cambodia's ruling family' and 'Probe: Companies Worth $200M Linked to Cambodian PM's Family'.
So what are the prospects of liberating Cambodia from its dictatorship?