Wednesday, January 23rd, 2019
now browsing by day
Posted by:
Cambodian
| Posted on:
January 23, 2019
In his facebook page, Hun Sen has appeared fragile walking and standing to greet China's private sectors and official top leaders in Peking during his 4 days urgent visit (January 20-24, 2019) after EU announced to tax Cambodia rice export in 3 years beginning this January 2019 in which Cambodia enjoyed its free tax previous years. Cambodia could loss 40 millions dollar per year from this taxing. While Hun Sen is departing for China, the regular Cabinet meetings was cancelled with order to send only security documents to his office while Phnom Penh city was seen by tanks, military armours, and his personal body guard unit mobilizing in an excuse to prepare a drill. Spectators convinced that by ranking and bureaucratic regulation, whenever Hun Sen is absent, the next person is Sar Kheng who is able to conduct regular business of the governance but the Cabinet's order is totally opposite.
Frequent updating in his personal facebook page with "likes" hike up over 10 millions is to describe his successes in 600 millions loan and buying rice 40,000 tones, Chinese FDI investments, and increasing importing products from Cambodia etc., while the mainstream China's news, contradictory, confirming the Xi's intention to strengthening Cambodia's consent to broaden Belt and Road Initiative (BRI) and shared future strategic partnership. Note that Cambodia delegates have failed to inspire China to import rice from Cambodia as China has already promised to import Thailand's trillion tones of rice to feed its people.
In Cambodia, 40 private sectors wrote letter to EU to express their concerns on the economic crisis if EU withdraws EBA from Cambodia. And the ASIA-EU Ministerial Meeting delegated by Cambodia foreign minister Prak Sokhonn met negative responses from both Didier Reynders and Cecilia Malstrom by emphasizing restoring back democracy, rule of law, and human rights respect in Cambodia if EBA's withdrawal scheme should be halted.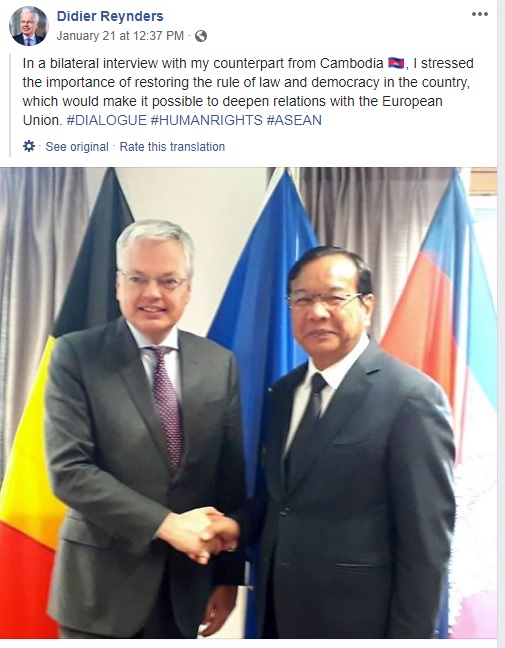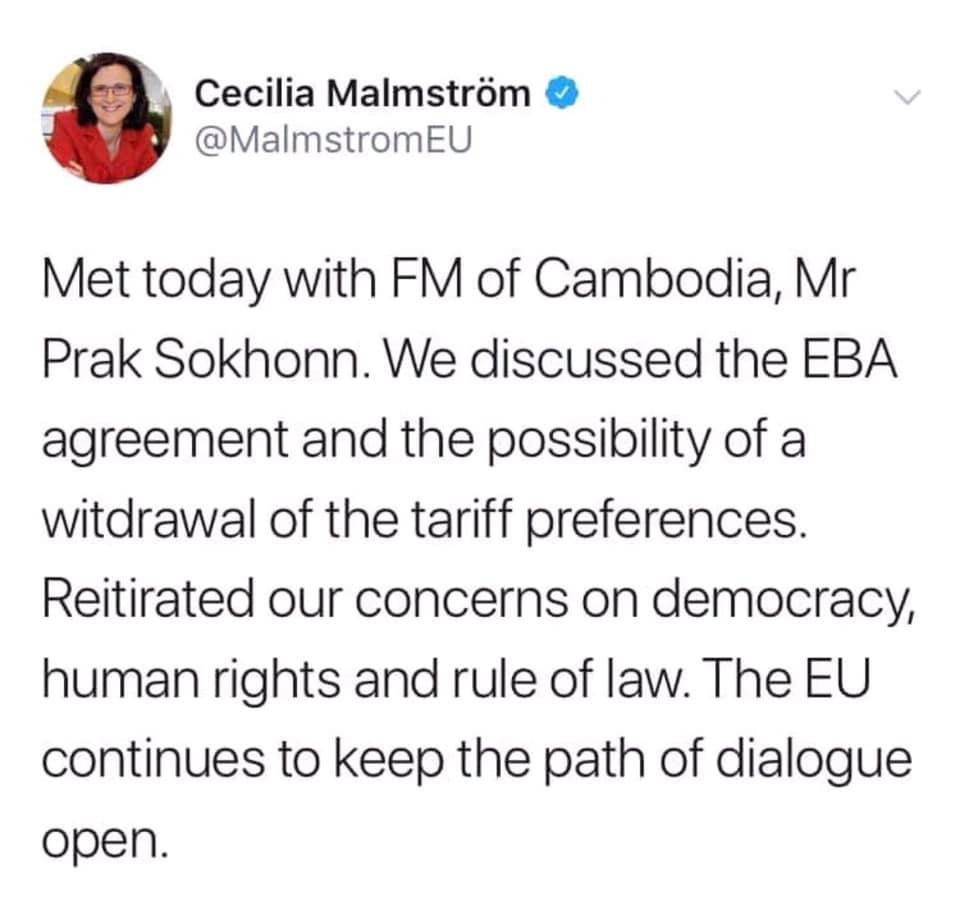 Cambodia Faces Next Trade-Sanctions Move by the European Union
Op-Ed: Bloomberg
By Jonathan Stearns January 22, 2019, 8:59 AM PST Updated on January 22, 2019, 3:00 PM PST
EU Commission seeks support from national capitals by Jan. 29
Any decision to suspend tariff benefits still a year away
The European Union moved closer to imposing trade sanctions against Cambodia as a result of alleged human-rights violations in the country.
The European Commission in Brussels has asked EU national governments to give the green light by Jan. 29 for suspending a policy that lets Cambodia export all goods except weapons duty-free and quota-free to the bloc, according to two officials familiar with the matter. They spoke on the condition of anonymity because the deliberations are private.
Any go-ahead from EU national capitals would still leave a decision by the commission, the bloc's executive arm, 12 months away. At stake is Cambodia's place in the EU's "Everything But Arms" initiative, the most generous part of the bloc's Generalized Scheme of Preferences for poor countries around the world.
The EU's Tariff Threats Against Asia's Autocrats Risk Backfiring
The EU is trying to prod changes in the political behavior of strongman Cambodian Prime Minister Hun Sen while being wary of damaging the country's economy, where a $5 billion garment industry employs 750,000 people and is the biggest exporter.
Hun Sen, who extended his 33-year rule last July when his party won a boycotted election, has so far struck a defiant tone with the European side.
The latest internal EU preparations to withdraw commercial benefits for Cambodia follow a Jan. 21 meeting between European Trade Commissioner Cecilia Malmstrom and Cambodian Foreign Minister Prak Sokhonn. The Everything But Arms — or EBA — accord featured in the talks.
"We discussed the EBA agreement and the possibility of a withdrawal of the tariff preferences," Malmstrom said in a Twitter post after the meeting in the Belgian capital. "Reiterated our concerns on democracy, human rights and rule of law. The EU continues to keep the path of dialog open."
The EU debate over revoking general trade benefits for Cambodia is separate from a decision by the bloc last week to impose tariffs on Cambodian rice for three years as a result of a surge in imports deemed to have hurt European rice producers.
— With assistance by Nikos Chrysoloras
Greater Sino-Cambodian effort sought for Belt, Road
Op-Ed: China Daily
By AN BAIJIE | China Daily | Updated: 2019-01-22 01:28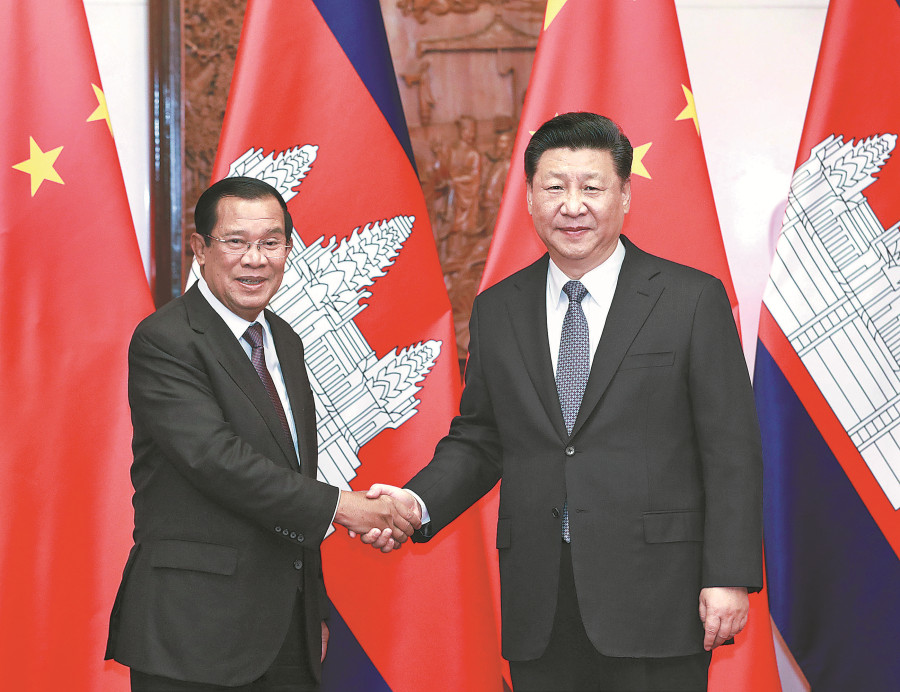 China and Cambodia should speed up connecting the Belt and Road Initiative with Cambodia's development strategy, President Xi Jinping said on Monday.
Read More …